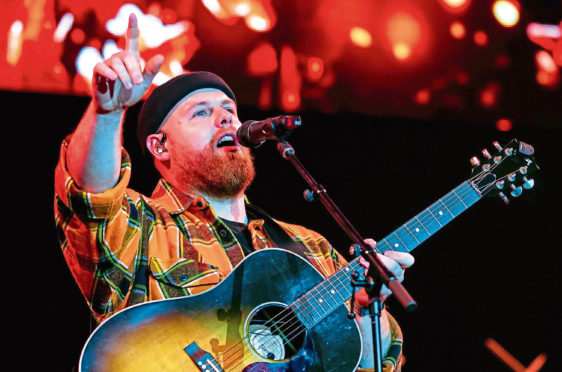 Tom Walker is back to his roots this week – on and off stage. The Brit Award-winner is currently in the midst of an acoustic tour, playing the type of intimate venues around Scotland that were his bread and butter on the way up just a few years ago.
In the time since, he has sold more than a million copies of his No. 1 debut album, What A Time To Be Alive, and performed around the world.
But nothing beats the likes of playing at King Tut's – especially when it means he can have breakfast with his gran, Sadie.
Tom was born in Kilsyth, Lanarkshire, and moved to Cheshire when he was three, but he still has family in Scotland, including his biggest fan, Sadie.
"I got up quite a lot last year when I was gigging and tried to make extra time to see them," Tom smiled.
"I used to have a tradition where the band and I would go to my gran's for Irn-Bru and rolls and square sausage on the day of the gig.
"But we weren't able to do it the last time because we had a tour bus and couldn't get it anywhere near her cul-de-sac. It's just me and a piano player this time, though, so we're back in a van. It's all planned to come and see her."
For each of the gigs on this tour, he has handpicked two support artists to give them a platform, something he said was so important to him on the way up.
"People like James Bay, Jake Bugg and George Ezra had me along when no one knew me. They all made a massive difference to my career.
"I've done Tut's four or five times now. I remember the first time, I was the first of two supports, and I played to about 20 people because no one had turned up yet."
That's something the 28-year-old singer no longer has to worry about, no matter where in the world he is.
"I wasn't expecting the reaction we received in Japan, it was just overwhelmingly positive and people were singing along.
"And we had one of the most epic nights out in Tokyo afterwards."
Tom is up for Best Single at this month's Brit Awards – and is just as confident now as he was before picking up Best Breakthrough Award last year.
"I didn't think I was going to win last year due to the people I was up against," he admitted.
"Not only is their music great but I felt they superseded me in other things I don't care about as much, like social media.
"I felt I'd no chance. I even told my parents not to come, but my mum insisted.
"I couldn't get her a ticket from the Brits people but she managed to blag one and came with my dad. I couldn't believe it when I won.
"I don't feel any more confident this year. I always feel like a bit of an outsider at these things, these red carpet events, it's not what I'm about.
"Don't get me wrong, it's an honour to win a Brit. It's amazing and there's huge talent involved, and I love being there, but I feel a bit out of place at times."
---
Tom Walker, Beat Generator, Dundee, King Tut's, Glasgow, The Caves, Edinburgh, tonight, Tue-Wed