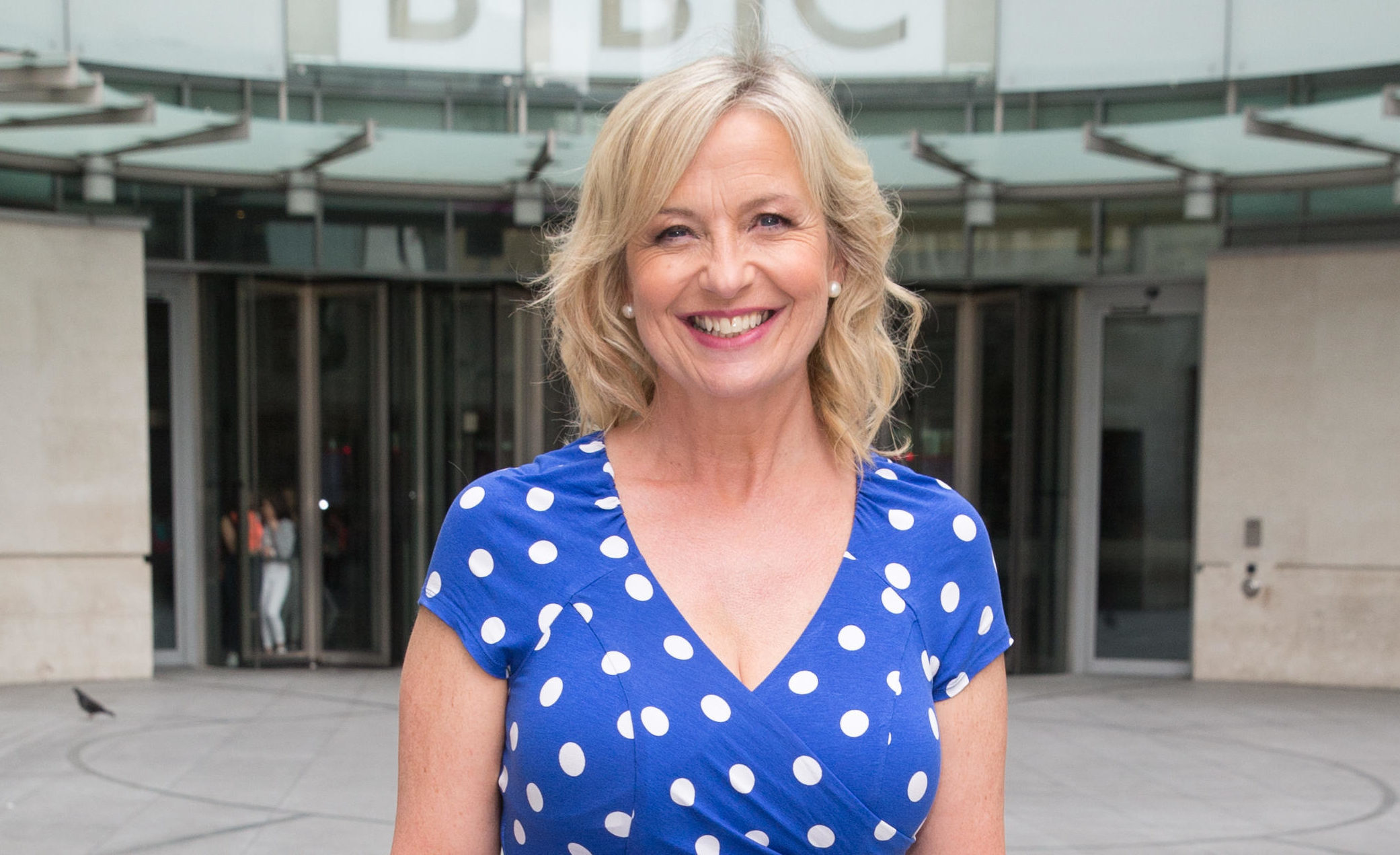 IT'S the national obsession. The one thing we'll talk about with total strangers at a bus stop, train station, café, pub or shop. The weather.
That's music to the ears of Carol Kirkwood. It's her fixation, too.
Happily, as the UK's best-known and best-loved weather presenter, it's also her living.
So, as she breezes in – like a cheery, warm front of positivity – it's no surprise that current climactic conditions, and how they differed from her forecast, are the first topic of conversation.
"I love the weather," insists Morar-born Carol, 55.
"It changes every single day. I never get tired of talking about it, which is just as well as people have something to say to me about it all the time.
"Especially if it's rained on their barbecue – when they're sure I said it wouldn't."
What also fires Carol's passion is her presenting slot on Breakfast on BBC1.
In an ever-changing telly world, she's been like a constant ridge of high pressure, having just clocked up a milestone 20 years on the show.
"I still remember my very first programme in 1998," she smiles.
"Sophie Raworth and Jeremy Bowen were the presenters, but my connections with the show go back even further.
"I came down from Edinburgh when I was a student and worked for a secretarial temp agency within the BBC when it was Frank Bough and Selina Scott."
Currently Dan Walker, Louise Minchin, Naga Munchetty and Charlie Stayt are among the regulars who swivel round on the sofas to hand over for a bulletin each morning.
Talking to Carol it's clear there's a real bond, even to the extent of going on holiday with sports presenter Sally Nugent and business presenter Steph McGovern.
It all helps make that famously beaming smile remain natural and unforced, even with crazily-early alarm calls.
"When you see me on the telly, I've been up for over three hours so I'm wide awake and it's mid-morning to me," Carol says.
"And I work with friends all the time. I love what I do more than I ever did.
"It's what makes me get out of bed at 2.45 in the morning. If I didn't, then I couldn't do that and I'd be looking for something else."
The close-knit team were all shocked when it was revealed that former favourite Bill Turnbull had been diagnosed with prostate cancer.
The revelation came when he appeared on one of the Great British Bake Off charity specials earlier this year, leaving viewers in tears at his appearance and brave words.
"We are very much a family," Carol says quietly. "He's a great friend, so we knew before it became public knowledge.
"Hopefully, everything will be all right. Billy is going to be a friend for life. He's got that cheeky chappie, as well as professional, way about him."
While she now lives in Berkshire, Carol's accent has never wavered.
Born into a big family in Inverness-shire, she insists Scotland is forever close to her heart.
"When I talk about home, I always mean Scotland although I've lived longer in England.
"When my dad was very ill my mum and dad moved to Blairgowrie, so that's where I go to see mum and to Edinburgh where the rest of my family live.
"But I will always, always go back to Morar. It's just so beautiful.
"If we got weather like I remember from my childhood – when the summers were always sunny – then it was like Barbados."
And that childhood, carefree days in the 1960s and '70s, still gives Carol a warm glow.
"The school was just at the bottom of the hill and there were only eight in the class," she recalls.
"Afterwards we'd jump on our bikes and cycle to the lochside or go to the beach to swim.
"It was light way after 10 during the summer, so we were always out.
"It was a very free upbringing. I'd go collecting nuts in the woods or go fishing with my dad.
"I wasn't a sophisticated kid – we didn't ever have computers back in those days."
Being on our screens for two decades now means that there can be few who didn't already know of her.
But anyone who wasn't over-familiar got to know her an awful lot better when she took part in Strictly in 2015.
Paired with former champ Pasha Kovalev, she lasted until week seven before bowing out with a game attempt dancing an American Smooth to Shania Twain's Man! I Feel Like A Woman.
"It was the most amazing experience," she admits.
"I look back now and can't even believe I actually did it.
"You get caught up in it and it takes over your life. I was training and dancing six days a week, with only Sundays off to do the washing, the cleaning and the shopping.
"Then suddenly it's over and you think, 'What happened?'
"But I'm so proud I did it. The biggie was that I got fit and toned.
"For an old bird like me that was a big plus. I've kept up running, although I'm no saint and I'll sometimes put it off until tomorrow and have that bar of chocolate instead.
"But I try to run three times a week."
What the crazy bubble of Strictly did – as it does with all the fake-tanned, sequinned celebs – was put the spotlight on her personal life.
Her love life has been the focus of speculation since she divorced her husband of 25 years, back in 2008.
She's admitted she's "very happy in my relationship status" and is said to have found romance with a policeman who is part of the Royals' protection detail.
"I've always felt that if you don't flaunt it, people respect that.
"I love my job, but it is my job. I do it and then go home and have my private life. I like the distinction between the two."
Despite having no TV monitor out on location to see what is going on, no autocue and voices in her ear constantly telling her she has either more or less time, Carol makes live telly look effortless.
That's not to say there haven't been some classic moments along the way, including telling a helpless Bill Turnbull she'd be back with her jugs – rainfall-measuring, of course – in a few minutes.
And inadvertently destroying a massive teapot snow-sculpture that had taken three freezing hours to craft.
"Everyone in my ear and in the studio was in hysterics but I was trying so hard not to laugh as I really didn't want to be rude," she says sheepishly.
As usual, her sunny disposition got her through.
And, as she looks forward to a good few more years of her dream job, there are more than a few for whom mornings just wouldn't be the same.
"I get people stopping me in the supermarket to tell me lovely things," she adds.
"One chap said his mum was very ill in a hospice and some days she felt like giving up.
"But he said that seeing me being bright and breezy and like the day was filled with joy, made her feel like there was a lot to love for.
"I have never forgotten that."
Breakfast, BBC1, daily, 6am.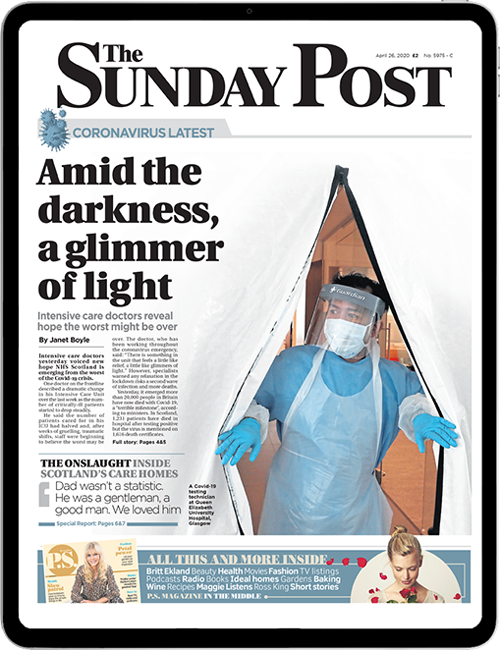 Enjoy the convenience of having The Sunday Post delivered as a digital ePaper straight to your smartphone, tablet or computer.
Subscribe for only £5.49 a month and enjoy all the benefits of the printed paper as a digital replica.
Subscribe