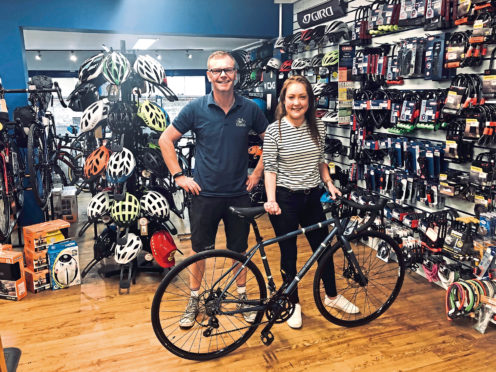 Pippa Kent is preparing for a very special celebration in April.
The cystic fibrosis sufferer is building towards a 100km bike ride to mark her third "lungaversary" – three years since she had a double lung transplant.
Now, 100km might not sound a massive distance but before Pippa's surgery, cystic fibrosis meant she couldn't even cross a room without oxygen.
"I'm slowly starting to build up how far I cycle," says Pippa.
"When I first got my bike a few months ago, I was literally doing two miles because I hadn't been on a bike for years.
"I was starting from scratch so, at the moment, I'm trying to build up the distance and also the confidence to some extent.
"I'm predominantly cycling where my parents live in Cambridge. I live in the middle of London but I'm not brave enough to bring the bike back there yet!
"We live near Battersea and Richmond parks so the plan is eventually to cycle there but I have just upgraded to cleats rather than normal shoes and pedals, and I think I need to practise before I wear them in London. I don't want to fall off at Battersea roundabout and not be able to get myself up again!"
But being able to train at all marks quite a change for Pippa.
"What is still quite bizarre to me is that when I exercise now, I can do it!" she explains.
"For so long, breathing was hard because the cystic fibrosis filled my lungs with mucus. It's quite strange when I cycle now and actually it's my legs that are hurting rather than my lungs!
"I'm much more conscious about breathing than most people and I think that is something that's going to stay forever. Even doing things now that I can do with ease – walking up multiple flights of stairs and whatever, I quite often get to the top of them and am aware that I'm not out of breath and don't need to stop.
"Although before my transplant I was only very ill for about six months, before that, there had been a gradual decline that I'd been somewhat in denial of, I think, because you have to get on with living.
"I wasn't ill enough not to be working, to give up and stop, and I didn't want to do that so I had got quite used to adjusting my life subconsciously and doing things like getting the lift and not the stairs without really thinking about it.
"When I first had my transplant, being able to change that approach was really amazing – just being able to do things that everyone else takes for granted.
"Sometimes I am maybe a bit hyper-conscious of my breathing and inevitably, like everyone else, I get days when I'm slightly bunged-up or have a cold. It's not necessarily something I have to worry about any more but it's something I am aware of very quickly because I'm so keen to protect these new lungs I've got and the second chance they've given me."
Explaining her "lungaversary", Pippa laughs: "It means I get to have an extra party every year!
"My birthday's in May and my lungaversary is in April so the slight problem is I go big on the lungaversary and people say: 'You've just had a party, why are we having another one?!'
"I think it's really important because post-transplant life is quite fragile. They do their best to prolong it as much as possible but I know people who have been very well one minute and have gone into rejection the next.
"There's a lot you can do to try to maintain your health but it's not always under your control, so celebrating those landmarks is important.
"It's also a really nice way to remember my donor and pay tribute to them once a year.They're obviously in my mind all the time but having a day when that spreads into other people's minds as well is important."
Undergoing a double lung transplant is serious stuff but as Pippa admits, no op, no Pippa.
"I was lucky in that through most of my childhood I was pretty well, though I was always aware that transplant was something that could come into my future life," she explains.
"Eventually, though, it was the only option.
"I was taken off the transplant list for a bit before it because I was too ill to survive the surgery, so when I was put back on it, it was make or break.
"I was put back on the list on the Monday and had my transplant on the Friday.
"I'd been so unstable, by that point, I was at home on IVs and on oxygen full-time so there was nothing else the hospital could do to improve my health without a transplant. Had I caught a cold or had anything declined even slightly, that was it.
"I was very lucky to get the call when I did, and that my first call resulted in the surgery being carried out, which isn't always the case.
"When I deteriorated, I spent between February and April in the hospital but before that, the amount of time I was having medication just slowly increased.
"I first had IV meds when I was 19, in my second year studying history at university. That's actually quite late for someone with cystic fibrosis.
"Between then and 25, although the frequency increased, I did a lot of them at home because they like to keep CF patients out of hospital as much as they can.
"I did IVs in all sorts of places – in the loo at work, in airports before I got on planes to go on holiday – because for me it was important I had a life as normal as everyone else."
Pippa now admits she perhaps hid her condition too much.
"It was like there was my normal life, then the small periods when I had to let cystic fibrosis take over," she says.
"I've had a shift since my transplant in that I'm now much more involved in the transplant community. I realise there was no need to shut everyone out.
"Having support from people who've been through the same thing is invaluable."
For her lungaversary ride, Pippa has chosen her route carefully. She'll ride from Royal Papworth Hospital in Cambridge to London's Royal Brompton Hospital.
"The route is really important as Papworth was where I had the surgery and is in Cambridgeshire where I grew up, and the Brompton is where they kept me alive until that surgery," she explains. "I'm now a governor of Papworth and I'm giving something back to these hospitals that kept me alive and got me to this point.
"I'm hoping with the amount of training I can do before April, it will be OK. I want it to be a challenge but I don't want to end it not wanting to ever get on a bike again!
"I've always wanted to give something back and spread a positive message. Lots of people have a misconception that a transplant will keep you alive-ish, but not necessarily provide a great quality of life.
"People think you'll perhaps have another couple of extra years but still be quite sick. But that's not the case for me and so many others I know who are travelling all over the world, working full-time and taking part in the Transplant Games.
"You can live a complete, fulfilled and amazing life, and all it takes is for the donor to say yes – just make sure your family know what your wishes are."
Pippa's life has been transformed by her surgery.
"I couldn't walk across a room, I was attached to oxygen the whole time and on so many IVs to keep me alive," she recalls.
"Now I live with my fiancé and our puppy (a wire-haired miniature Dachshund called McSid because my fiancé is Scottish!) and I can exercise like most other people. We can go walking the dog, I can go out for dinner, we can go on holiday…
"McSid was a lifesaver.
"I had a hard first six months as I had a collapsed lung and post-transplant lymphoma, but we got him after that and he gave my life some structure and marked the point at which things took a turn for the better.
"My quality of life has been completely transformed.
"It's not even that my quality of life would be bad if I hadn't had my transplant. I simply wouldn't be here.
"I might be knocking around in 30 years' time and I want to know that I've done something with that extra time."
---
Find out more about the challenge, donate or get involved at www.justgiving.com/crowdfunding/lungaversaryride
Follow Pippa on Instagram @nowwhatcanieat