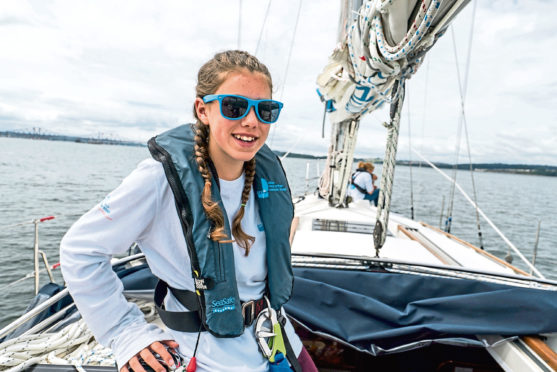 Elita McFarlane loves messing about in boats.
This summer, the 13-year-old from Dundee sailed with the Ellen MacArthur Cancer Trust for the fourth time.
Elita, who was treated for renal cell carcinoma at the city's Ninewells Hospital, first sailed with the Trust when she was 10.
And last month she spent a week sailing on the Firth of Clyde, from the Trust's base in Largs, as part of their Return to Sail programme, which provides the extended long-term support many young people need after cancer, whatever stage of recovery they are at.
Through Trust trips, young people develop confidence through learning new skills, making friends, talking to others who have been through similar experiences, pushing physical boundaries, rediscovering their independence and no longer feeling alone.
So would Elita like to emulate Ellen and one day sail solo round the world?
"I wouldn't got that far!" she laughs. "I'd like to keep going with the Trust, though, and to volunteer for them when I'm old enough.
"I love the trips. I like being on the boat 24 hours a day. It's like being in a different world.
"We always get onto the topic of cancer and it's good to hear other people's stories.
"Everyone knows what it's like. You're not different there; you're normal. I know that there are always people now that I can talk to, no matter what happens in the future.
"For me, it's all about the people who are there. They're just so nice and being on the boat with them, you all get so close so quickly. After an hour or two, you're all joking about and laughing. It's a nice environment.
"You're on the boat all week, though when we're moored up in the dock, we sometimes go to a grass area nearby with the people from the other boats and play a game of rounders.
"I made one really good friend in particular a couple of years ago and it's really helped having her because we just got on so well. When I relapsed, it was good to have someone to talk to who'd had cancer and gets it.
"My other friends, it's not their fault, but unless you've had cancer, you don't really get it, and it's good to have someone I can talk to about it and they know everything about the little cancer world.
"On the boat, you always get round to the topic of cancer. It's easier when you're on Trust trips to talk about it because when you talk about it with someone who hasn't had cancer, it's always such a big sob story and they always feel so sad for you.
"But when you're talking to Trust people, it's just casual chat and you can just say what you really think about it and joke about it, too.
"Talking with them, you're not the odd one out. It's nice everyone's gone through much the same thing and knows what you're talking about, even the adults on the trip.
"There'll be one or two who haven't had cancer but all the volunteers have – it's like if you didn't have cancer, you're the odd one out, which is nice for a change.
"We have contests to see who has the biggest scar, and I normally win!
"I've got quite a big scar and I like to make up stories about it. The best one – though not many people believed it – was that I was surfing off Hawaii and this shark bit me, and I bopped it on the nose and fought it off so it swam away… and I sewed myself up with my sewing kit!"
By the way, don't make the mistake I did of thinking Elita rhymes with "Evita", it's "Ell-it-ah".
As her mum Sarah explains: "My mum is Italian and it's a family name – I have a great-gran, a gran and an aunt Elita but even in Italy, it's pretty unusual."
And as well as friends, the young lady in question has picked up several nautical skills, saying: "I can tie nine knots now, I think, and I know how to put the mainsail up – with some help!
"I also know how to steer the boat and how to cook with a tiny little pot and some chicken!
"You can learn as much or as little as you want on the trips. If you're really into the sailing and want to get really stuck in, they'll let you, or you might just want to sit and chill at the bow of the boat and hang your legs over.
"On this last trip, we'd go round this buoy because there was a dolphin that was always there. We'd go in circles until it started playing with the boat, and my friends and I would lean over the boat trying to see it because it was really cute.
"My favourite part of being on the boat is steering, but my favourite part of the trips is when you're all sitting inside round the table, playing a game and everyone's just laughing and having fun and chatting. It's really nice.
"When it's cold, you just all snuggle up together, which is nice – and when it's hot, you have water fights with the other boats!"
Elita has gone through a lot in a few years.
As mum Sarah explains: "She started to get symptoms the night before her 10th birthday.
"It took us a little while to work out exactly what was wrong with her as renal cell carcinoma is exceptionally rare in children so it wasn't one they were expecting to find at all.
"She had a radical nephrectomy – they took out her kidney as they found a large tumour in it and her adrenal gland, and they did a lymph node clearance.
"But Elita had a relapse at Christmas. They were keeping a really close eye on her because they did think there was a chance it would come back. She was having regular scans, and one of those found the cancer had grown back in a lymph node in her abdomen.
"It was major surgery both times, four or five hours in theatre, so there was a recuperation period after that. She was probably off school for about three months in total.
"And now we're back to monthly ultrasound scans, chest X-rays every two months and MRI scans every three months. They're keeping a really close eye on her.
"The Ellen MacArthur Trust has been fantastic for Elita.
"Sailing is not something anyone in our family would ever have considered or which she would have had the opportunity to do, but it's been remarkable the difference the trips have made for her.
"We're really grateful for what the Trust does, helping rebuild your confidence in the time after the treatment finishes.
"When you're going through the cancer treatment, you're so caught up in the medical world and that's all you focus on. But when that finished, it's as if it's the first time you have time to think. That can be a harder time for both parent and child.
"That's maybe the time you need even more support and reassurance, and that's where the charity helps out.
"Elita really appreciates the contact and the friends that she's made through the Trust.
"When she had her relapse, it was one of those friends that she wanted to speak to about it and who she was communicating her fears to.
"She wouldn't have had that if it wasn't for the Trust."
The Ellen MacArthur Cancer Trust works with young people aged eight to 24, using sailing to rebuild confidence and support, empower and inspire them in re-engaging with education, employment, relationships and society – basically, life – after cancer.
Visit www.ellenmacarthurcancertrust.org for more information on its work.