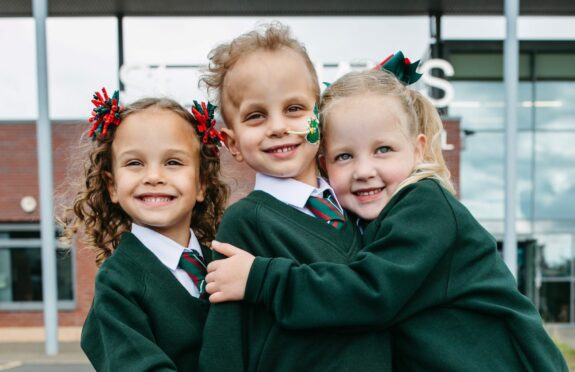 Starting school is a milestone for any child but, for triplets Caleb, Poppy and Alyssia Stirrat, their first day is extra special; a milestone doctors feared Caleb, who battled meningitis while fighting a brain tumour, would never reach.
The inseparable trio – born 13 weeks early at Glasgow's Queen Elizabeth University Hospital, each weighing little more than a bag of sugar and fitting into the palm of a hand – battled for survival and won.
But tragedy struck just after their third birthday when Caleb was diagnosed with a rare brain tumour, and last summer doctors gave him only weeks to live. His parents, Karen and Andy Stirrat, fought for their son to be part of a new but risky drug trial that has so far worked.
But, in the run-up to Christmas last year, Caleb's life once more hung in the balance after he developed meningitis. Yet again he defied the odds, making it home to his family for the big day.
The first day
Now, with preparations under way for the triplets' first day on Tuesday at St Eunan's RC Primary School in Clydebank, their home town, Mrs Stirrat told The Sunday Post: "When you think of last year, and where we were, compared to where we are now, it's remarkable. Back then, we feared we'd putting two kids to school rather than three, and now look at where Caleb is!
"We just received the results of Caleb's latest brain scan and it's great news. Everything is stable. It couldn't be better for him starting school.
"It's wonderful for all three of them. Having been born at just 27 weeks' gestation, in the beginning they were all in a fight for their lives. They were the size of my hand and had to go into the hospital's neonatal unit. To see them all going to school now is just madness, happy madness."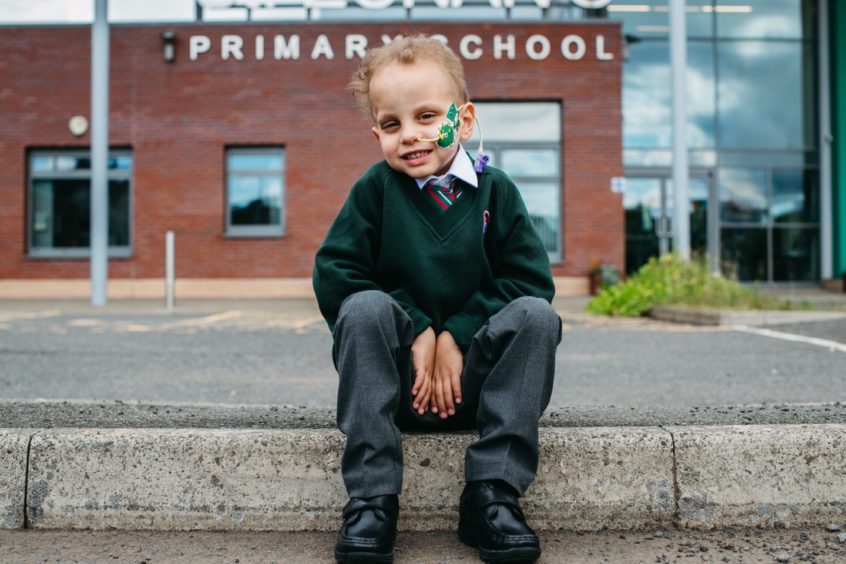 The triplets were born in January 2016 after their parents underwent IVF to realise their dream of becoming parents. Alyssia weighed in at 2lb 2oz, Poppy at 2lb 3oz and Caleb at 2lb 8oz. Caleb was the first to leave the hospital neonatal unit after six weeks, Poppy followed at 12 weeks and Alyssia came home after 13 weeks, on what would have been their due date.
Everything was fine until a few weeks after Caleb's third birthday, when he became violently ill following a light bump to his head at a soft play centre.
At first his vomiting and severe headaches were thought to be viral. But he was eventually seen by a neurologist, who arranged a scan. Karen said: "In the space of half an hour I was told he had a large mass on his brain that had haemorrhaged."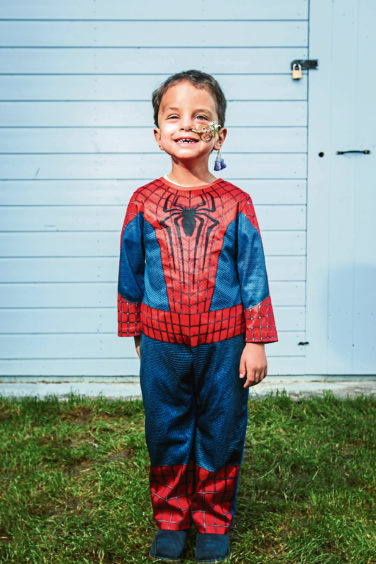 Caleb was rushed to the operating theatre where he underwent eight hours of brain surgery before being taken to the intensive care unit. Within a week he was walking and talking again. But biopsy results confirmed he had an atypical teratoid rhabdoid tumour (ATRT). It's thought the bump to his head triggered events.
He was given chemotherapy and even went to the US to have specialist proton therapy to beat his cancer. The family were buoyed-up by two subsequent clear scans. But the Covid-19 crisis meant further regular scans were delayed.
Then, on June 1 last year, doctors told his parents the tumour had doubled in size and their little boy may have just months left to live.
Not giving up hope
They sought a second opinion and, within days, found an oncologist in Manchester who agreed to put Caleb on a clinical trial – which it was hoped would prevent any regrowth of the tumour – but only after it was removed.
Glasgow Royal Hospital For Children agreed to carry out the surgery. It went ahead just over two weeks later and was a success. The operation was followed by 30 sessions of radiotherapy.
The trial's start depended on a scan on September 29 to check Caleb's brain was tumour-free. Once the trial of the drug tazemetostat began, there was no guarantee his body would cope with it.
His mum revealed the scan results were good and the trial started two days later, and her little boy continued to do well – until he was floored by meningitis. She said: "Caleb had an ear infection at the start of December but fell really ill on December 16. He was admitted to the Royal Hospital for Children on December 16 with a high temperature and given a lumbar puncture and blood tests and meningitis was diagnosed."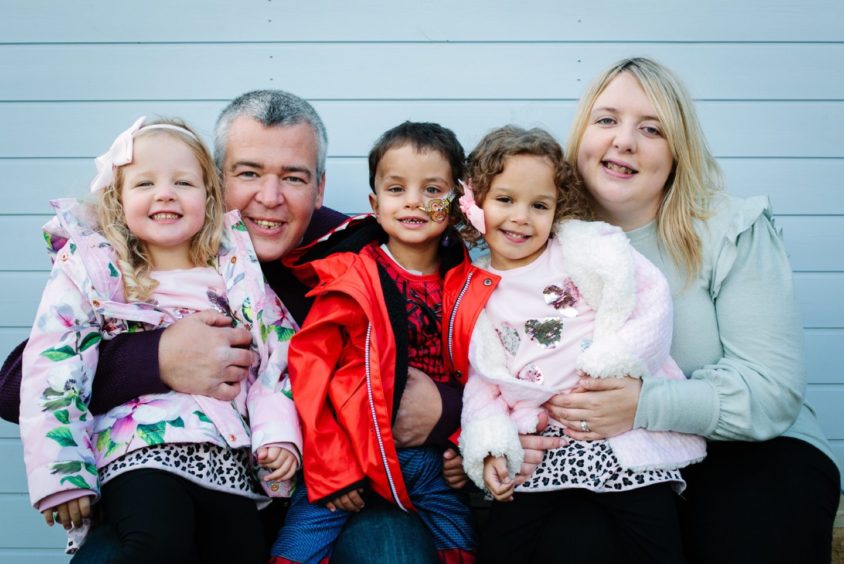 Caleb was treated with antibiotics and was allowed home on Christmas Eve, just in time for bed and the arrival of Santa. But he had to return to the hospital once a day to complete his treatment.
His mum said: "Caleb seems to take everything in his stride, school included. He has been given tazemetostat on compassionate grounds. At first doctors said he can only take it for two years. But now there is hope he can stay on it for longer. It does have risks but there is no point looking at them because this is his only chance. For now, he is doing well. He has no pain and he is eating and playing. And he is even able to go to school with his sisters. That means everything to us.
"We don't know what the future holds for him. But we are making the most of this moment."
---
The Stirrats want to raise awareness of ATRT in the hope of finding a longer-term solution for Caleb and other children like him: facebook.com/caring forcaleb3/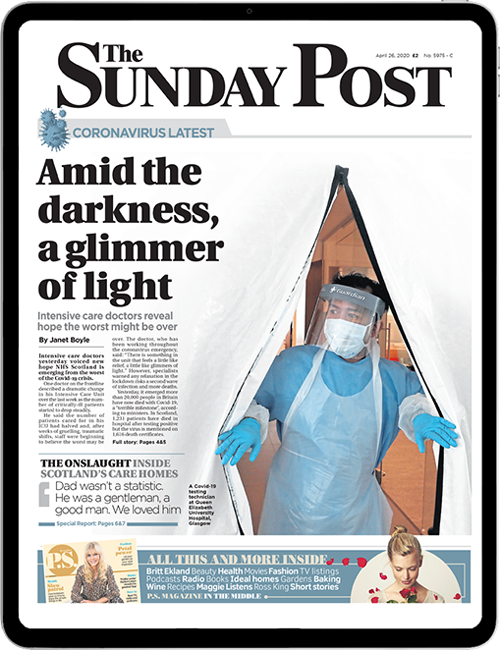 Enjoy the convenience of having The Sunday Post delivered as a digital ePaper straight to your smartphone, tablet or computer.
Subscribe for only £5.49 a month and enjoy all the benefits of the printed paper as a digital replica.
Subscribe