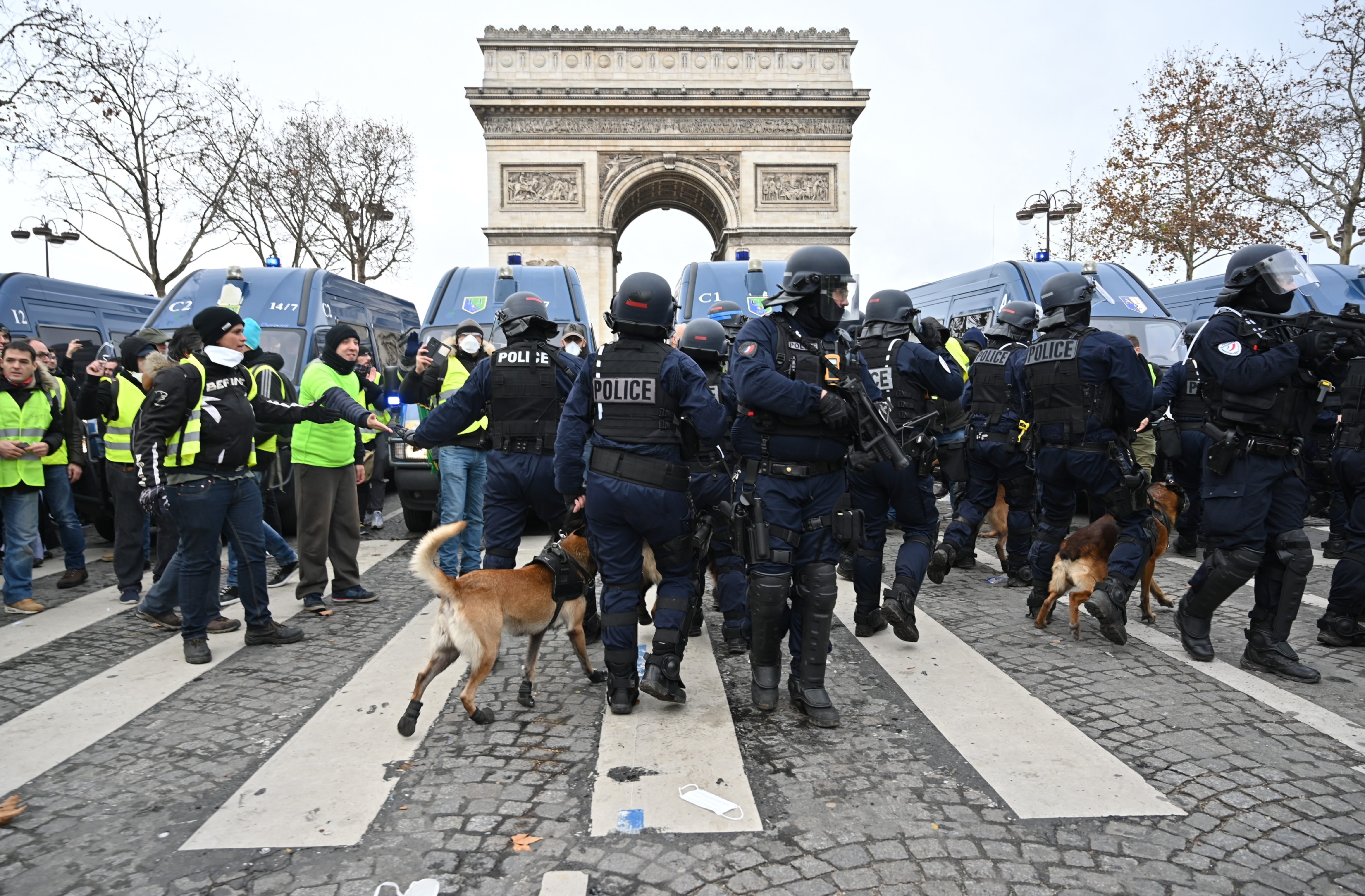 HUNDREDS of protesters were arrested in Paris yesterday as riot officers using tear gas and rubber bullets fought to gain control of the streets.
Police also used water cannons to try and control thousands of "yellow vest" protesters who took to the streets of the French capital yesterday.
At least 30 people, including three police officers, were injured and around 500 people arrested as trouble flared for the third Saturday in a row.
Cars in upmarket neighbourhoods were torched as protesters made their way towards the heart of presidential power, the Elysee Palace.
A dozen armoured cars and up to 8,000 officers were in Paris to block demonstrators as they fought their way down the Champs-Elysees towards the French President's official residence.
Police fired water cannons in one of the capital's main shopping districts, near famed department stores Galeries Lafayette and Printemps, and the Palais Garnier opera house.
Prized monuments and normally bustling shopping meccas were locked down at the height of the festive retail season as protesters condemned President Emmanuel Macron and France's high taxes.
The Eiffel Tower and Louvre Museum were among tourist attractions that remained closed, fearing damage after rioting and looting last Saturday that saw 130 people injured.
Clashes last weekend were among the worst seen in the French capital for decades, with four people being killed in accidents since the unrest began on November 17.
The movement, dubbed the yellow vests, started as an opposition to fuel tax rises but ministers say it has been hijacked by "ultra-violent" protesters. The name comes from the hi-vis vests that all French motorists are required to keep in their cars.
Some 8,000 police officers and 12 armoured vehicles were deployed in Paris yesterday, and nearly 90,000 officers were on duty across the country.
Mr Macron's government had warned that the yellow vest protests had created a "monster" and the Paris actions would be hijacked by "radicalised and rebellious" crowds.
Interior minister Christophe Castaner urged for calm, and said: "I ask the yellow vests that want to bring about a peaceful message to not go with the violent people. We know that the violent people are only strong because they hide themselves within the yellow vests, which hampers the security forces."
Mr Macron has been largely invisible in recent days, leaving his prime minister and government to try to negotiate with protesters.
Parts of Paris looked like they were bracing for a hurricane, with boards on windows covering up the Christmas decorations.
Offshoot movements have emerged elsewhere, and yellow vest protests were held yesterday in Belgium and the Netherlands.
Hundreds of protesters calling for the resignation of Belgian prime minister Charles Michel marched on the European quarter of Brussels, while in the Dutch city of Rotterdam, a few hundred protesters walked peacefully across the Erasmus Bridge singing and handing flowers to passers-by.