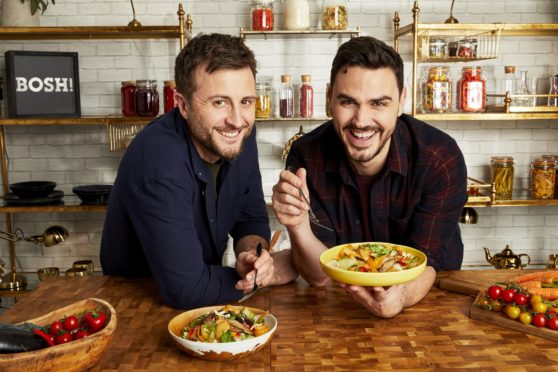 What do Jammie Dodgers, Guinness, baked beans and tofu have in common?
They are all, perhaps surprisingly, completely free from animal products and therefore suitable for vegans – of whom there are now more than ever before.
Between 2014 and 2019, the number of people eating vegan in the UK quadrupled, shooting up from an estimated 150,000 to 600,000, accounting for a little over 1% of the population. High street restaurant chains now proudly serve plant-based options, supermarkets are filled with free-from foods, and you can even order a vegan Domino's pizza.
So, as Veganuary – the 31-day challenge to go plant-based – gets under way with a record 400,000 participants, why have so many people decided to avoid meat, fish, eggs and diary?
Ian Theasby, co-founder of YouTube cookery channel BOSH!, believes more people have realised they can still enjoy a healthy, balanced diet without animal products, something which social media and documentary films have helped to promote.
"I think social media has really helped to put the truth and some decent facts out there – and where it isn't so clear-cut, it's also helped to host debate," explained Ian, who went vegan on March 1 2015 after watching the documentary, Cowspiracy: The Sustainability Secret.
"By and large, the science is stacked in favour of the fact that eating more plants is better for the planet, our health and animals – and it's great the world is coming to see that."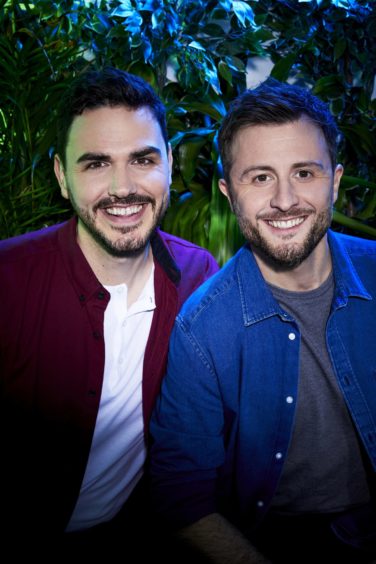 His best friend and business partner, Henry Firth, agrees, adding that the rapid expansion of the vegan food market has also made plant-based eating easier.
He explained: "You just have to look at the word 'vegan' in Google Trends to see that searches have skyrocketed from around about 2015 right the way through to now.
"It's not just the fast food restaurants, but also 'proper' restaurants and supermarkets. They have jumped on the bandwagon, not just with fake meats, like the Beyond Burger, but also by using vegetables in really creative ways.
"People are starting to see how whole plant-based foods can be really healthy, really tasty and really satisfying."
Ian and Henry are perhaps one of the vegan community's biggest success stories, having reached more than half a billion people in the first year they launched the BOSH! YouTube channel, which has since been turned into five best-selling cookbooks, and a range of products stocked in Tesco.
Their debut collection of recipes was the first vegan cookbook to reach No. 1 in the charts, and is now in the top 50 UK cookbooks of all time. Four years on from their first video, the BOSH! boys still focus on adapting or "veganising" traditional recipes, which they say came from a desire to keep eating their favourite dishes.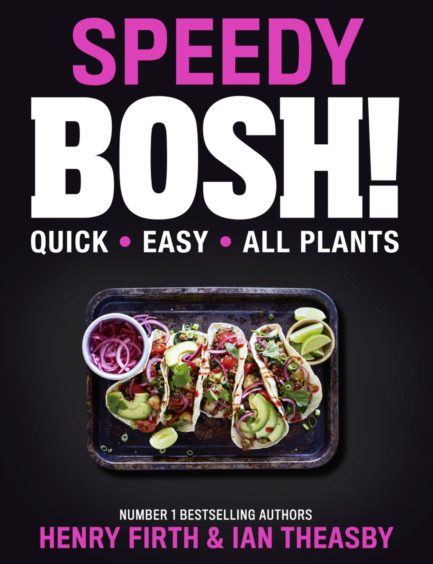 Henry explained: "Our first book was written before fake meat was really available, so every single recipe pretty much uses plants in their raw form – I think the most processed ingredients are a veggie sausage or tofu. It really is a testament to the power of plants!
"When we first started developing recipes we would think, 'What do we miss and how can we veganise it?' and we managed to do that really successfully with burgers, pies, lasagnes and curries.
"Now, because we've veganised all of our previous favourites, we approach recipes slightly differently, concentrating on a single ingredient and then brainstorming ideas to try and get the most out of it. It's a fun process that we both really enjoy."
The pair's latest cookbook, Speedy BOSH!, focuses on quick meals that can be on the table in 30 minutes or less, including stews, comfort food, puddings and what they describe as "one-pan wonders".
And even though the boys have successfully managed to create vegan versions everything from mac 'n' cheese to sausage rolls, they admit there's still satisfaction to be found in discovering a new "accidently vegan" product on the supermarket shelves.
"I'm really partial to Jelly Tots," said Ian. "Or Co-op's doughnuts, they are really good."
Henry added: "Oreas and Biscoff Lotus biscuits – we use them all the time."
Visit bosh.tv
---
Vegan Millionaire's Shortbread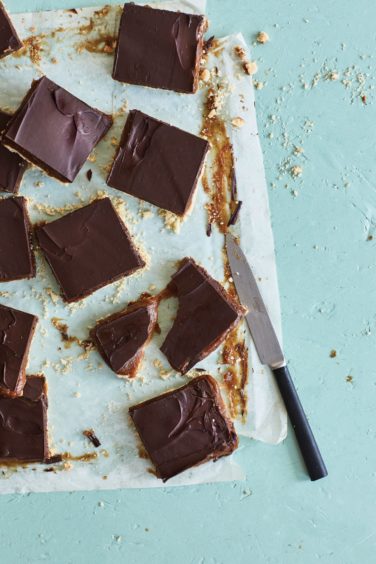 Walking home from school was always fun; chatting to mates, kicking a ball about and, best of all, spending leftover lunch money at the local bakery. We were both very fond of their millionaire's shortbread, so we decided to make our own.
These beauties have everything – rich chocolate, gooey caramel and a crunchy biscuit base. Make a batch next time your mum's coming round for a cuppa: brownie points guaranteed. We're very proud that we've managed to turn these wonderful bites into a speedy recipe. Enjoy!
Makes: 16
You'll need:
200g plain flour
100g dairy-free butter
A pinch of salt
50g caster sugar
200g dark chocolate
(we use Montezuma 73% dark)
For the caramel
300g pitted dates
40ml boiling water
75g dairy-free butter
100g light muscovado sugar
150ml golden or maple syrup
2 tsp vanilla extract or vanilla bean paste
100g Biscoff spread
Method
Preheat oven to 180C
Grease and line a 20 x 30cm baking tin with baking paper.
Make the biscuit base. Measure the flour, dairy-free butter, salt and sugar into a bowl. Rub with your fingertips until the mix looks like crumble. Tip into the tin and lightly press down with your fingers until even.
Bake on the middle shelf of the oven for 12 minutes. Remove and set aside to cool.
Meanwhile, make the caramel. Put the dates and boiling water in a food processor. Blend until smooth. Add the dairy-free butter, sugar, syrup, vanilla and Biscoff spread and blend until smooth and thick.
Melt the chocolate. Roughly chop the chocolate and put in a microwaveable bowl. Melt it in the microwave in 30-second blasts or pour hot water into a saucepan, bring to a simmer, put the bowl on top and leave the chocolate to melt. Once melted, mix smooth.
Dollop the caramel over the biscuit base and spread out to an even layer. Pour over an layer of the melted chocolate. Leave to cool, then transfer to the fridge to set for 2 hours.
Heat a sharp knife under the hot tap and use it to slice the shortbread into squares.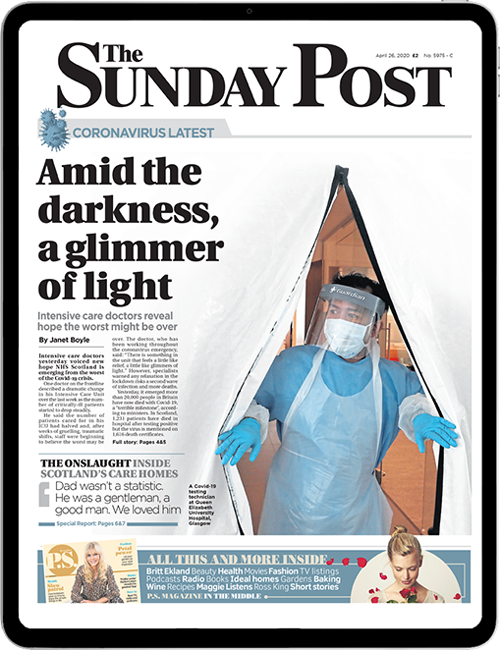 Enjoy the convenience of having The Sunday Post delivered as a digital ePaper straight to your smartphone, tablet or computer.
Subscribe for only £5.49 a month and enjoy all the benefits of the printed paper as a digital replica.
Subscribe