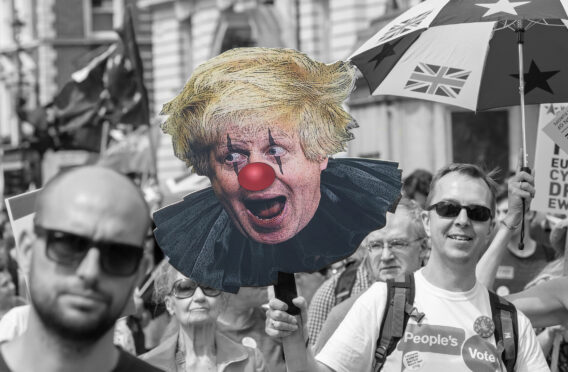 He is, according to Labour leader Keir Starmer's conference speech, "a showman with nothing left to show".
Some of his critics call him a clown, a blustering buffoon, while others suggest his clowning has far more serious intent and corrosive impact as a technique to encourage the idea that nothing – certainly not politics – need be taken too seriously.
However, as Boris Johnson heads for his party's conference this week, many commentators believe that, after apparently surviving a series of political catastrophes unscathed, if he is a clown then he is the kind that is laughing, not crying, on the inside.
While commentators scratch their heads at voters' willingness to suspend belief in what the Prime Minister says and does, he remains ahead of Labour in the polls and retains the support of his party and MPs.
Former 10 Downing Street adviser Alastair Campbell, an influential voice as Tony Blair led the country, believes current Labour leader Starmer can, however, challenge Johnson at the next general election by challenging him on his "ABC of Disaster" – Afghanistan, Brexit and Covid – and exposing exactly how out of his depth he is.
Meanwhile, Sir Anthony Seldon, biographer of the five prime ministers before Johnson, said the PM needed to come across as a "serious, thoughtful and maturing" leader this week and reach out beyond the conference hall to Scotland – where the new Downing Street policy on a referendum is reportedly not to talk about it, Northern Ireland, and the Red Wall constituencies in the north of England.
Johnson, faced with the challenges of a fuel crisis and food shortages, and criticism of National Insurance increasing, hard on the heels of the disastrous withdrawal of troops from Afghanistan that led to the Taliban taking power, will attempt to assure supporters at the Conservative conference in Manchester that he is still in control of the country.
He will be hoping for a less chaotic conference than Starmer endured in Brighton, with a late-night speech from his deputy, Angela Rayner, calling Johnson's government "scum", and clashes between the right, left and centre of the party, while a speech that won mixed reviews did not signal the step-change in his leadership many supporters believed was necessary.
In his keynote speech, Starmer insisted he was up to the challenge of challenging Johnson, describing him as a "trickster" and attempted to define himself as a serious man up against Johnson's clownish figure.
He contrasted their careers outside politics, mocking Johnson for writing articles about cycle helmets and traffic cones when Starmer was leading the Crown Prosecution Service in convicting terrorists and criminals such as Stephen Lawrence's killers.
He also told delegates that when appearing on Top Gear, Johnson told presenter Jeremy Clarkson "you can't rule out the possibility that beneath the elaborately constructed veneer of a blithering idiot, lurks a blithering idiot".
Campbell said: "Keir Starmer's line of attack on Boris Johnson was clever. He didn't call him a liar, though we all know he is. He didn't focus on his moral values, though we know he lacks them. And, though he went for him over the varied policy disasters over which Johnson has presided, he did not get too personal about it."
Referring to Rayner's remarks, Campbell said: "Starmer preferred to say the prime minister was not a bad man but a trivial man. Subtle but 'ouch' nonetheless. You have to play to your strengths in ­politics. Starmer's strengths are that he is serious, forensic, has a good mind, and decent values that shone through when he was paying tribute to his parents and to victims of crime in the front row of the hall."
Campbell warned that Starmer would never have Blair's charisma or Gordon Brown's oratorical skills but said: "In calling out Johnson for being 'trivial' and 'a showman', he was not only speaking to a truth about the prime minister but ­drawing a ­parallel with himself. He was saying 'there are serious challenges facing the country, and we need ­serious leadership, which Johnson cannot provide, and I can'.
"You also have to turn the strengths of your opponent to weaknesses. Johnson's strengths are his 'boosterism', his relentless positivity, and his ability to make people laugh, and like him. It leaves me and many others cold, but it appeals to enough people to have got him to where he is, helped by the Corbyn era in Labour, on which Starmer is rightly turning a page.
"He also has a Trump-like ability to withstand scandals that might well have brought down PMs in an earlier age. At heart a journalist, his hold on large parts of the media might help explain this, but the ­minute the Tory party thinks he might lose, they will dump him.
"If the 'trivial' line can be made to stick in public minds, it will disable a key element of Johnson's shtick. And if people begin to see that shtick is all it is, and that on big policy challenges he is out of his depth – Afghanistan, Brexit and Covid, an ABC of Disaster, that spring to mind – Labour can get in a ­position to challenge for power. Johnson is political to his ­fingertips, and not to be underestimated. But something shifted this week.
"The key questions now are how the Tories respond, and whether Labour can use the moment to raise their game consistently in campaigning, policy development and making the political weather ahead of the next general election."
The Conservatives meet in Manchester today for the start of a four-day conference. According to Tory insiders, Johnson will pitch himself in his keynote speech as the man prepared to make difficult decisions in the national interest.
But he may face a hostile reception over his plans for a £36 billion increase to National Insurance to fund NHS and social care, which one cabinet minister described as "the death knell of Conservatism".
House of Commons leader Jacob Rees-Mogg has also insisted Britain was "taxed as highly as the country can afford".
One flashpoint may be a fringe meeting tomorrow called "Time for the Conservative Party to be Conservative". It is hosted by the Campaign for Conservative Democracy, which represents grassroots activists. Its chairman, John Strafford, has described the tax rise as "a complete departure from Conservative values".
Johnson may also face pressure to offer more details about his plans to "level up" Britain, a pledge made two years ago but which critics says remains vague.
But Seldon, author of The Impossible Office? The History Of The British Prime Minister, said the next general election, which could be in 2023, was "Boris Johnson's for the taking", adding: "It would take a leader of Labour the calibre of Harold Wilson or Tony Blair to give Labour a chance of winning".
However, Seldon said Johnson needed to show at the party conference in Brighton he had matured and took the role of prime minister seriously. He said: "What Johnson has to do is to come across as a serious, thoughtful and maturing leader, who is learning to put aside the frivolity and show that he realises what a serious business it is to be PM.
"The gallery he needs to play is not in the conference hall, who will clap anything he says, but across the country, including in the Red Wall constituencies, Scotland and Northern Ireland.
"He has to retain his can-do ­optimism, which pushed him through Brexit, won him a general election, and has gotten through Covid so far.
"He needs to offer a more statesmanlike vision that appeals to the whole country, grounded on values and aspiration, that gains trust and respect. But he mustn't lose that fundamental boyish optimism, which is a core part of his essence anyway."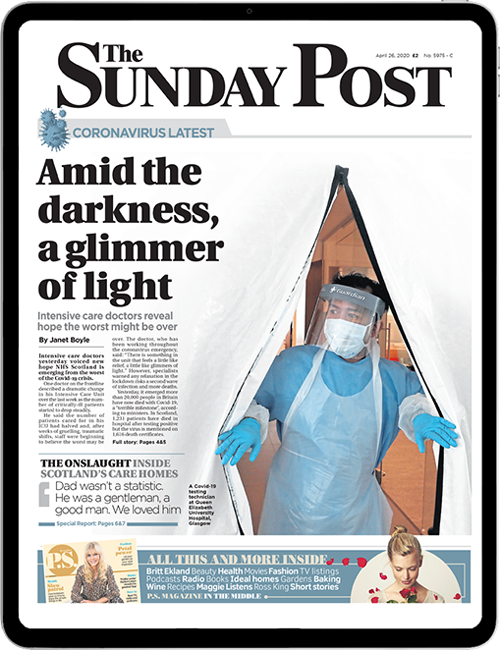 Enjoy the convenience of having The Sunday Post delivered as a digital ePaper straight to your smartphone, tablet or computer.
Subscribe for only £5.49 a month and enjoy all the benefits of the printed paper as a digital replica.
Subscribe