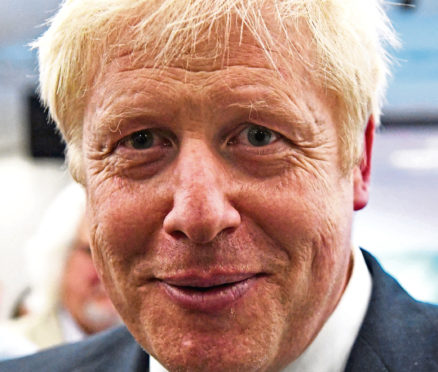 Perth is a rather dignified place. The Fair City. And so, it felt doubly uncivil that when Flora, a Tory party member, stood up in the concert hall at the leadership hustings to ask Boris Johnson whether a man's loyalty towards his wife and children mattered in terms of his qualifications to be prime minister, that she was so loudly booed.
And as she stood there in front of a microphone looking increasingly abandoned in the face of such strong condemnation, it was a struggle to remember when the Tories were the party of the family and that Flora was among 500 friends.
All Scottish Conservative and Unionist Party members, all bonded by a common political cause, and jeering at a woman who had had the audacity to ask a question on everyone else's lips.
Can Boris Johnson be trusted?
And when Johnson, his big, hunched back still churlishly turned against her, refused to answer Flora, dismissing her question as "stuff he doesn't comment on", he was enthusiastically cheered.
Journalist Colin Mackay, the hustings chairman, was right to stand up for Flora and to press Johnson on the matter, but the audience grew ever more hostile telling them to "move on".
It was plain bullying. The refusal to even turn and look at Flora, to reject her examination about his character as basic impertinence, and then to whip up the crowd against a journalist who had tried to defend her was also pure Trump. And the audience loved it. How they cheered.
Poor Flora. Poor us. Johnson's pitch to be prime minister is all about the personal; who he is and what he stands for, but when Flora ventured into character traits that he would rather the rest of us ignore, she was treated with contempt; someone to be humiliated and abused, which brings us back to the question of how he treats women.
Now, I am no prude. In my opinion, politicians are the better for having a past. Neither do I generally believe that they should be vilified for their sexual proclivities, albeit ones conducted within adult consensual relationships, and it is to be celebrated that they no longer need to hide their sexuality or live a lie.
But that shift in popular opinion doesn't mean anything goes.
What Johnson should have done when Flora was being heckled and told to sit down by her own party comrades was to demonstrate that his charm is not just faux. It was Johnson's moment to excuse his own frailties and demonstrate that this was one woman he was not prepared to see abused. And he missed it.
What I saw was a boor. A man who was willing to see a woman victimised for simply asking the obvious questions about a man whose main selling point – love it or loathe it – is his character.
Leaving the hustings in Perth, I bump into a female Tory MSP who complains that Flora was a plant by the opposition to smear Boris. I walk away before I am tempted to explain that the only person who is responsible for Johnson's behaviour is Johnson himself, but as our prime minister, it is us who may yet have to pay the price for it.