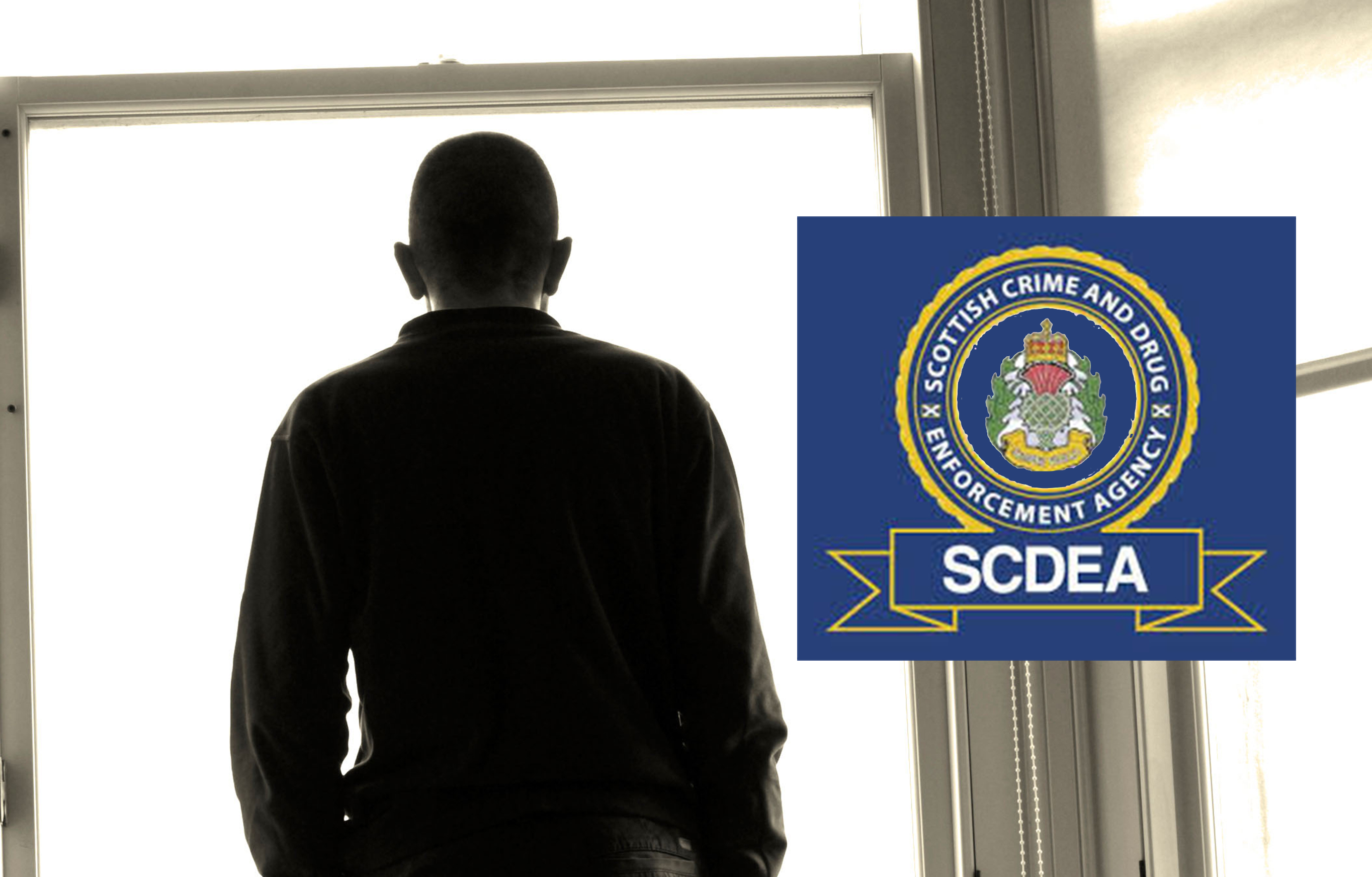 AN elite crime-fighting agency has been accused of destroying piles of documents found at a chaotic undercover unit before prosecutors were told of potential fraud.
The now-defunct Scottish Crime and Drug Enforcement Agency, once billed as Scotland's FBI, allegedly incinerated files and paperwork after a shambles was exposed in a unit managing the finances of covert operations.
A detective sergeant, asked to take charge of the financial arrangements supporting officers' undercover identities, raised the alarm after finding piles of unopened mail and unexplained documents.
The SCDEA reported the officer previously in charge – who today breaks his silence to say he was in mental turmoil at the time – to the Procurator Fiscal after discovering possible fraud.
But, we can reveal, the incineration of documents found in the secure unit at an out-of-town industrial estate allegedly took place within days of the potential fraud being discovered and before prosecutors were alerted.
One source said destruction of files found at the offices was ordered within days of senior officers visiting the site on April 7, 2011. A civil case, brought by the whistle-blower against her former bosses, heard officers were ordered to buy a garden incinerator and burn the documents at the SCDEA base at Osprey House, next to Glasgow Airport.
In a £1 million legal action, the whistle-blower successfully claimed she had been unfairly scapegoated and forced out of her job.
After being asked to take over management of the undercover unit she had found bank cards, credit card statements and cash not linked to any undercover operations.
The former officer, known as Mrs K, told the court how, after visiting the unit, which looked "ransacked", her bosses described it as a "total disaster" and told her "nobody would ever know about this". She said they then ordered piles of paperwork and documents found there to be destroyed.
Within eight days, the SCDEA had reported the officer previously in charge of the unit, known only as DSG, to the Procurator Fiscal but, according to sources, the documents had already been destroyed. The Crown later decided not to pursue a case against the officer.
One source said: "No one knows what was burned but was the fiscal even told those documents had existed never mind destroyed.
"They might, or might not, have been evidence of fraud but they were definitely embarrassing to the SCDEA and the senior officers who were meant to be monitoring what was going on at that unit and signing off on the finances.
"It was an astonishing thing to do. Everything found in that office should have been bagged and tagged. That is normal, routine.
"Imagine if a company found evidence that an executive might have been committing fraud but decided to buy an incinerator and some petrol and burn all the paperwork in the carpark before telling the police? It would not go well for them."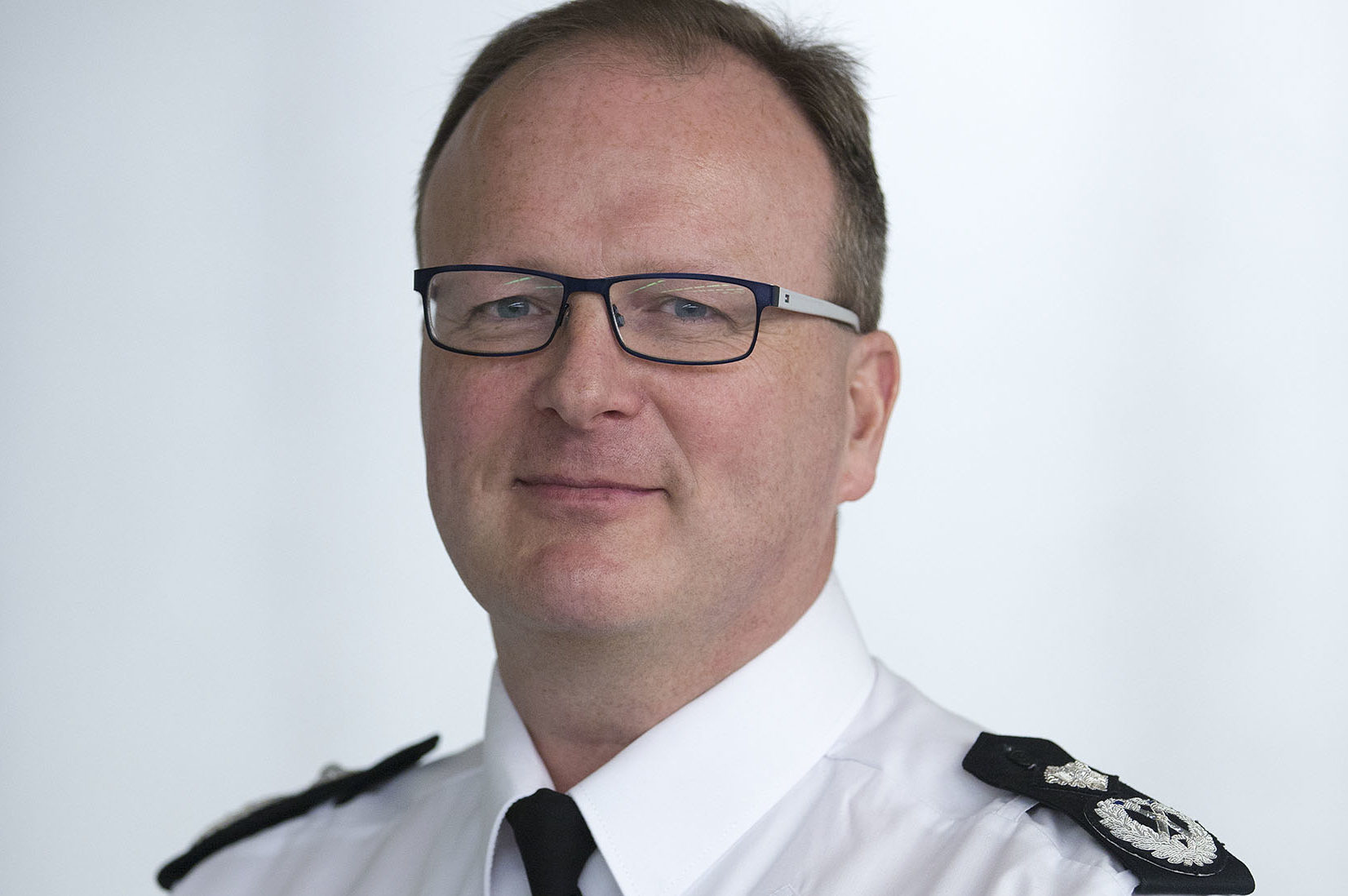 We told last week how two of the officers in charge of the SCDEA announced their retirement as the judgement of Lord Brailsford in the whistle-blower's case was published.
Police Scotland Deputy Chief Constable Johnny Gwynne, who was No.2 at the agency in 2011, announced his retirement the day before Stephen Whitelock, lead investigator at HM Inspectorate of Constabulary, who was then No.3. The agency was then led by Gordon Meldrum, who has already left the police.
Both men and their organisations said there was no connection between their retirement and the judgement when the judge backed Mrs K's claim she had been scapegoated. Police chiefs are considering whether to appeal.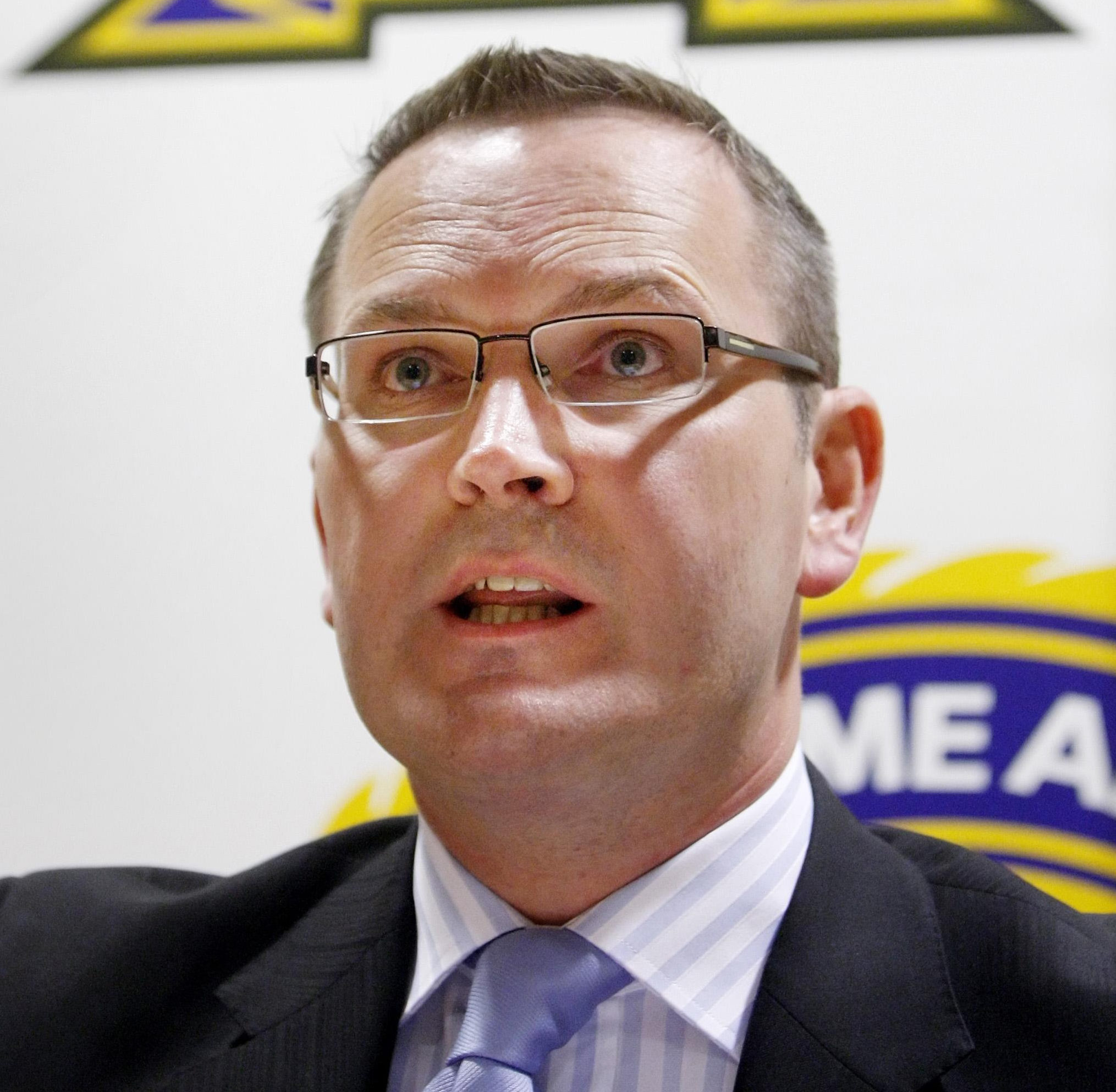 The Court of Session had heard that Mr Whitelock "lost confidence" in Mrs K after she raised the alarm about the chaotic finances of the undercover unit. He decided the seconded officer should return  to Grampian, her home force. The head of HR, later told Mrs K her job at the agency had been advertised. When asked who ordered the role to be advertised, Ms Fraser replied: "The dep".
Mrs K said this referred to Mr Gwynne, saying: "She said the dep has said Grampian has said you're never to be an undercover officer again and never to work in special operations again."
Meanwhile, the influential role of Mr Whitelock at the SCDEA has renewed focus on his involvement in a report into undercover policing in Scotland. The review, published last year, was ordered after a number of scandals linked to covert officers emerged in England.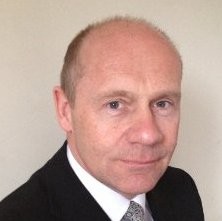 However, the HM Inspectorate of Constabulary Scotland (HMICS) report into undercover policing concluded covert officers had been "well-regulated" during 423 operations since 2000. It is not known if Derek Penman, then HM Chief Inspector of Constabulary in Scotland, who wrote the report supported by Mr Whitelock, reviewed the financial mismanagement and effective suspension of the SCDEA undercover unit in April 2011.
On Friday, after being asked if documents found at the SCDEA office were destroyed before or after prosecutors had been notified of possible fraud, Police Scotland replied: "We note the decision of the court and are now considering the terms of the judgement.
"There is no connection with this case and DCC Gwynne's retirement. Any suggestion otherwise would be completely inaccurate."
---
"It was my fault but there was nothing dodgy. All I can say is that I was very ill at the time"
The former officer in charge of the undercover unit that collapsed amid claims of financial mismanagement has said his mental health was deteriorating for months before.
The officer, known only as DSG, was managing a Scottish Crime and Drug Enforcement Agency covert operations unit when it was exposed as a shambles.
The mess was uncovered by his successor who, on taking over responsibility for the unit, managing the finances for undercover operations against organised crime, found financial and travel documents in names not linked to any operations.
She said the office on a nondescript industrial estate, looked like it had been "ransacked," with unexplained documents, piles of unopened mail, passports and cash stuffed in drawers. Her boss described the scene as a "total disaster" and agreed with her that the chaos could compromise operations and risk the safety of undercover officers.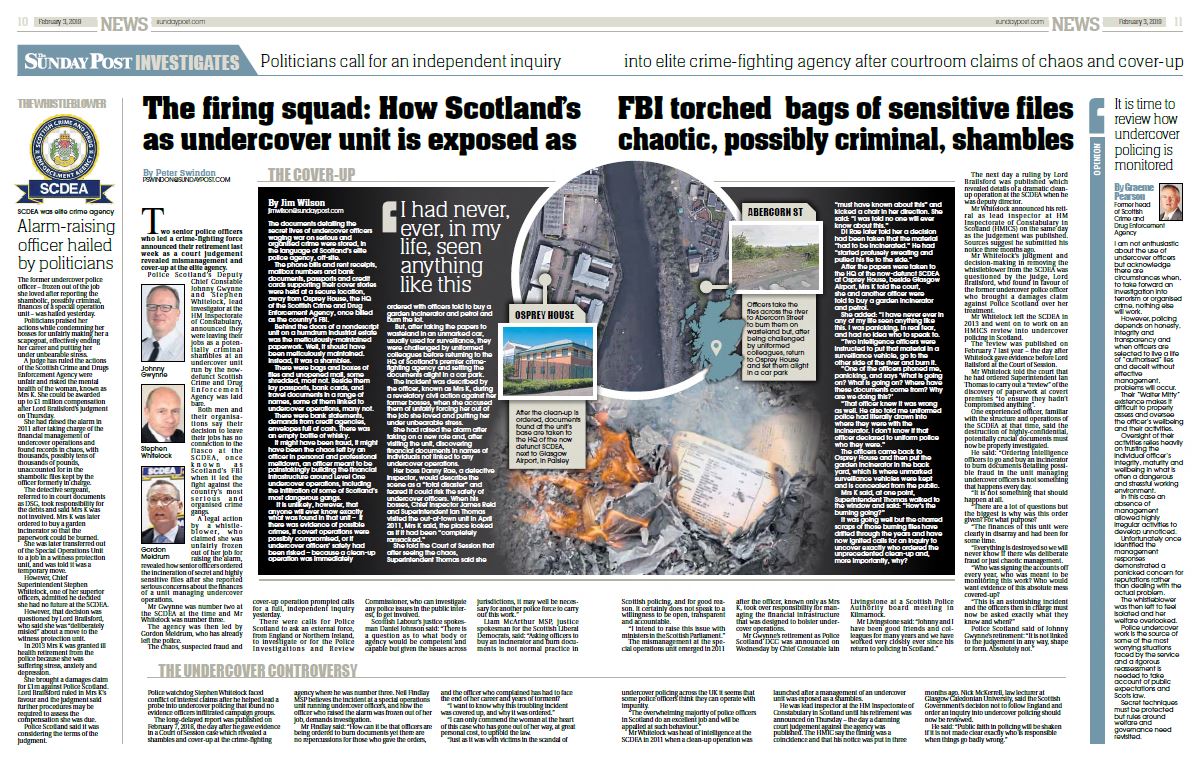 The possibility of fraud saw the SCDEA report the officer in charge to prosecutors but no case was pursued. The detective sergeant had been on secondment to the SCDEA but was due to return to Strathclyde, his home force, when he returned from holiday in April 2011.
The shambles was exposed when he was abroad and, on his return, he was escorted to the SCDEA base when he landed at Glasgow Airport on April 14. Within days he was admitted to a secure psychiatric unit at Wishaw General Hospital. Speaking to The Post, he said: "I was in hospital for a month – four weeks."
He said he was "very ill at the time" and insisted his mismanagement was not fraudulent, adding: "I told the management it was nothing dodgy. It was all symptomatic of me not being well. Just life got on top of me.
"It was all paperwork and mail that hadn't been opened and it was all part of the illness I was going through at the time. It was names of UCs [undercover officers] that had been working and I just hadn't cancelled their accounts so what was happening was they were dormant accounts getting charged like £12 a month for, like, a royalty. It was that kind of stuff. There was nothing dodgy. Absolutely nothing." When asked if he was aware of the Court of Session judgement in favour of his former colleague, known as Mrs K, who claims she was frozen out of her job after blowing the whistle, he said: "I hope everything is alright with her.
"What happened to her afterwards was very little to do with me. It was a management thing.
"It was all completely my fault. All I can say is, I was very ill at the time.
"None of it was her fault and I told the management that at the time."
Mrs K won her legal action against Police Scotland at the Court of Session two weeks ago although the force is still considering whether to appeal Lord Brailsford's judgement.
---
Interesting times!! at the SCDEA
The former head of the Professional Standards Unit at Strathclyde Police congratulated Deputy Chief Constable Johnny Gwynne on his retirement while remembering "very interesting times!!" at the SCDEA.
It is unclear what the Facebook post by Val McIntyre refers to but she attended meetings with Mr Gwynne to discuss the fallout from the collapse of the agency's undercover unit.
All officers were seconded to the SCDEA and Strathclyde Police had asked for a review into the agency's internal inquiry after their officer, known only as DSG, was blamed for financial mismanagement.
Ms McIntyre and Mr Gwynne attended a meeting in July 2011 to "agree a way forward" between the SCDEA, Strathclyde and Grampian, the home force of the whistleblower, known as Mrs K. Giving evidence in her successful civil action when she claimed she had been unfairly scapegoated, Ewan Stewart, then head of professional standards at Grampian, who was also at the meeting, said he had perceptions "that something wasn't right" in how the situation was being managed.
He said: "The SCDEA had carried out some kind of investigation. It was not clear and probably still is not clear but they had done some kind of investigation."
After Mr Gwynne's retirement was announced last week, Ms McIntyre, who went on to become Police Scotland's Head of Professional Standards but has now retired from the force, wrote: "Wishing you well in your retirement Johnny. I still remember…some very interesting times when you were at SCDEA!!".
---
Undercover all-clear is questioned
An environmental campaigner targeted by undercover officers says the revelations about the Scottish Crime and Drug Enforcement Agency should lead to a wider investigation into covert operations.
Tilly Gifford is backing renewed calls for an inquiry into undercover policing after it emerged a senior officer involved in a previous review – which found "no evidence of systemic failings" – was also a senior officer at the SCDEA at the time of mismanagement being exposed at an undercover unit.
After retiring from the police, Stephen Whitelock, who was head of intelligence at the SCDEA in 2011, later became a lead investigator at Her Majesty's Inspectorate of Constabulary Scotland, the body that carries out reviews of undercover policing.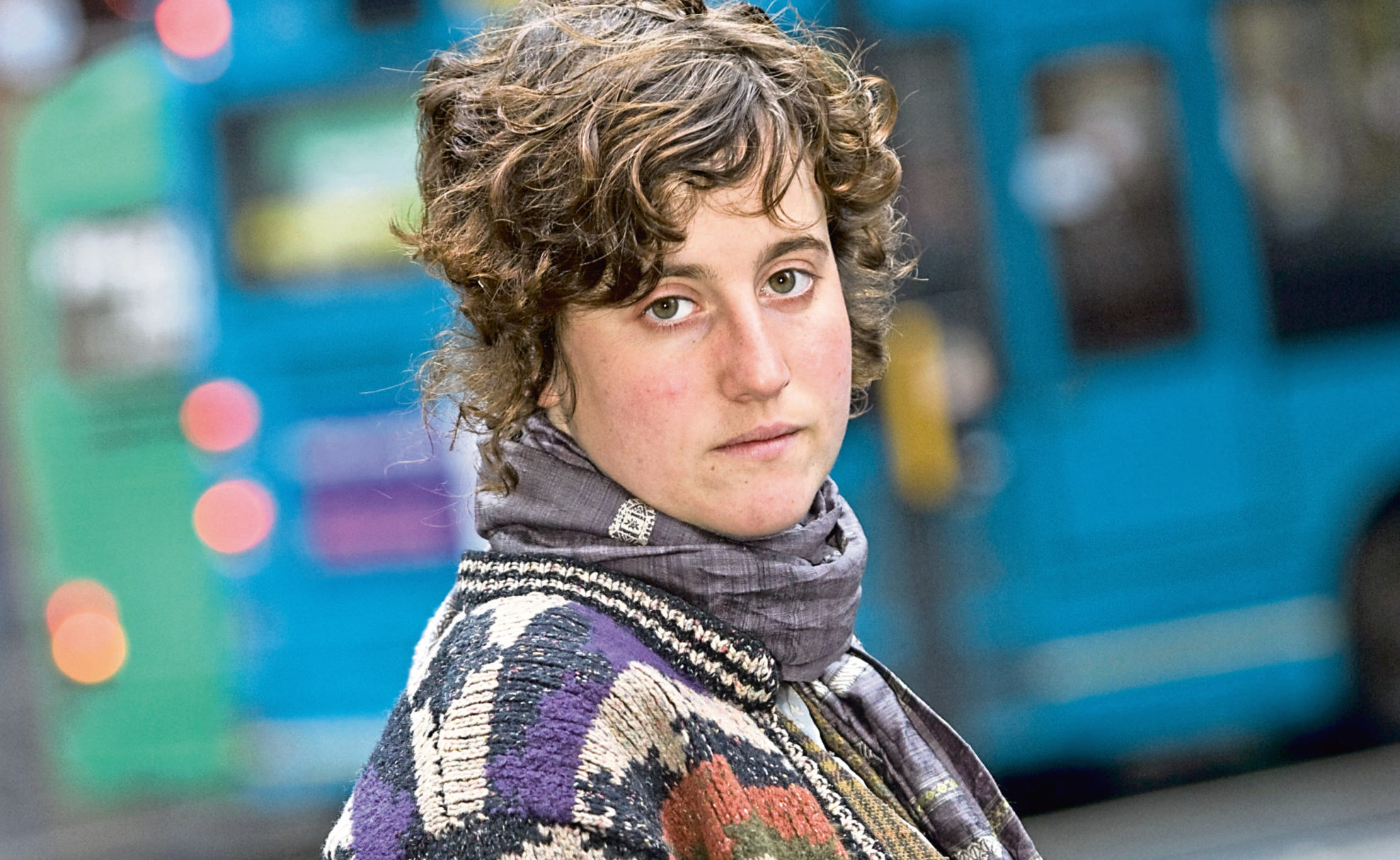 Ms Gifford, who says officers tried to recruit her as an informant while she fought an airport expansion in 2009, said: "The fact that the officer who gave undercover police in Scotland a clean bill of health was in a senior position at the time should encourage the government to regard the HMICS report as void. A new and fully independent Scottish inquiry should be called."
Mr Whitelock "supported" the review, which was led by Derek Penman, who was then HM Chief Inspector of Constabulary in Scotland.
His report said: "I have drawn on the experience and expertise of a number of people during the process including staff from within HMICS and also outwith who are independent of policing in Scotland."
A note which corresponds with this paragraph in the report mentions Mr Whitelock by name. It states: "HMCICS personally led this strategic review supported by Stephen Whitelock, Lead Inspector."
The HM Inspectorate of Constabulary Scotland report was published on February 7, 2017, the day after Mr Whitelock gave evidence in the Mrs K case.
---
Leading MSPs demand urgent investigation
An outside police force must be asked to investigate cover-up claims at a now-defunct crime-fighting agency, leading MSPs said yesterday.
Pressure is building on Police Scotland to order an independent inquiry into allegations of serious mismanagement at the Scottish Crime and Drug Enforcement Agency (SCDEA) after it was claimed files and documents discovered at a chaotic undercover unit were burned before officers reported potential fraud to prosecutors.
Yesterday, Scottish Liberal Democrat's justice spokesman, Liam McArthur said the new claims in the "sorry affair" were "astonishing".
Justice minister Humza Yousaf said last week that he and Police Scotland Chief Constable Ian Livingstone had been shocked by the "alleged practices in the SCDEA" after we revealed the scandal.
But Mr McArthur said they must now take "concrete steps" to address concerns and said the revelations strengthen the case for a wider inquiry into undercover policing in Scotland.
He said: "That should start with commissioning another UK police force to review this particular sorry affair but there also continues to be a case for a wider public inquiry as is occurring in England and Wales."
Scottish Greens MSP John Finnie, chair of the policing committee, said: "There should have been a clear policy about access, retention and disposal of official documents and it's inconceivable this policy would suggest disposal by police-purchased petrol and incinerator appropriate.
"Police Scotland will suffer significant reputational damage if they don't act now on these deeply worrying accounts."
Scottish Labour's justice spokesman Daniel Johnson backed the call for an external force to investigate undercover policing in Scotland. He said: "I would be deeply troubled if the destruction of important files was ordered.
"We must have an investigation by an external force.
"Moreover, the long shadow of doubt this now casts over undercover policing means the Scottish Government must drop opposition to an independent inquiry into undercover policing. Only once such an inquiry is carried out can we recover confidence."
The Scottish Government said an inquiry will need to wait for a civil action taken by a whistleblowing officer to be concluded. Known only as Mrs K, she successfully claimed to have been unfairly frozen out of her job after raising the alarm. Police Scotland are considering whether to appeal.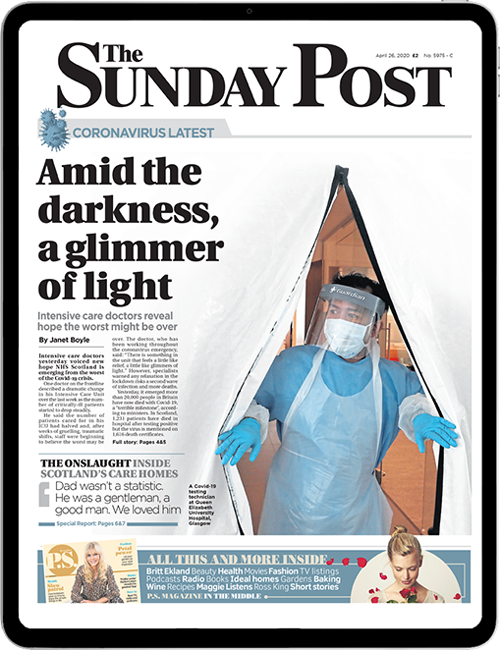 Enjoy the convenience of having The Sunday Post delivered as a digital ePaper straight to your smartphone, tablet or computer.
Subscribe for only £5.49 a month and enjoy all the benefits of the printed paper as a digital replica.
Subscribe