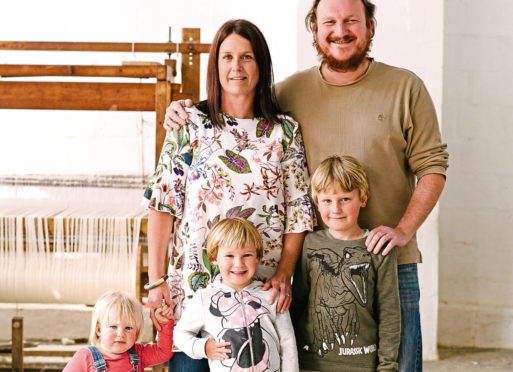 A Scots engineer who launched a new life running a weaving firm in South Africa has revealed his successful battle to keep afloat through Covid and save workers' jobs.
Arran Bastable, 37, was an engineering manager in Aberdeen before taking on a traditional crafts company in the pretty town of Barrydale, three hours from Cape Town.
He and his wife Kate, 40, with whom he has three young children, realised a dream when they bought Barrydale Hand Weavers. But disaster hit just six months later when the pandemic forced the country into a three-month lockdown, putting a stranglehold on the business and threatening the livelihoods of its workers.
Arran used his credit card to pay the last wages and bills. But with unemployment in South Africa already at 30% and no jobs up for grabs locally, the outlook was bleak. Fearing his workers and their families would go hungry, he tried to secure government support in his adopted home and in the UK. When that failed, he had nowhere to turn.
But the determined Scot refused to throw in the towel. He came up with a creative form of crowd-funding; one that would not only breathe new life into the business and save jobs, but would also provide a long-term benefit for its 18, mainly female, workers who between them have 60 dependents. The effort was an outstanding success.
Today, with all jobs saved, new posts created and orders flooding in, a thrilled and grateful Arran told The Sunday Post: "They say your first year in business is the hardest but nothing could have prepared us for this pandemic. We were just beginning to get some traction when Covid hit and pulled the rug from under our feet.
"The stress levels were immense. I was broken for two weeks. The workers at the factory have become like family to us. I was afraid that without their jobs they would starve. Crowd funding was born out of having nowhere else to go.
"We made 300,000 South African rand (around £14,000), equal to two months' full expenses, raw materials and wages costs. It meant I did not have to make redundancies. We protected all jobs and actually hired another person. We are looking to hire someone else now."
The couple moved to Kate's South African homeland in November 2018. Arran had plans to secure remote consultancy work for his first year in the country. But when it fell through, he found himself without a job. The couple jumped at the chance to buy the Barrydale business after meeting its owner at a party.
"I always wanted to have my own business where the effort you put in comes out, where you make your own decisions," said Arran, dad to Rory, seven, Pippa, five, and Morven, two.
"Moving to Barrydale gave me that opportunity and the chance to make memories here with my family."
The couple worked hard to build the enterprise and the company was on track to grow revenue by 50% with profits to increase 100% by the end of the year.
But on March 23 the South African government – fearing for the lives in a country already ravaged by HIV and Aids – declared a national state of disaster and imposed hard lockdown restrictions.
Like many other business owners, Arran applied for support but said he "fell through the cracks", as some relief funds only supported companies which could prove they had been up and running for more than two years.
"I set up the Barrydale Hand Weavers as a new business when I took over, transferring assets and staff across; so technically the business was only six months old – even though the original business had been in existence for 13 years," said Arran. He no longer qualified for UK help having left the country. In desperation he applied to various relief funds without success and after what he described as "an initial week of absolute panic", he informed the staff that he would be protecting jobs above anything else.
Crowdfunding was the way forward but his Scottish pride would not allow him to accept hand-outs, so he structured his funding campaign in a way that each of his donors would receive something in return for their help. Each was given a gift from the weaver.
Arran said: "I wanted to make a positive change. I don't like asking for charity. I needed to make it a viable proposition to people who were going to donate. We needed the cash to get started again, so we decided that a third of what people donated or pledged would go towards orders, and the other two thirds would create an employees' benefit trust in which employees would own 25% of the business.
"It has two elements: a life insurance policy and funeral plan plus a dividends scheme that will be split between current employees and weighted on years of service.
"Business is doing well now and while we have definitely survived, we are still in recovery in terms of cash and trying to get back to where we need to be.
"But I have at least five weeks' worth of work ahead of us. We are in a pretty strong position."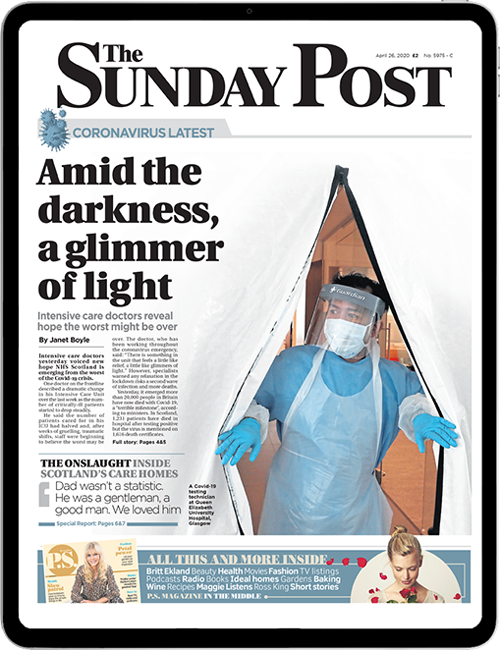 Enjoy the convenience of having The Sunday Post delivered as a digital ePaper straight to your smartphone, tablet or computer.
Subscribe for only £5.49 a month and enjoy all the benefits of the printed paper as a digital replica.
Subscribe