IT is the colour long linked to low mood but the blues might just have to be renamed.
Evidence is emerging that living in so-called blue spaces – near any kind of water – improves our mood, mental health and wellbeing…and Scots are never far from water.
From crashing waves and babbling burns to still lochs and raging rivers, we are in the perfect place to enjoy the lifestyle benefits delivered by blue space.
In recent years there has been a growing interest in how the natural environment can provide health benefits, in particular the impact of green spaces, such as forests and parks, on health and wellbeing.
Studies in the Netherlands compared data on the health of more than 10,000 people relative to the amount of green space in their immediate vicinity.
The results showed that in a greener area, people reported fewer health problems and their mental health appeared to be in a better state.
Now the focus is shifting to look at the impact of blue spaces like lochs, rivers and the coast and evidence is suggesting people are even happier in blue spaces than they are in green.
Studies conducted on blue health have shown that people feel happiest when they are in marine and coastal environments or near to fresh water, wetlands and floodplains.
Research conducted in Wellington, New Zealand, identified an increase of visibility of blue space by 10% could reduce anxiety and mood disorders by one third. University of Sussex lecturer George Mackerron, who studies links between our environment and our happiness, found that it was in parts of Scotland surrounded by bodies of water that people felt the happiest across the UK.
As part of his PhD in Happiness and Environmental Quality, Mackerron launched Mappiness, an iPhone app that pinged people to ask where they were, who they were with, and how they felt at certain times of the day.
Mackerron's app found that people were much happier in natural environments than in cities.
Unpublished analysis of the Mappiness data corroborated Office for National Statistics findings and showed that Shetland, Fair Isle and the Outer Hebrides – Scottish islands surrounded by water and sea lochs – were the happiest places in the UK.
A study is also being conducted by PhD researcher Craig McDougall at the University of Stirling, specifically on the health impacts of Scotland's inland water bodies, funded by the Hydro Nation Scholar Programme.
Up until now, most blue space research has focused on coastal areas, but McDougall's study will look predominantly at inland waters, namely Scottish lochs and rivers. He plans to investigate the health and socio-economic benefits inland blue spaces offer rural communities in Scotland, as well as estimating how future changes to climate and land use may affect inland blue spaces and their ability to provide blue health.
He said: "Blue spaces offer unique opportunities and therapeutic sounds and have been deemed the most preferred natural environmental setting.
"Blue spaces in urban areas can soften urban noise and regulate urban microclimates.
"There's evidence to suggest that disadvantaged communities benefit the most from exposure to blue spaces.
"My study is to provide a better understanding of how inland blue spaces effect health, ensure the long-term sustainability of inland waters in Scotland and reduce current barriers for blue space use, making the natural environment inclusive for people of all backgrounds."
He believes blue space encourages physical activity in the water, like swimming, sailing and rowing, and around it, like jogging and walking.
The therapeutic and calming influence of bodies of water – which, like forests and green spaces, offer less visual stimulation than urban landscapes – may decrease stress and encourage better mental health.
While McDougall's research at Stirling University will look at the impact physically being next to water provides, others are redefining access to blue spaces.
Research at the University of Exeter will look at bringing blue spaces into clinical settings via virtual reality technology.
The study will explore how virtual reality might bring some of the benefits of natural environments to people who are unable to visit 'real' blue spaces themselves. This will include older people in care homes, those with physical impairments caused by either major surgery or long-term disability, and individuals in end of life care.
The findings from the virtual reality project will be published in 2019, and while the impact of Scottish inland water bodies on our wellbeing is yet to be discovered, the evidence points to the fact that blue is the colour to beat the blues.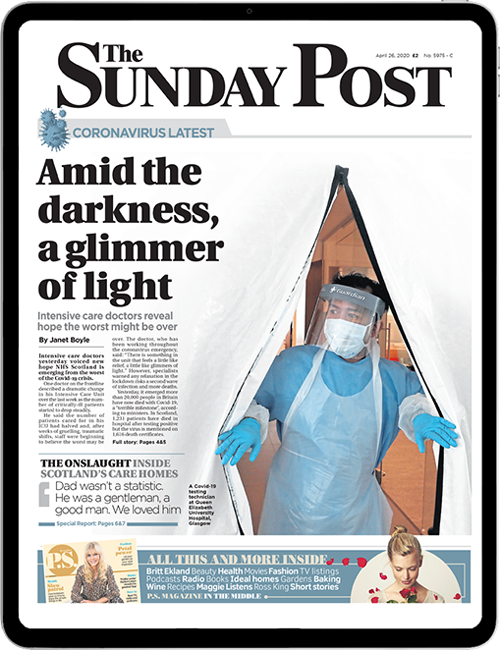 Enjoy the convenience of having The Sunday Post delivered as a digital ePaper straight to your smartphone, tablet or computer.
Subscribe for only £5.49 a month and enjoy all the benefits of the printed paper as a digital replica.
Subscribe