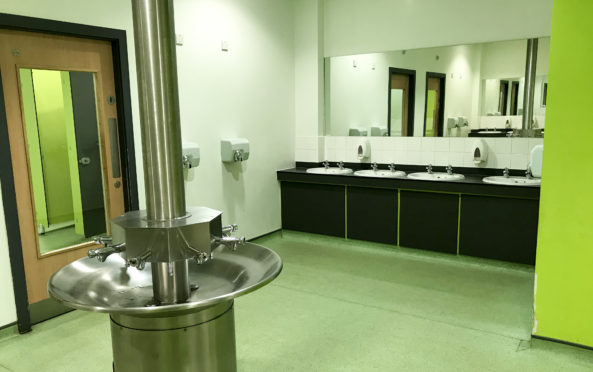 A leading public health expert is calling for the government inquiry into a cancer cluster school to be broadened with a greater range of tests.
Professor Andrew Watterson said he "welcomed" new instructions from Deputy First Minister John Swinney to test water and soil at the Buchanan High and St Ambrose campus in Coatbridge where four teachers have developed bladder cancer. But he said those new investigations needed to be extended, to include checks on air quality and tests of individual pupils and staff.
Professor Watterson, who has worked for the World Health Organisation, said the protocol for the review "did not go far enough".
He said: "There are still many areas that need to be addressed if we are to get the whole picture, and they include testing the air as well as the soil and water – tests Mr Swinney has now asked for.
"The new additions on environmental monitoring are a good step forward, but I believe the parents have legitimate concerns about the health and safety of their children.
"There are certain substances such as arsenic which do need to be tested for. I'm also concerned that NHS Lanarkshire and North Lanarkshire Council continue to make statements and give assurances, but they have failed to provide the evidence to support what they are saying."
The professor said the health board needed to properly explain exactly what tests and investigations it had carried out and why it insisted the campus was not linked to the illnesses.
Professor Watterson, of Stirling University, said: "All of that has to be made clear and made available to the public."
The Scottish Government said last week that the review would include soil and water testing as well as testing of the membrane used to contain the output of methane gas from the former dump site underneath the schools.
Josie Morgan, whose son Tommi was tested and found to have more than six times the normal level of arsenic, continues to believe his sudden blindness is linked to the school.
She said: "While we welcome the review team's decision to include soil and water testing at the campus, the new instructions by the review group still do not go far enough.
"Until all the children and staff are properly tested and we get the truth about what has been causing so many illnesses, we won't be happy.
"The government took too long to act and now the children have been away from the school environment for too long for most contaminants to show up in tests.
"We feel a vital opportunity has been lost. If tests had been carried out immediately, we could have learned so much to help our own kids and serve to prevent this happening in the future."
Tommi, 13, who has autism, went blind in October.
NHS Lanarkshire and North Lanarkshire Council insist there is no link betwee the school and Tommi's condition, or four teachers all developing bladder cancer at Buchanan High.
Tommi's mum Josie, of Plains, Lanarkshire, said: "Their suggestion that Tommi's blindness could be diet-related is ridiculous. I've seen two specialists who think otherwise.
"If the NHS had acted quickly instead of writing to GPs to tell them they don't support testing, perhaps we would all be closer to finding out what has really been going on at that school."
Josie's concerns have been echoed by MSP Alex Neil, who said: "We must get to the bottom of what has gone wrong here and what needs to be done to prevent this happening again.
"To do that the public health authorities must collate all the health problems raised with GPs. The results should then be used to decide whether we need to consider testing the children.
"Parents are concerned because too many illnesses with commonality are being flagged up – headaches, fatigue, blurred vision, and nose bleeds.
"Unless we get to the root of what's causing these problems, the community will not be satisfied."
---
When I heard about the schools, I thought, 'Oh no, not again'
Potential contamination at a "blue water" school is an all too familiar story for a couple whose home was built on the site of a wartime factory.
Gary and Liz Butler say health issues they and neighbours have suffered are the result of the land not being properly decontaminated.
Residents at the Watling Street estate in Motherwell have suffered illnesses including muscular pain, severe headaches, nose bleeds and bowel problems which they say is due to living there.
The land was the site of a 250,000 square foot factory built for the Ministry of Supply during the Second World War.
North Lanarkshire Council commissioned tests in 2010 and found traces of five different toxins on open ground near the homes.
They were not detected when 400 housing association homes were given the go-ahead in the mid-1990s.
Gary and Liz moved into their home in 2004 and started suffering extreme tiredness within weeks.
Since then, Liz, 58, has been diagnosed with fibromyalgia, a condition that causes extensive chronic pain.
Gary, 59, suffers from arthritis, the bowel condition diverticulitis and nose bleeds. Both suffer from memory loss.
Liz said: "When I heard about the blue water schools, I thought, 'Oh no, not again.' Everyone who lives on contaminated land should be offered a full health check."