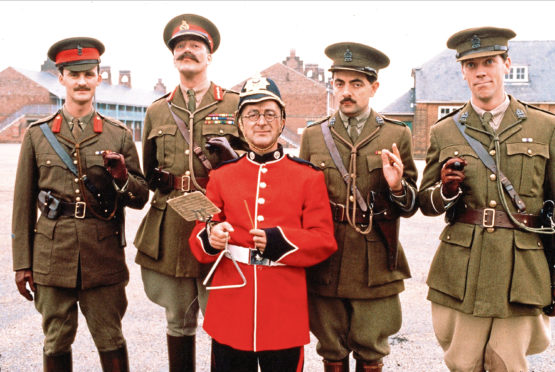 Tim McInnery is one of our favourite comic actors.
But the odd thing is that apart from his much-loved roles in Blackadder and Notting Hill, most of his many characters in film, on stage, radio and TV have been on the darker edge of the spectrum.
For example, he was the stern and not-altogether-trustworthy Lord Robbett Glover on Game Of Thrones.
But I interviewed the late Peter Vaughan, Maester Aemon in GoT and "Genial" Harry Grout in Porridge, and even though the former was the biggest TV series in history, all people ever said to him in the street was, "Aye, aye, Grouty, let you out, have they?"
So what does Tim get when he's recognised in the street?
"It's nearly always Blackadder, Percy or Darling. Never both!" laughs the 62-year-old, who played the dim-witted Lord Percy in the first two series and the antagonistic Captain Darling in Blackadder Goes Forth.
"One thing which has always fascinated me – and it's kind of a compliment I guess – is that not once in the last 30 years has anyone come up to me and said, 'Congratulations on Percy and Darling.'
"It's as if psychologically people can't accept that you've played two characters in the same series. They were vastly different and I'm the only guy that played two different leading roles in Blackadder in different series – one up on Rowan there!"
Tim was pencilled in for Blackadder The Third but was he meant to play the Prince Regent, the role taken by Hugh Laurie?
"I'm not sure. If I'd carried on then Percy would have to have been in it somehow but I supposed he might have morphed into the Prince Regent.
"When we did the first series, we had a lot of fun but there was no idea that it would become what it became.
"The whole thing came about kind of by accident anyway, I was at college with the writer Richard Curtis and Rowan Atkinson and got a phone call one day saying, 'Do you wanna do this thing, let's have some fun' and we did.
"But the second series became such a snowball rolling downhill that I thought it was not a world I wanted to get trapped in, much as I loved doing it and was proud of it so I dropped out, as did Stephen Fry and Miranda Richardson.
"Hugh was brilliant in the third one – very, very funny as the Prince – so for the fourth series obviously you don't want to drop him.
"They asked me back on board but I said I'd only do it if it was a completely different person so then Darling comes along and I think the balance of characters worked extremely well.
"There was a lot of conversation that we had to have an attitude towards the war, that it was such a monstrous episode in history, particularly when you get to the last scene and we go 'over the top'. We all knew it was going to be the last-ever episode of Blackadder, we knew we were saying goodbye to the characters, and we thought, 'Well, the only way to do that is to kill them.'
"Also, in those days there were still people alive who fought in the First World War, and their immediate descendants, so we felt a real duty to say war isn't funny, and we all thought it would be a terrible betrayal of history to go out on a joke.
"And it's now used as a teaching aid in schools which is extraordinary. I'm more proud of that than anything, that we took it seriously enough and talked about the difference between the ordinary private on the front line and the generals, and that we did that with comedy but in the end said, 'This isn't funny.'
"Everything was shot in front of a studio audience apart from that very last scene when we go over the top towards the guns, that had to be shot in a different studio.
"None of us saw that until it was on TV so I didn't know how it was going to end, I didn't know what they were going to do with turning the screen to black and then to the poppy fields so it was terribly moving to us."
Richard Curtis called again for Notting Hill, and Tim's character Max is the heart of the film.
"He's who Hugh Grant's character learns from most in a lot of ways," nods Tim, "and he's probably the nicest person I've ever played in my life – apart from being a terrible cook!
"But that was a joy, doing that, we had such a good time from beginning to end.
"That's when the words 'job' and 'work' don't really apply, you're just kind of playing because the script is so good you don't have to worry about anything not working, it was just perfect.
"And Richard works incredibly hard writing 20 drafts over four years in order to come up with a script in which it looks as though you're making it up!
"I did love Max. It's one of the things I've always tried to insist upon, playing parts as different as possible because that's always been my definition of an actor, really."
That's certainly the case with Tim's new movie Killers Anonymous, co-starring Gary Oldman and Jessica Alba, which revolves around a support group for hitmen.
"It's kind of a very black comedy that then has a twist and turns into a thriller," says Tim.
"For a lot of the movie there's the bunch of us in what amounts to one room together, and you don't realise until you do the read-through and then think, 'Oh, this could be horrible! If there's one person that I don't like, this is going to be hell on earth for six weeks because there's no getting away from them!' Luckily we all got on incredibly well and had a really terrific time."
Tim plays Dr Calvin, who struck me as a nastier Harold Shipman.
"Yes! Exactly, that was one of the links. I really liked Calvin, which is a weird thing to say. He doesn't actively go around killing people, he just likes to watch them die! The funny thing was that all these seasoned assassins and regular murderers actually found Calvin very creepy. Cannibals were scared of him because he's not frightened of anybody."
Were there any echoes of Tim's stint as Iago, Shakespeare's most evil villain from Othello?
"That did occur to me. They're both aware of their own condition. It's not as though they think they're innocent, they do know what they do – and enjoy it.
"It's absolutely a very dark world that Iago inhabits. It's an astonishing part, it's the biggest in Shakespeare – Hamlet has more lines but Iago has more words because all of Iago is in prose, which makes it much harder to learn, actually.
"I lasted for four-and-a-half months playing him. Usually you're reluctant to say goodbye to characters you're playing for a while because they become somebody you're with all the time, you feel as though you're walking around and having a dialogue with them but Iago I was very happy to say goodbye to!
"Having him with me 24 hours a day was not pleasant because he is unmitigated evil, but being yourself all the time sounds a bit dull, so it's great that I could do something like Percy and then Max and then Calvin."
---
Killers Anonymous (15) is in cinemas and available on digital download, DVD and Blu-ray now.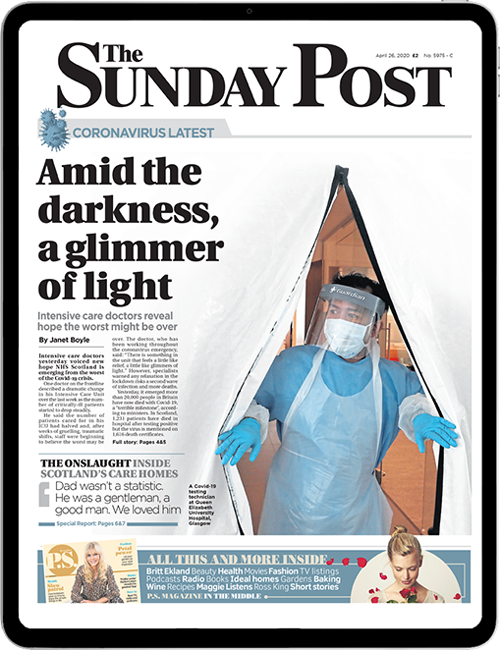 Enjoy the convenience of having The Sunday Post delivered as a digital ePaper straight to your smartphone, tablet or computer.
Subscribe for only £5.49 a month and enjoy all the benefits of the printed paper as a digital replica.
Subscribe