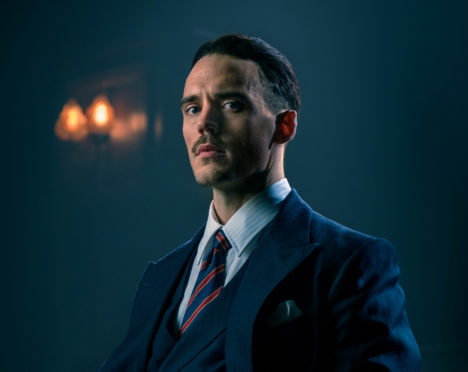 A few momentous hours pitched the leader of Britain's fascists against the socialists of No Mean City. And the socialists won.
Oswald Mosley and a band of supporters arrived to speak to a crowd of thousands assembled in Glasgow Green on September 20, 1931, and it did not end well.
Mosley, leader of the New Party before it became the British Union of Fascists, the Black Shirts, the following year, dreamed of becoming Britain's dictator but his speech ended in violence and disorder as left-wingers, reputedly aided by members of the city's notorious razor gangs, drove him out of town in disarray.
Both Mosley, who had been a Labour MP but was inspired by the rise of Hitler to form his own anti-Semitic party, and the razor gangs will feature in the eagerly-awaited fifth series of BBC'S Peaky Blinders starting tonight when Tommy Shelby and his Birmingham crime clan will come across both as their family saga continues.
Shelby, played by Cillian Murphy, is now a Labour MP alongside Mosley, played by Sam Claflin, but it was not the fictional Blinders the British fascist faced in Glasgow but a real and far more dangerous threat.
Dr Gavin Bowd, author of Fascist Scotland, a history of the far-right north of the border, said Mosley's visit ended in turmoil.
He said: "Significant disturbances took place at the next New Party mass meeting, in the Flesher's Haugh, Glasgow Green.
"To cries of 'Traitor!', Mosley made his way to the platform, where he railed against 'the old men of British politics', left and right.
"He denounced the 'schoolgirl hysterics' of the House of Commons, and called for protection of workers.
"There was then a stampede towards the platform. Mosley and his supporters made to leave, but they were attacked from behind with razors, 'life-preservers', which were leather coshes, and missiles."
Trade unions, socialist and communist groups – rather than Birmingham gangsters – were likely behind the violence, according to Professor Henry Maitles, author of Blackshirts Across The Border, a history of the British Union Of Fascists in Scotland.
"What Glasgow Green suggested was there was very strong opposition to what Mosley was proposing," he explained. "Every time the British Union Of Fascists (BUF) tried to organise in Scotland – whether it was Glasgow, Edinburgh, Wishaw, Aberdeen, Motherwell or Wick – anti-fascists would oppose them.
"But the rest of these events weren't 'razor-ganged' – Glasgow Green is the only one where this happened.
"There was opposition, but the violence was a one-off." Razor battles in the early 1930s were common, according to Dr Bowd – but the melee at Glasgow Green was an unusual sight in Scotland.
"As the 1930s went on there were clashes between communists and fascists, a faint echo of the last days of the Weimar Republic," added Dr Bowd.
"Political meetings were a form of mass entertainment. But the rough house stuff was more for sectarian battles, like the Billy Boys in Glasgow and Kormack's Kaledonian Klan in Edinburgh. The communists had a particular penchant for the razor. Though the use of razors was a broader social phenomenon, notably in the No Mean City of Glasgow."
The battle at Glasgow Green was described by Mosley, who escaped without injury, as "the best meeting I ever had".
It didn't do his popularity any favours, however. Mosley was nominated as rector of Glasgow University and, only a month after the fracas, was soundly trounced in the election.
He polled only 4% and was comprehensively beaten by Scottish nationalist Compton Mackenzie, author of Whisky Galore.
By the time of the outbreak of the Second World War, the British Government interred 1,000 fascists and only three were in Scotland.
"Throughout the '30s, Glasgow became a bit of a no-go area for Mosley's legions," said Dr Bowd.
"The BUF failed to make significant headway in a Scotland that was a restless part of the UK and riven by sectarian hatred."
The fearsome Billy Boys gang – led by Billy Fullerton – weren't involved in the Glasgow Green incident.
Fullerton later became a member of Mosley's British Union of Fascists.
Ironically, it was the anti-Catholic stance widespread in Scotland at the time which helped foster suspicion about Mosley – and was one of the key reasons fascism didn't gain a foothold north of the border.
"Scottish Unionists might have been natural allies, but Mosley suggested a united fascist Ireland, which was largely the end of any support from the likes of the Scottish Protestant League, which had enjoyed some success in Scottish politics," added Professor Maitles.
"Alexander Radcliffe of the Scottish Protestant League warned in 1935 about fascism being in alliance with the Pope to smash Protestantism.
"Although Radcliffe visited Hitler in 1939 and was quite taken by German fascism. He came back and began speaking about the need for fascism in Scotland.
"But by then there were moves towards war, and the feelings against fascism were strong in Scotland."
The anti-Catholic feeling was just one reason why Mosley and fascism was given short shrift by Scots.
"Along with the anti-Catholic fault line which Mosley couldn't bridge, there were several reasons why his brand of fascism didn't take hold here," added Professor Maitles.
"The BUF claimed they had branches from Wick to Dumfries but it's estimated at their height they never had more than 400 members across Scotland.
"The economy here wasn't as bad as it was in 1930s Germany so there wasn't an environment of unemployment for them to exploit.
"We also had a first past the post electoral system which makes it difficult for new parties to get elected.
"One of the crucial reasons fascists didn't succeed is that, everywhere they tried to build, they were opposed by the left."