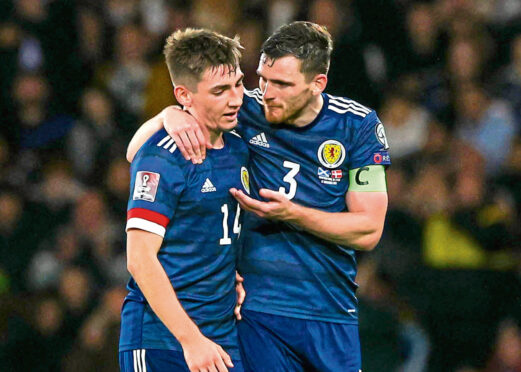 For all the startling talent he has demonstrated on the football pitch, there is an argument the most-impressive thing Billy Gilmour has done is time his run into the Scotland team.
It is just six months ago that the little midfielder made his international debut in a pre-tournament friendly against the Netherlands.
Since then he has played at the Euros in what was the country's first appearance at a major Finals since 1998.
Not just in a cameo role either. His Man-of-the-Match award in the goalless draw against England at Wembley serves as a permanent record of his contribution.
Thanks to last week's stirring victory against Denmark, he has likewise shared in a dramatic charge to the brink of the World Cup Finals.
Scotland might not win through their semi-final to clinch one of the three available places in Qatar but, as Gilmour argued, just the fact they are a dog in the fight is a cause for celebration.
"I'm 20 years old and to have fulfilled one of my dreams so young is amazing," said the Chelsea man, currently on loan at Norwich City.
"I'm so proud to represent my country and nights like last Monday are what it's all for.
"My family were in the stands with all the fans – it was the stuff of dreams.
"You grow up watching the World Cup and Scotland are not there.
"Now there is a very good chance for this squad to go to the World Cup, hopefully we do it.
"The first World Cup I remember is the one where Andres Iniesta scored the winner in the final against the Dutch in 2010 in South Africa.
"I was in America with my family, watching it in Florida. I was nine!
"We felt like something like this was going to happen, that we'd play a top team and take it to them.
"You saw how many times we got around them and played some nice football. It was brilliant to watch.
"I enjoyed the game. I was playing with a smile and I loved every minute of it.
"If we do get another big team in the play-offs we will take it.
"We now need to go and show that we are good enough to be at the World Cup.
"We have won our last six games, which is great. But we need to take that forward and hopefully it progresses us to the World Cup."
What is possibly even more gratifying for Gilmour is that he is part of a group that have captured the country's imagination, as much for the spirit they have shown in adversity.
Their character was there for all to see when they fought back against repeated setbacks to triumph against Israel.
Taking on Denmark, Group F winners and losing semi-finalists at the Euros, presented a very different challenge but again it shone out.
The sight of Gilmour, 5ft 7ins in his stocking soles, squaring up to 6ft 5in Danish colossus Andreas Cornelius at one point, typified the commitment to the cause.
"It was all good," said the Scot with a chuckle remembering a moment that briefly looked more than a little hazardous to his health.
"I was on a booking, so skipper Andy Robertson had a word with me and I calmed down.
"It's a real squad in there. There is total togetherness with everyone fighting for each other and you can see it on the pitch where the emotion and the pure passion comes out.
"We are working on it every day and we know we are only going to get better.
"Monday was a great result for us. We knew we needed either three points or a draw to get a home tie and so the boys got stuck in.
"It felt like one of these results was going to come.
"We defended very well, attacked well, controlled the game and achieved what was a top result.
"When we come away with Scotland, the gaffer is on at us every day.
"Distances between the back line, midfield and forwards, putting demands on us to go and get on the ball and play our style.
"You can see that it is all coming together.
"We have a really good squad. Even the bench on Monday, we were really solid. We played our game and took it to them.
"Now we have a home semi-final to look forward to in the play-offs – the draw will be made in Zurich on Friday – and that is important.
"We need the fans' backing again, we need them cheering us on and motivating us through the full game.
"We will be ready and be motivated when it comes. We are a top team.
"We will be ready for whoever we draw."
Because of his youth, and the fact his breakthrough has coincided with Scotland's best run of form in decades, Gilmour's displays have drawn lots of attention.
While he does not mind, reasoning it is a by-product of achieving his ambitions, he is quick to credit Callum McGregor, his fellow centre-midfielder, for the part he has played in his development.
"Cal is brilliant, he helps me through the games very well," said Gilmour.
"He is always getting on to me in training, making sure the distances are right and just constantly talking.
"He is a top player. You see him do it for Celtic week-in, week-out.
"It's great to play with him – and learn from him."
The one concern for fans is that the club game does not sabotage his form and match sharpness ahead of next March.
His loan spell at Norwich this season has been unsatisfactory with the now-departed Canaries manager Daniel Farke opting to leave him out of the side.
Chelsea have promised to reassess the situation in January, when another loan out elsewhere looks likely.
Until then, he has to see if he can find favour under Farke's replacement Dean Smith.
"It's been difficult at Norwich so far," Gilmour admitted.
"I need to go back, work hard and make sure I am the first name on the team sheet. That is what I plan to do.
"For me to come here and not only get game time but start is brilliant for me.
"You can see that I'm a bit tired and not fully fit but that will come.
"There's still half the season to go and a lot can change.
"March is definitely a big incentive for me. I will be ready.
"I will make sure I am fit and see how it goes back at Norwich.
"I feel fit, I feel good. Of course, at this high standard of game your legs are going to go with all the side-to-side movement all game.
"But I feel good and I am enjoying my football."
As the Tartan Army will testify, he is far from the only one.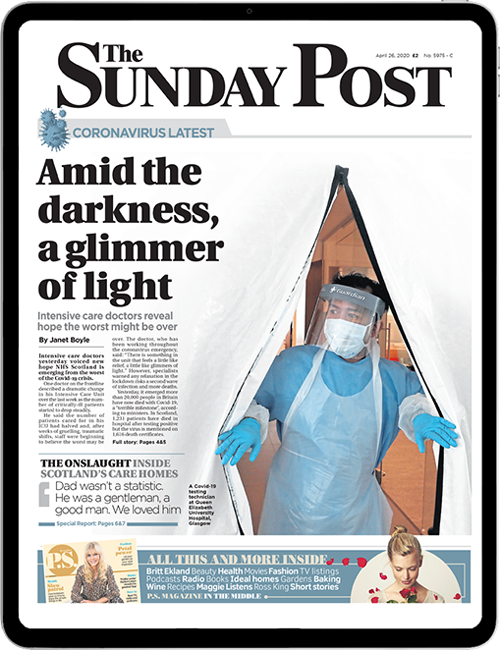 Enjoy the convenience of having The Sunday Post delivered as a digital ePaper straight to your smartphone, tablet or computer.
Subscribe for only £5.49 a month and enjoy all the benefits of the printed paper as a digital replica.
Subscribe