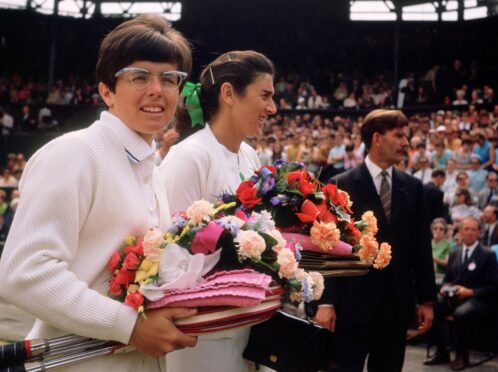 They say we should never meet our heroes but Judy Murray would have to disagree when it comes to Billie Jean King.
Murray first met former world No 1 tennis player King at the US Open where sons Jamie and Andy were competing, and the chance encounter in the players' restaurant was not just a meeting of minds but the start of a firm friendship.
"Billie Jean is a big fan of Andy's because he's such a great supporter of women," explained Murray, an influential coach and Sunday Post columnist.
"He uses his voice consistently to support women – whether that's on the tennis tour or elsewhere – and she is, of course, a huge campaigner for equal rights.
"I got to know her really well. She asked me, two summers ago, to work with Philadelphia Freedoms, the World TeamTennis league team she founded in 1974. She asked me if I would help coach the team so I went over and spent 10 days in Philadelphia with her and her gang. It was a dream gig."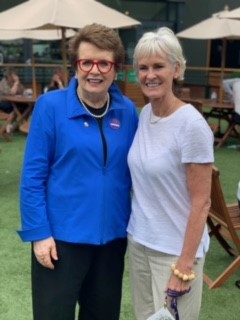 As one of the sport's most successful female stars, King has always been a pioneer for equality and social justice and founded the Women's Tennis Association in the wake of the "Original 9" protest, which saw her and eight other players step away from the United States Lawn Tennis Association.
At the time, most tournaments paid four times as much prize money to men than they did women, and rallying against the inequality, the group of women – including King's fellow Americans Peaches Bartkowicz, Rosie Casals and Julie Heldman – successfully established their own tour, the Virginia Slims Circuit, in 1970.
It was a moment, Murray says, that paved the way for women's tennis to be taken more seriously.
"They took that risk and had the courage to back themselves and break away from the tour," she explained.
"Then, tennis was so male dominated, with men getting 90% of the gate while women were getting 10%, and these women felt, quite rightly, female players deserved equality.
"So, they broke away and did their own thing, and were later blackballed by certain events, tournaments, organisations and federations.
"That was 50 years ago, and it's one of the reasons why tennis is in such a good place now in terms of equality."
She added: "Billie Jean is such a huge supporter of women, and she understands the need for more women in the workforce and in decision-making positions.
"She's always encouraging women to stand up, step up, speak up. One of many things she's said to me over the years is, 'If you don't make a noise, nobody hears you'."
King is perhaps most famous for the 1973 tennis match she played against fellow champion Bobby Riggs, which was dubbed The Battle of the Sexes.
An estimated 90 million people worldwide watched a then-29-year-old King triumph 6-4, 6-3, 6-3 over 55-year-old Riggs, and the exhibition match is now considered a watershed moment in terms of achieving recognition and respect for women's tennis.
As King writes in her memoir, All In, released last week: "I wanted to show that women deserve equality, and we can perform under pressure and entertain just as well as men. I think the outcome, and the discussions the match provoked, advanced our fight."
Murray said: "Riggs had been a good male player but was very derogatory about women's tennis.
"He'd already played Margaret Court and beaten her, and when Billie Jean put herself on the line to play him, she absolutely had to win. She took that risk, she stepped up and she, thankfully, managed to beat him.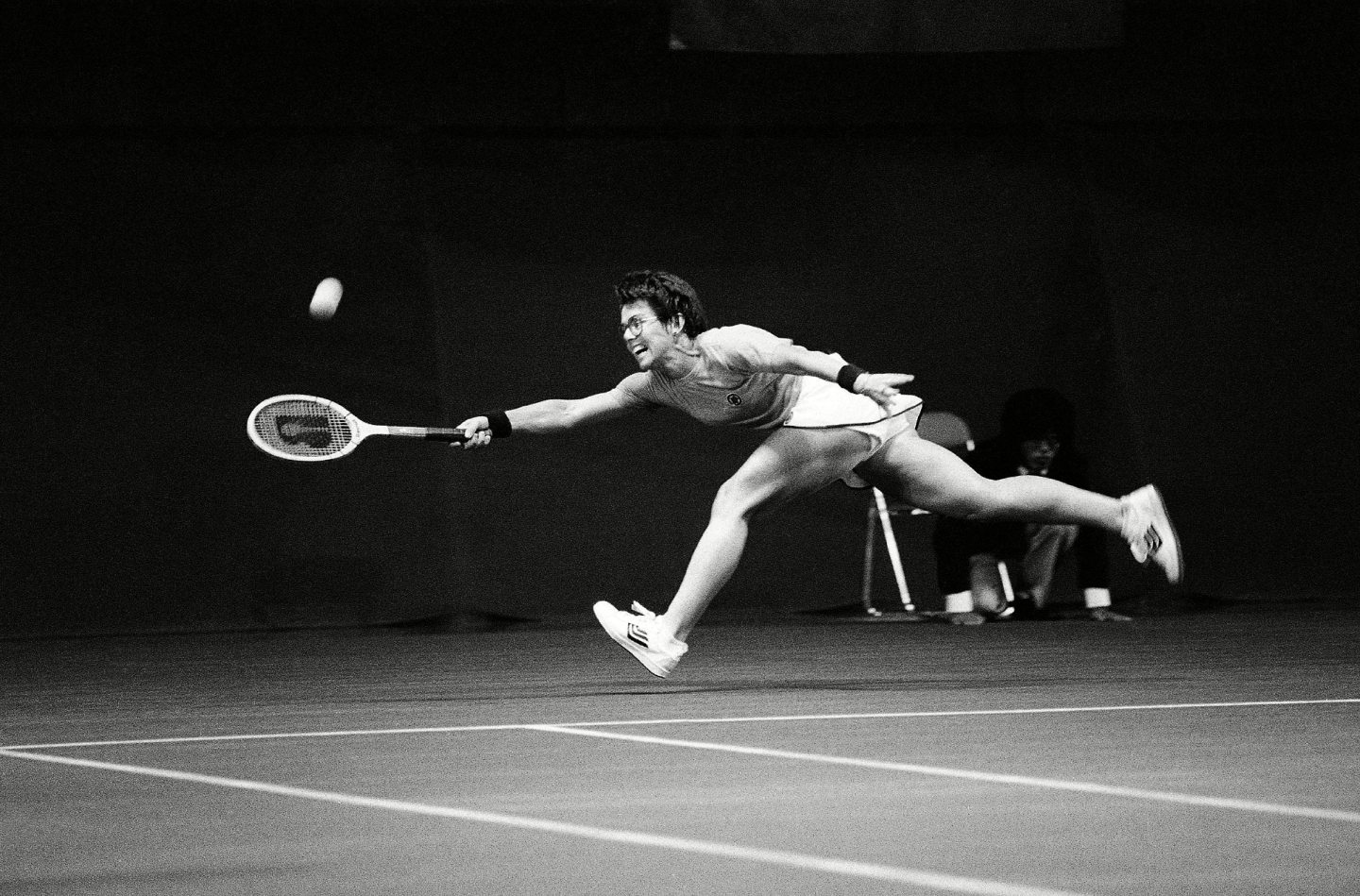 "The win just proved a point – and it proved what she is always saying about stepping up to the plate. You can't just sit back and wait for something to happen or for somebody else to do it – you have to get off your butt and do it yourself.
"It was just another great example of actions speaking louder than words."
The infamous moment was immortalised in the 2017 film, Battle Of The Sexes, starring Emma Stone as King and Steve Carell as Riggs, which Murray was lucky enough to see with King herself.
She said: "I was sitting in this boutique theatre in Barnes, in south-west London, and the room was just filled with the great and good of tennis, including Chris Evert, Martina Navratilova, and several members of the Original 9. I was like a kid in a sweetshop."
After turning pro in 1959, King first gained international attention when she and partner Karen Hantze Susman became the youngest pair to win the Wimbledon women's doubles title just two years later.
She won her first major singles championship at Wimbledon in 1966 – a feat she repeated in 1967 and 1968 – and both the US and Australian Opens the following year.
The now 77-year-old in total won 39 Grand Slam titles, including 12 singles, 16 women's doubles, and 11 mixed doubles trophies before retiring in 1990.
Off the court, King has long advocated on behalf of the LGBTQ community. Although married to attorney Larry King from 1965 to 1987, King realised from a young age that she was interested in women, and began a secret relationship in the early 1970s. She was later outed by the press as gay, at which time her corporate sponsors cancelled their contracts.
She recalled in her memoir: "When I was outed as gay in 1981, corporate sponsors deserted me overnight. Today I laugh and think, "Wait – I get paid now to be a lesbian?"
King began a relationship with doubles partner, Ilana Kloss, in 1987, and the pair later married in a secret ceremony in 2018.
In 2009, honouring her advocacy work on behalf of women and the LGBTQ community, King was awarded the Presidential Medal of Freedom, the United States' highest civilian honour.
Few other players have a legacy quite like King's, and Murray admits growing up watching her play on a black and white television inspired her and so many other players.
"I became a fan of hers when I was a teenage tennis player, and now it just amazes me to call her a friend," she explained. "She is my absolute 'she-ro'.
"She's still using her voice, campaigning and travelling the world, and she's just a wonderful voice of reason and experience. Hers is a wonderful story, and she is a wonderful example of girl power."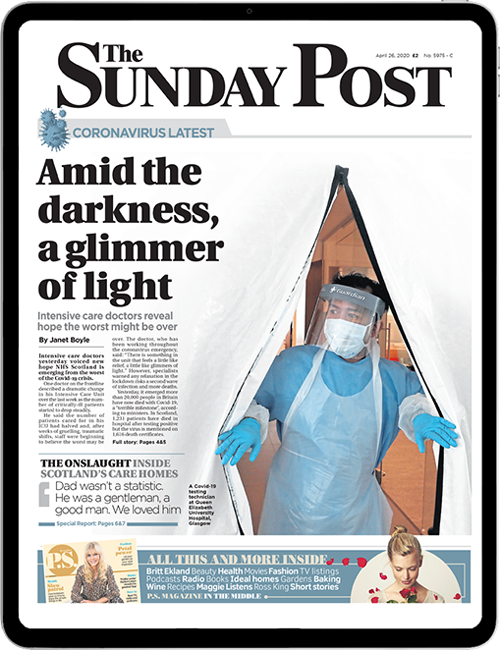 Enjoy the convenience of having The Sunday Post delivered as a digital ePaper straight to your smartphone, tablet or computer.
Subscribe for only £5.49 a month and enjoy all the benefits of the printed paper as a digital replica.
Subscribe