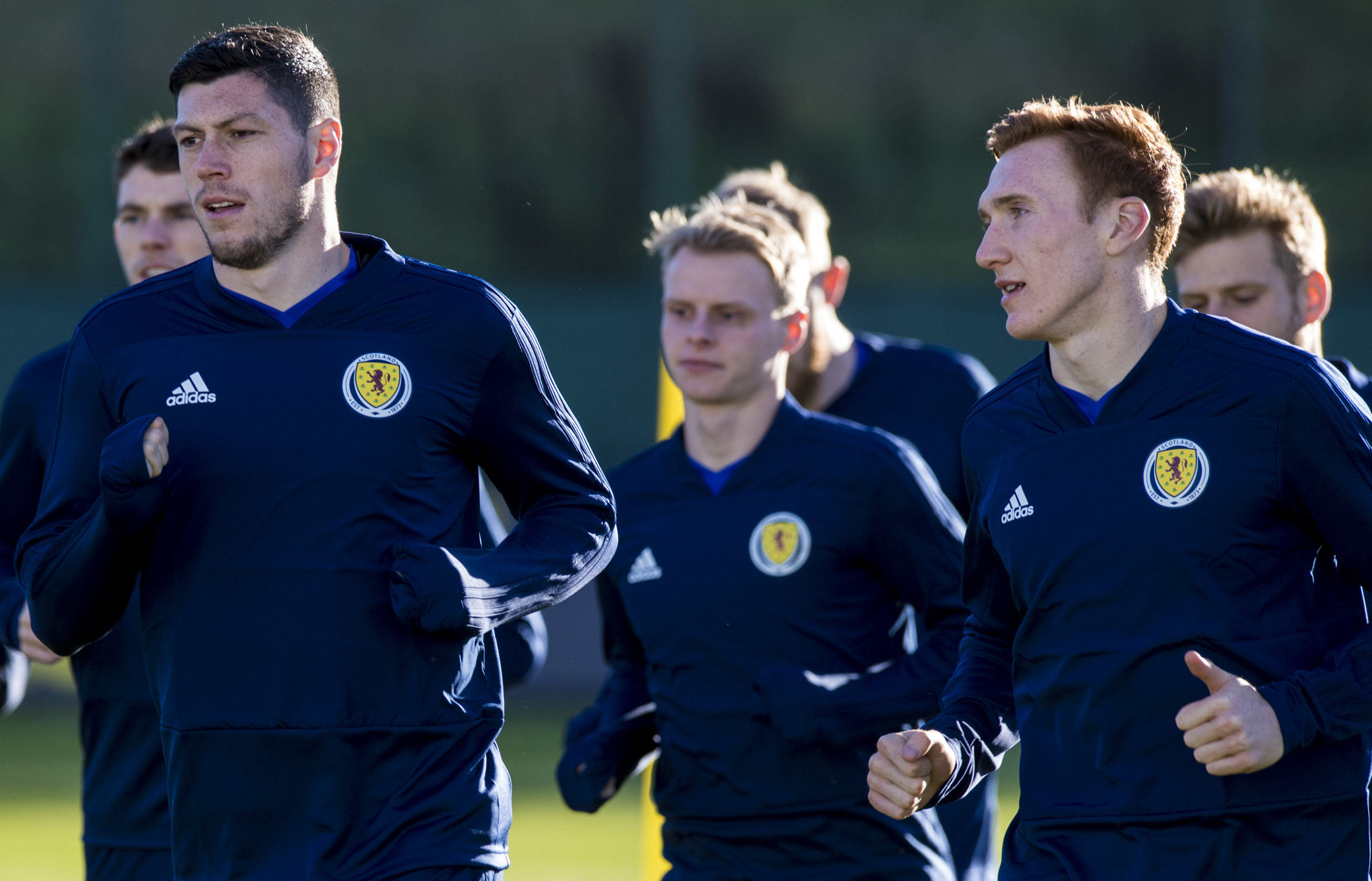 UNDERSTANDING is priceless in football.
If anyone ought to know, it's Willie Miller.
It's what he had as a player with central defensive partner Alex McLeish, with both Aberdeen and Scotland.
And, by God, they had it in spades.
Notably, when their on-field relationship was disrupted, their teams were too.
Yet Miller isn't a thinker inclined towards over-simplification.
So when he watched Scott McKenna and David Bates' defensive partnership take root as Scotland dumped Albania and Israel out of the Nations League, he didn't automatically think: "What if?"
Specifically: "What if McKenna had been teamed up with Aberdeen team-mate Mikey Devlin at the heart of Alex McLeish's defence?"
The youthful pair have an understanding, after all. Forged week-in, week-out at club level – just like Miller and McLeish.
It's something that can't be bought.
But Dons legend Miller saw enough from McKenna and Hamburg star Bates to feel that, amidst the kind of competition for defensive places the national team hasn't enjoyed for years, they are on their way to forging it for themselves.
"I thought McKenna and Bates' partnership looked very promising," said the man who won 65 caps.
"I think Michael Devlin would have probably got the nod before Bates had he not been injured.
"It looks like a missed opportunity to me, because Bates came in and grasped it.
"I think we've been asking questions of ourselves in Scotland about that area of the park for a number of years now, questions about just where our young centre-backs are.
"But I think we've had our answer.
"The development programmes that the clubs have in place, I think, take a lot of unfair criticism.
"There is a lot of effort, time and finance put into it by the clubs, supported by the SFA.
"We're certainly now seeing the benefits, not just with McKenna and Bates, but with Ryan Porteous at Hibs, John Souttar at Hearts, and Michael Devlin at Aberdeen.
"I think these are players, given their age, who look like being Scotland players for the next decade.
"I think Alex McLeish can look upon the younger generation – and their performances – and think: 'Why not just stick with them?'.
"Sometimes you look at that area of the park, and the temptation is to get a bit of experience in. But these guys are playing at a very high level.
"If you look at all of them, I don't really see the necessity for that experience now.
"McKenna is the first name on the teamsheet at Aberdeen and now, with Alex McLeish having made him captain in the summer trip to Mexico and Peru, he is gaining experience, and playing consistently well.
"It looks like a matter of it being him and a right-sided partner for Scotland – and Bates is the man with the jersey right now."
The Hamburg stopper is also a man that has looked more than comfortable, both in a Scotland Under-21 jersey and alongside main man, McKenna.
That's partly why Miller (left) feels it would not only be potentially dangerous to disturb their fledgling partnership to recreate Aberdeen's centre-back pairing at international level, but also unfair.
"The relationship that McKenna has from club level with Devlin is a positive in terms of making Devlin's case," said the Dons legend.
"But I wouldn't say it's overriding right now, because of the quality of both Bates and Souttar. Both are very good right-sided players.
"I think it's a case of whoever gets the chance, who takes it the best, who links up and gets a partnership solidified.
"After that, it's up to the injured player, or the player who's on the sidelines, to dislodge the guys that are in the side. The ones that are on the park are the important ones.
"You have got to give the guys that played against Albania and Israel the first nod for forthcoming internationals.
"And it's nothing to do with saying you don't change a winning side. It's really looking about their performance and giving them the respect that they deserve.
"They're the ones that are there, they are the ones that took the pressure – and there was immense pressure on those games.
"That, in itself, should matter, as well as ability."
Chopping and changing at centre-half is a dangerous game.
Miller – and Scotland boss McLeish – know it only too well.
At the 1982 World Cup in Spain, the Aberdeen pair weren't picked together in any of the Scots' three group games.
Jock Stein's side ended up crashing out on goal difference after a 2-2 draw with the USSR in which a collision between central defensive pairing Miller and Alan Hansen allowed the Soviets a crucial strike.
But Miller feels the damage was really done in the first game against New Zealand when, with Hansen and Aston Villa's Alan Evans at the heart of defence, Scotland allowed their otherwise goalless opponents a damaging double in a 5-2 win.
"That irks me more from a personal point of view than anything else," said Miller.
"I can't remember how many caps Alan Evans got, but it would be a handful. Winning the European Cup, as he just had, is a magnificent feat.
"At the same time, I'm talking about respect for the guys that have been there, turning up constantly, and I had done that for about 10 years prior to the 1982 World Cup.
"I'd been part of squads, and sat on benches for a long time before I really got accepted.
"Probably when Aberdeen won the league in 1980, and when we beat England down at Wembley the following year – with me and big Alex in central defence – I began to be accepted as a proper internationalist.
"So, yeah, changing things at the back can be a danger, and they had an impact on Scotland.
"Okay – I take my part of the responsibility for the Russia game, but New Zealand didn't score any other goals in the competition – only two against Scotland, and that's what put us out.
"If we hadn't conceded those goals, we could have gone into the Russia game knowing that a draw would have done us."
It wasn't to be in 1982.
But with the likes of McKenna – whom Miller coached as a teenager – in the current Scotland side, along with a wealth of young attacking talent – notably the free-scoring James Forrest – hopes are high that the long wait for a major tournament appearance could be over.
The big question for Aberdeen fans – albeit it's one with an obvious-looking answer – is whether McKenna will still be with them when it happens.
"I've said many times that the Dons fans should enjoy watching Scott McKenna because, in my opinion, I don't think they'll have him for very long," said Miller.
"When I first came across him when he was around 14, if you'd have suggested that he was going to be the powerful centre back he is – and captain of Scotland – at the age of 22, I would have had my doubts.
"He was quite tall, lanky kind of boy, and Ryan Fraser is another one I would have had to have said 'No' about.
"I don't think there's anything wrong with that because when players develop, they develop at different times and have different qualities. But both of those guys had a tremendous attitude.
"With Scott, his eyes would almost burn into you when you were having a conversation. He would take in every word.
"I think he can go to the very top. I don't see how there's any barrier to Scott reaching the top of the tree.
"He's got everything that's required. He's big, he's physical, he's a sensible boy, he's got a sweet left foot, he's good in the air, he's burst onto the international scene and he's been captain of Scotland.
"There aren't many flaws there.
"I know Aberdeen turned down a substantial offer from Aston Villa – and I'm not surprised that came in.
"But I think there are only going to be more clubs queueing up to offer him the chance.
"The one thing I would say is that any time I've spoken to him, he's in no hurry to leave the club.
"He seems quite happy to be learning his trade at Aberdeen, and his international progress seems to be important to him. It's refreshing that he's got that attitude.
"But there are bound to be top clubs looking at him. If they're not, they're not doing their jobs properly."