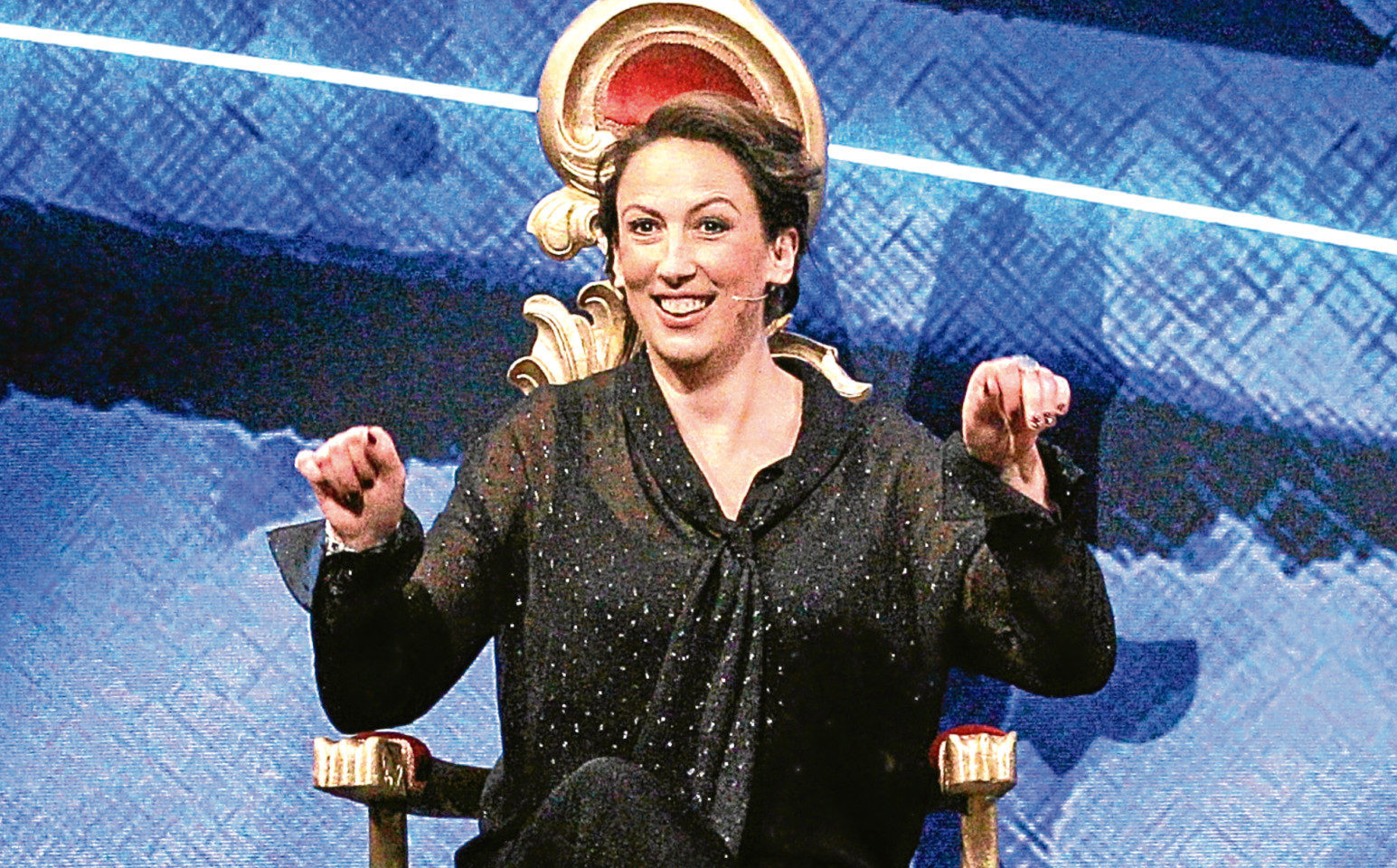 WHO is the Queen of Comedy? It used to be Hylda Baker and then perhaps it was Marti Caine, with Victoria Wood taking the throne after her.
But — mirror mirror on the wall who is today's funniest lady of them all?
There are many who ply this wonderful art, but there really is just one Miranda Hart!
What a lady she is. Last year, she was a star of Call The Midwife, appeared on countless other TV shows, raised thousands for charities, stunned a diamond-dripping audience at the Royal Variety Show by getting Prince William to perform a "giddy-up" in the royal box, and appeared on many other stages.
This year holds more of the same for this very funny lady who is just having the time of her life.
"The Royal Variety Show was just amazing," she said.
"I couldn't believe it when I was asked to be the host of the show and I couldn't resist going a little bit over the top. Wasn't Prince William totally fantastic? He stole the show.
"I don't know if they will ever ask me back. I hope so, but Prince William would be a hard act to follow. I'll keep a space in the diary just in case."
There are not many spaces in her diary. When she is not performing or acting, she is usually writing new material or a book.
Miranda makes us laugh and she is very happy to do so. She gave up on the idea of being a glamorous and romantic leading lady some time ago.
"I am 6ft 1in and there are not many roles for a glamorous romantic lady who can't wear heels or who has to make eyes at someone standing on a box," she said.
"I suppose it was the same at school. I was never one of the beautiful people, the cool set, so I got by as the jester."
The first school was in Hampshire although Miranda was born in Torquay.
Her father is Captain David Hart Dyke CBE who commanded the stricken HMS Coventry during the 1982 Falklands War.
Her family tree traces back centuries with many aristocrats on its branches.
Little wonder then that she was sent to a girls' boarding school called Downe House.
It is in Berkshire and is famed as the school where Clare Balding became head girl and where Kate Middleton was later to attend for just one term.
"I owe my parents a lot as they were always there for me and I saw a lot of them even though I was boarding," said Miranda. "I wasn't academic, but I was good at lacrosse.
"I loved laughter as well and comedy. I was and I still am a huge fan of Morecambe and Wise and Tommy Cooper. That has always been my kind of humour. I still love them.
"I think I was growing an ambition to become a comedian when I left school, but I was a bit shy and I didn't really think such a thing was likely to happen to me.
"So I went to what is now called the University of the West of England in Bristol and studied politics. It was simply Bristol Poly in those days.
"Then, I didn't really know what to do with my life, so I stayed at home and did little except toy with comedy ideas.
"I never told anyone I wanted to get into comedy. I was getting more and more agoraphobic as well and a little depressed. The right ingredients for comedy."
Miranda's break came when she landed a job with Comic Relief. It was mostly an admin role, but she plucked up the courage to tell her parents that she wanted to do comedy.
"I was worried that they might not understand, but they were OK about it," she recalled. "They reminded me that it was good to have a proper job, but they understood how I felt about my love of comedy and did not give me a hard time.
"They grew to like it."
Miranda started to take her special humour to the Edinburgh Festival and guested in comedy shows. Her writing made it to radio and then of course to TV and after a lengthy apprenticeship, she has become a household name.
"I still find it hard to believe when people stop me in the street or you suddenly find yourself surrounded by a crowd of people asking for autographs or photos. I don't get that really," said Miranda, who's 45.
"I was too shy to do that and when people just blatantly ask to have their picture taken with you, I am still surprised. It's nice of them, though."
In her student days, Miranda took an acting course, but her comedy is all her.
"The course was brilliant, but really comedy is more about yourself and what you think of things," she explained. "That doesn't mean I am Miranda the character you saw on the show.
"I'm not really like that. I could be, I suppose, but I'm not although I do like silliness and my friends have a similar sense of humour. We laugh a lot at the silliest of things.
"I don't much like formality. One of my favourite times is to just pull some clothes on and take Peggy to the park for a walk. I don't get dressed up in case someone recognises me."
Peggy is her crossbred Shih tzu — Bichon Frise, her companion for about 10 years and the subject of one of her books.
"Peggy is just great fun and I had wanted to write about her for some time," she said.
"I didn't write one of those serious books, a lecture about how to keep dogs. It is just about Peggy and me and how we get on and the things that happen when you have a dog as a close friend. She makes me laugh a lot."
Miranda is constantly asked if her hit sitcom will return soon.
"There are no plans that I have heard of, but it was left open-ended with her going on her honeymoon, so who knows? Maybe one day, but nothing in the visible future."
However, taking part in Call The Midwife is something Miranda always gets excited about.
"I love it and my character Chummy is fun to play. She's a bit clumsy and I have to make sure she doesn't become Miranda by a different name and in a different setting. It is me — Miranda Hart playing Chummy not Miranda from the sitcom," she said.
There is talk of another movie role similar to the part she played in Spy with Jason Statham.
"That was a great experience and I'd like more opportunities like that," said Miranda.
"It would be fun to make something great in Hollywood, but I don't think I'd want to move there permanently. I am very British and I love being here.
"I don't know how long I shall be popular, it can all change so suddenly but that's OK as I have already had more from life than I expected."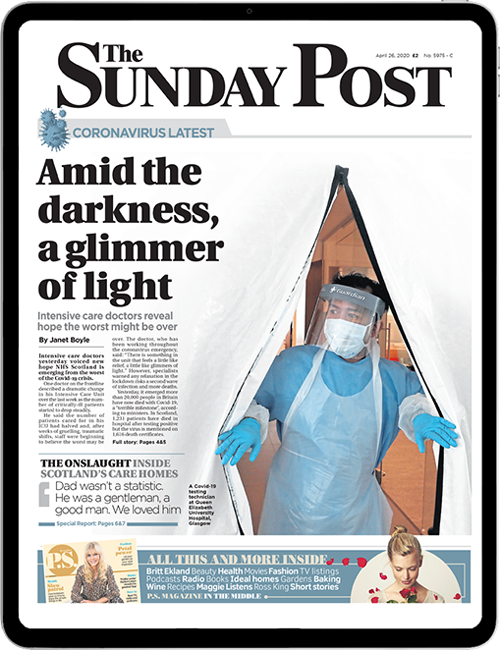 Enjoy the convenience of having The Sunday Post delivered as a digital ePaper straight to your smartphone, tablet or computer.
Subscribe for only £5.49 a month and enjoy all the benefits of the printed paper as a digital replica.
Subscribe