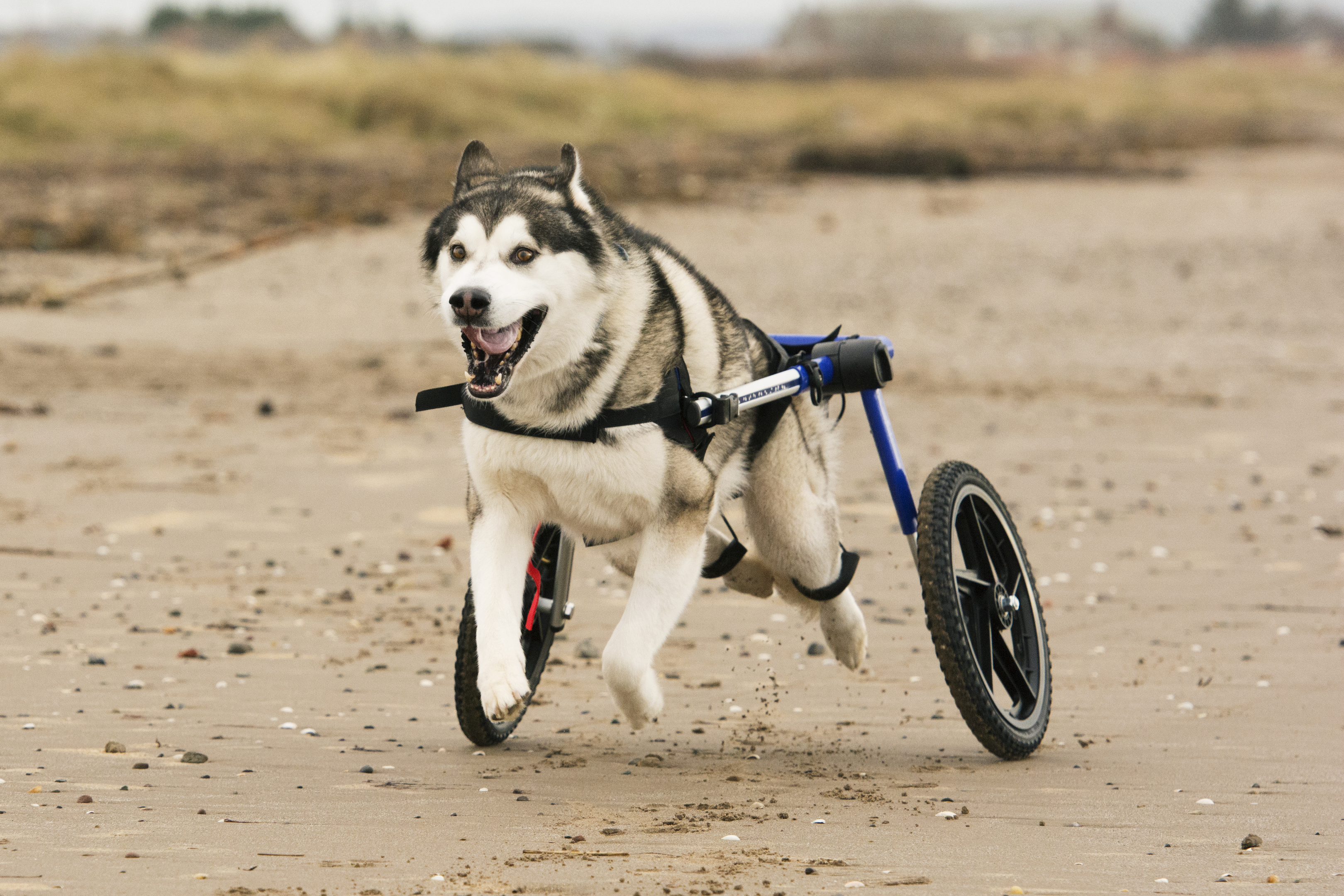 BEAR the Alaskan Malamute loves life.
Visit him at home with the Macdonald family in Troon, Ayrshire, and you'll be treated to a warm and affectionate welcome from this much-adored pet whose loving nature could melt the hardest hearts.
While seven-year-old Bear is a big softy, he's also one of the most courageous and plucky animals that his owner Katrina Macdonald has encountered.
Just weeks before Christmas, Bear had a stroke and was left paralysed. With no hope of recovery, Katrina was advised that Bear should be put to sleep.
But no one considered the incredible bond between owner and pet. There was no way Katrina would allow Bear to die without being given every possible chance of a happy life.
Today, he zips around on WHEELS, and while it's rare for small dogs to use "wheelchairs" which support paralysed limbs, it's almost unheard of for a bruiser like Bear, who weighs around 112lb.
Mum-of-four Katrina, 47, laughed: "He's not your average dog. We're incredibly proud of him."
Recalling the day her world was turned upside down, she said: "I was in the kitchen and Bear was snoozing in the hall when I heard this blood-curdling yelp from him."
She called her partner Stephen Beveridge, 40, at work and he rushed home to take Bear to the vet. Animal medics injected Bear with dye which pinpointed where the blockage was, and nerve cells around it were dying. Bear was left paralysed and didn't recover.
But Katrina wasn't prepared to accept the vet's recommendation that Bear would have to die because it would be too hard to look after him.
"I didn't care how difficult it would be – I wasn't giving up on him," said Katrina. "Luckily, I work from home so I could do this. As well as Bear, there are also three wee dogs at home. I wouldn't give up on any of them."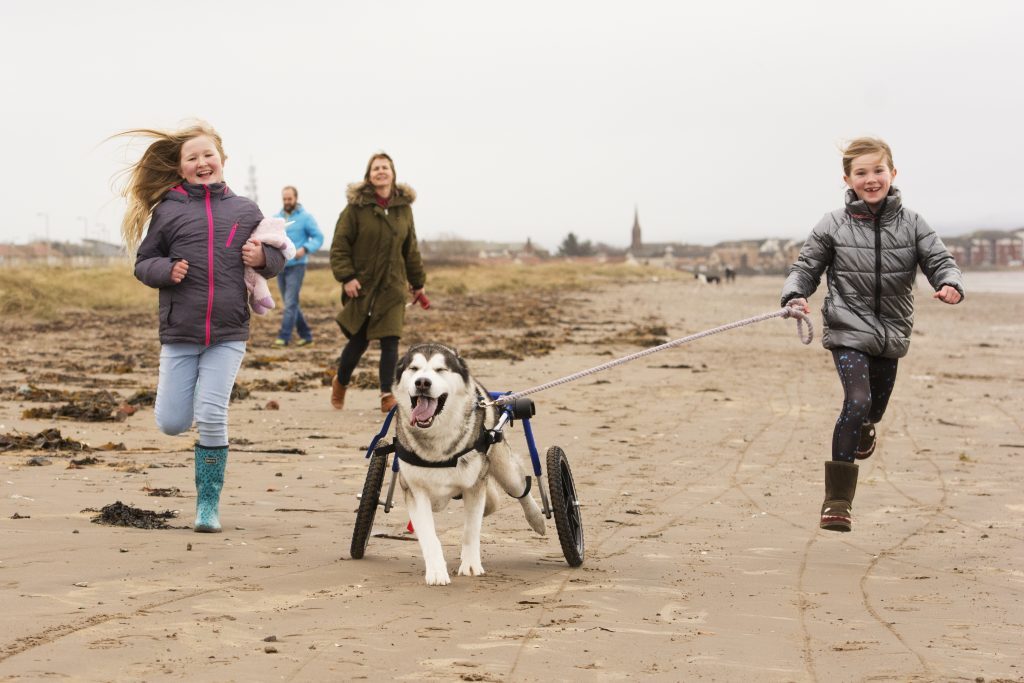 Staff at Ayrshire Canine and Equine Physiotherapy were willing to help. The family bought a luxury dog bed with a memory foam mattress and Katrina came across the website wheels4dogs.co.uk.
She said: "My physio told me her friend had wheels which we could try, which came with a back support.
"That was truly the start of a new chapter in Bear's life."
On Christmas Day, Katrina, Stephen and daughters Levi, 28, Tyler, 22, Noa, 10, and seven-year-old Oran, went for a walk along Troon beach with Bear, a Jack Chi called Scout, and Scout's pups Indie and Buck.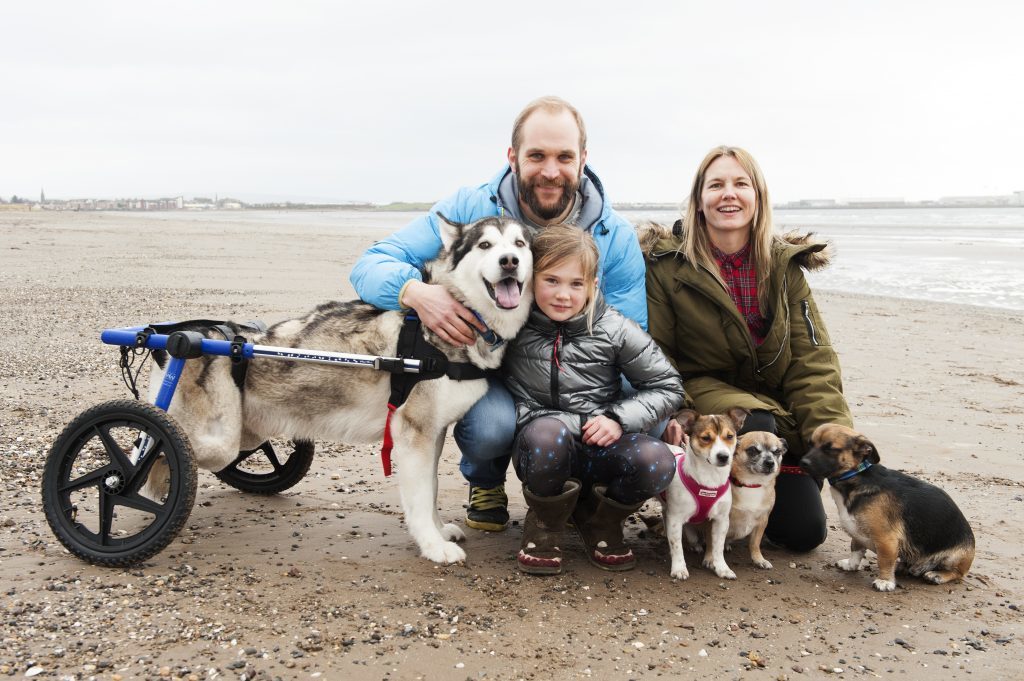 Katrina said: "That was when we realised that this could be done. Bear had a great day.
"He may never regain the power in his back legs, but so what? If it doesn't happen we'll manage.
"Bear is back to his old self. His happiness is everything to us. I would never keep an animal in misery. I give him physiotherapy every day and I keep him to his routine which is what he loves."
And Bear has just had a new set of bigger, better wheels delivered.
"Life's good," said Katrina. "Despite everything, Bear is one of the happiest dogs you could ever meet."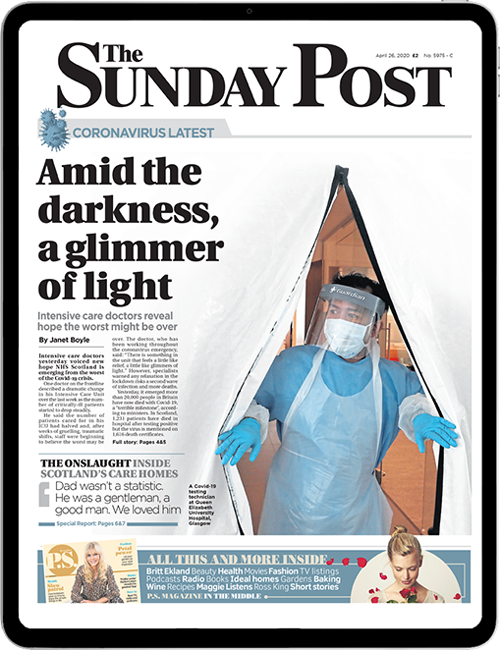 Enjoy the convenience of having The Sunday Post delivered as a digital ePaper straight to your smartphone, tablet or computer.
Subscribe for only £5.49 a month and enjoy all the benefits of the printed paper as a digital replica.
Subscribe