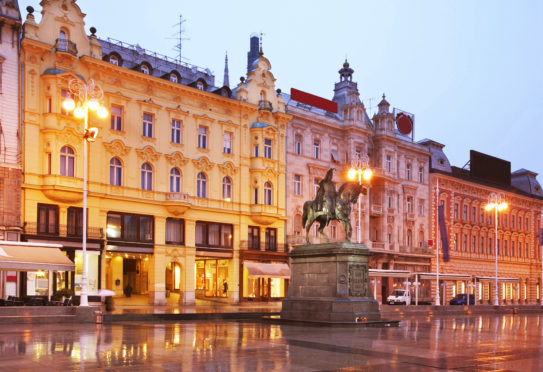 Croatian travel chiefs proclaim their country is "full of life" and "full of nature"…
Having spent an enjoyable October week exploring some farflung corners of this country I'd happily agree on both counts.
Think of holidays in Croatia and destinations such as Split, Dubrovnik and Hvar might well spring to mind.
Located on the famous Adriatic coastline, these busy tourist havens typically conjure up images of marinas, sprawling hotel complexes and beachside holidays.
But this nation that gained its independence in 1991 has a new developing holiday story to tell…one that's more than just about beaches.
There's a fresh focus on the country's national parks, offering horse-riding, cycling, hiking, kayaking, climbing or simply relaxing in the crisp, clear air.
Throw in impressive countryside, nature parks, superb lakes, thermal springs and wonderful waterfalls alongside amazing old castles and medieval fortresses, overflowing with legends, to explore and you start to understand the appeal.
Add in a pretty impressive road network and Croatia's natural paradise becomes easily accessible for those keen on roaming.
We travelled to the capital Zagreb for the first stop on an amazingly picturesque journey. As well as being the starting point on this mini-adventure, Zagreb is the country's biggest city.
Stylish and cosmopolitan, it is steeped in history and houses spectacular architecture including its stunning twin-spired cathedral, dating back to the 1200s. It suffered major damage in an earthquake in 1880 but a major restoration programme has returned much of the original splendour.
Zagreb is one of these wonderful European cities that, as you wander around its ancient centre, turning each new corner reveals another architectural gem
But we were bound for other Croatian corners to discover.
That journey took us on through the picturesque and historical Slavonia region, punctuated with vineyards set among awesome, gentle rolling valleys. With three rivers – the Danube, Drava and Sava – the area is also famed for its oak trees.
On arriving at Nijemci we took a boat to Sopotca with an enthusiastic bird expert on board. We stayed in a beautiful complex of converted farm buildings on the Ivica and Marica estate.
From there we travelled to the Kopacki Rit Nature Park, one of Europe's biggest wetlands covering almost 240 hectares. Home to deer and wild boar as well as 300 species of birds, the scenery is truly breathtaking.
We stayed overnight in the Kurika Jankovic Hotel, a renovated 19th century nobleman's mansion. From there we headed into the Papuk geo-park, with its 336 sq km of natural beauty.
A fairly easy trek allowed us to visit the famous Skakavac Waterfall.
With no less than seven medieval fortresses in majestic natural surroundings you start to appreciate why the park has Unesco protection status.
Our final area to discover was Lake Trakoscan in Hrvatsko Zagorje where an early-13th Century castle sits atop a small mountain. It's the stuff of fairytales.
Our final amazing pitstop was the equally beautiful Veliki Tabor Castle, dating back to the 16th century. The ghost of a damsel called Veronika is said to be heard wailing eerily especially during winter nights. The daughter of a poor family, she was apparently imprisoned in the walls of the castle accused of being a witch because of her forbidden love with the young count.
True or not, that story was just one of many we uncovered in Croatia's new chapter of using Mother Nature's allure to tempt new visitors.
I'd happily return to explore more of this stunning country.
---
Factfile
We flew to Zagreb via London Heathrow with British Airways. In Zagreb we were based at the Palace Hotel in the city centre. Rooms range from €60-83 per night (palace.hr).
Our countryside stay was on the Ivica and Marica estate where rooms are €44-56 per night. subject to season (ivica-marica.com)