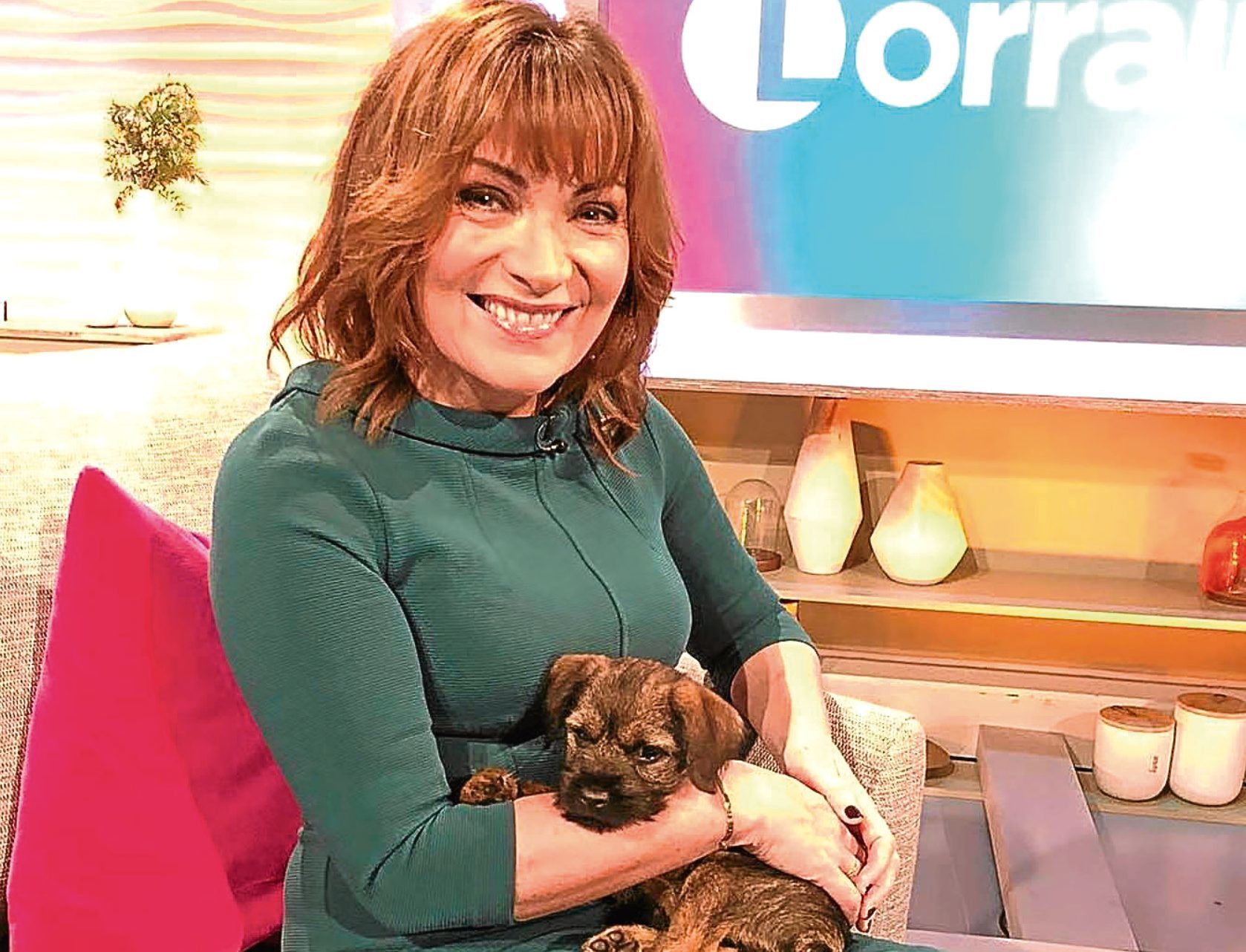 THE nation will be asked to choose their favourite kind of dog this week.
But TV presenter Lorraine Kelly says the winner should be obvious.
The Sunday Post columnist has just got a new puppy, Angus, a Border terrier, and says they are unbeatable pets.
She said: "We have a new member of our family in the shape of Angus, a cute Border terrier pup, my best ever Christmas present," said Lorraine.
"It's three years since we lost our beloved Rocky, and we always wanted another Border, as they are such clever, funny and loyal dogs, with loads of personality. They are brilliant with children and they need lots of walks, which I love.
"Angus is a bit of a handful at the moment and thinks I am a chew toy, but with a bit of patience he will soon be perfectly trained.
"Already I can't imagine life without him. There's nothing better than that enthusiastic welcome when you walk through the front door or curling up on the sofa with a sleepy puppy at your feet."
Andy Murray and his wife Kim are also Borders fans with their pets Maggie May and Rusty having posed with their owner's Wimbledon trophies.
And Agnes Douglas, from Thornhill, Dumfriesshire is in Lorraine's camp when it comes to the perfect pet.
Could your furry friend find fame? Open dog auditions are being held in Glasgow for starring role in Legally Blonde musical
Border terriers – 10th on the Kennel Club's annual list of registrations – are Agnes's passion, too.
"There have been Border terriers in my family since before I was born and I'm 68 now," said Agnes, who is one of the Club's Assured Breeders.
"I have five at the moment, Indie, Meggie, Ruby, Cassie and Minnie Mo. They are four generations, ranging in age from 13 to three.
"I used to have working dogs but now they are all just family pets.
"I have shown a couple of my current dogs at Crufts and I just love having them around the house.
"We've obviously passed on the love as my son has one, too.
"They are easily trained, obedient and make excellent family dogs.
"Many of my pups have gone to homes with children and I've never heard of a single problem."
The nation's love affair with dogs is gets the TV blockbuster treatment this week. On Tuesday, at 7.30pm, ITV are devoting their entire peak-time schedule to a two-and-a-half-hour canine celebration.
And with one in four of us now sharing our homes with one, Britain's Favourite Dogs: Top 100 aims to find out once which is the UK's hottest hound.
The programme surveyed 10,000 people on the type of dog they owned.
Stars including Geri Haliwell, Gok Wan, James Martin, Phillip Schofield and Holly Willoughby introduce their canine companions and Prince Harry appears, too, with a charity assistance dog.
The show will be presented by two dog lovers Sara Cox and Ben Fogle. Sara has two Maltese called Beano and Dolly while Ben has a black Labrador.
"Storm is two and a half, and the pride and joy of my life" said Ben.