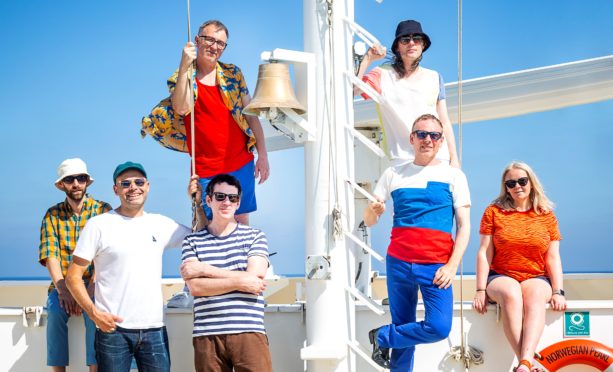 Glasgow indie stars Belle and Sebastian will headline 2020's Doune the Rabbit Hole festival.
They'll be joined on the bill at the event, held at the Cardross Estate between July 17 and 19, by Moscow based activist collective Pussy Riot and Motown legends Martha Reeves and the Vandellas.
Also playing will be Western Isles group Peat & Diesel, who recently sold out the Barrowlands after a viral hit about life in the islands, as well as Cut Capers, The Bluebells and Girl Ray.
The festival, held in partnership with gig promoters 432, this year increased its capacity from 3,000 in 2018 to 5,000 and plan to increase the capacity to 8,000 for the 2020 festival.
With the 2019 festival, which featured bands including The Wailers, The Damned and Sister Sledge, close to a sell-out, music fans are urged to buy tickets early for next year's event.
Currently festival fans can grab tickets for just £110 (until February 2020) with Doune the Rabbit Hole continuing their commitment to welcome families (including grandparents) with free tickets for under 12s.
Festival director Jamie Murray said: "We continue to celebrate the homegrown alongside legendary international bands and the hottest bands from across the UK.
"This year we introduced Douniversity which was a huge success with talks from politicians, academics, journalists including Kristinn Hrafnsson, Editor in Chief of Wikileaks, Extinction Rebellion and in line environmental measures such as planning single use plastics from the site.
"Doune the Rabbit Hole is very much an inclusive and welcoming family environment and we will continue to  accommodate young festival fans and their families and encourage fun, adventure and imagination with children's activities, workshops and fun across the site."
Doune the Rabbit Hole is one of the UK's most family-friendly festivals with a range of activities from arts to crafts, poetry, jam sessions and storytelling.
The festival features a huge kids' area and a family camping area quietly sited away form the hurly burly of late night events.
Events in 2019 included an Aardman Animations workshop, kids laughter yoga, kite making workshops, Woodcraft Folk (outdoor activities and nature based crafts), face painting, pottery workshops, Becky Rose Fisher yoga (for kids), Kakatsitsi drumming workshops.
New in 2019 was a special festival glamping experience with yurts on the lawn of the Cardross Estate in front of the house itself which will continue in 2020.
The option of luxury ticket adds ons such as lovely loos and showers for those on-site over the weekend will also continue.
Doune The Rabbit Hole is one of only two dog friendly festivals in Scotland and the country's best independent food and drink purveyors will pitch up offering an assortment of delights to keep hunger at bay.
---
For more information and tickets visit www.dounetherabbithole.co.uk