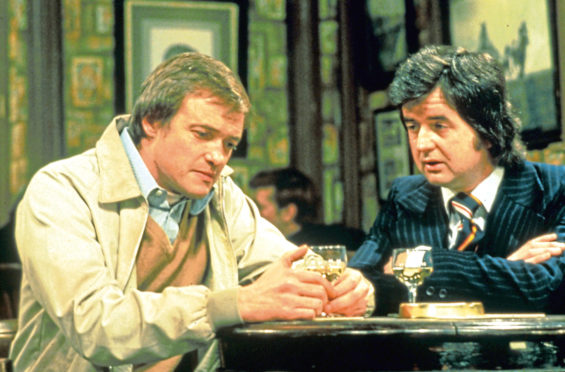 There aren't many writing partnerships that have lasted as long as Dick Clement and Ian La Frenais.
When they met in a London pub back in 1961, little did they know that their careers would involve writing classic TV shows such as The Likely Lads, Porridge and Auf Wiedersehen, Pet and see them moving to Hollywood.
Clement – employed as a BBC studio manager at the time – and La Frenais – who'd done odd jobs including market research – remember their first meeting vividly.
"Dick was wearing a long overcoat and looked like he'd just graduated from Oxford. He seemed well informed, probably because of The Guardian stuffed in his pocket!"
They hit it off straight away and began socialising. "Several friends, including me, would go round to Ian's flat at the weekend and play cards," recalls Clement.
It wasn't long before their friendship progressed into a working relationship, writing sketches for the Ariel Players, the Beeb's in-house drama club.
Ever since he tried writing an episode of the Paul Temple radio series as a boy, Dick Clement wanted to work in showbusiness.
While employed by the BBC, he tried keeping his aspirations alive by joining the Players, the perfect vehicle for nurturing their writing partnership.
One sketch penned at a pub in London's Old Brompton Road, titled Double Date, was revisited when Clement, attending a BBC directors' course, had to make a show reel.
With a £100 budget, he recorded the sketch on film and impressed the BBC hierarchy so much that they commissioned an entire series. "It was a fantastic moment," says Clement.
With BBC2 about to launch, executives were looking for programmes to fill the schedules and so the writers got to work on their kitchen tables and The Likely Lads was born. By 1966, 20 episodes had been recorded and Terry Collier and Bob Ferris, the central characters, had become icons of the age.
Much of the duo's success is due to their deep understanding of each other. "We have minor disagreements but never row," says La Frenais, now 84.
"It's been an enormously long and successful working marriage," adds 82-year-old Clement, before pointing out that they've also worked independently.
"Ian has written Lovejoy and Spender while I've directed movies and a stage play. Such breaks have always been productive and refreshing but we've never wanted to break up the partnership."
From the first occasion they wrote together, it was Clement who'd put pen to paper. He says: "I don't remember any discussion about who should do the actual scribbling, but it was me. This tradition continued and when asked about it we used to answer that it was because my calligraphy was more legible. It is, but I don't think that is the entire reason."
The writing process has remained pretty much the same over the years. While other writers work via email or divide scripts up, Clement and La Frenais work together.
"We discuss everything, starting with the story. What's the main thrust? Where are the juicy scenes?" explains Clement.
"While we're kicking ideas around, some dialogue occurs to us. So we step into character and throw out a line and a response may occur and if it's any good we incorporate it when we do the actual writing.
"Everything is debated, alternatives considered, choices made. And as I was always the one with the pen in my hand – here's the hidden agenda – I had the power to choose my version over Ian's if it was a split vote.
"But if he doesn't like it when he sees it on the page and raises the red flag, back it goes. Or maybe we find a compromise, another line, another word."
Nowadays, the writers use a computer. Initially, La Frenais wasn't convinced, as Clement explains.
"He'd stare at the grey cube on the table with deep suspicion. When I started tapping the keys, he was appalled. 'You're not going to do that while we're writing?'
"I certainly was because the alternative was transcribing everything at the end of the day after he'd gone home.
"Grudgingly, he got used to it but was won over by the obvious advantages of instant printouts and corrections, though it was a year before he walked round to my side of the table to take a look at the text on the screen."
While The Likely Lads and its sequel were important milestones in the writing partnership, for many people Porridge, starring Ronnie Barker and Richard Beckinsale, shines the brightest in the sitcom world.
"We wrote the first series of Porridge while rehearsing our stage musical Billy. It was a very happy time," says Clement.
"One episode was written on our knees in the Midland Hotel, Manchester – I'm pretty certain it was A Night In.
"We felt it was important to do one show entirely in the cell, since prison is, after all, about being locked in. We also felt it should touch on how tough it is, especially for a young prisoner."
"It ended up as one of our favourite episodes, a two-hander between Ronnie Barker and Richard Beckinsale, who captured wonderfully all of Lennie's fear and vulnerability," says La Frenais.
"From the outset, we knew we were writing for Ronnie Barker – in our view, a comic genius," says Clement.
"Yes, the research set us back. When we went round Wormwood Scrubs and Brixton, we were hit hard by the harsh reality of life inside and how very unfunny it is.
"So, at that moment, it was even more reassuring to picture Ronnie as Fletcher. The key was his attitude, his ability to make the best of a bad situation and find little victories that got him through each day."
That was not only the key to Fletcher's survival behind bars but was instrumental in the sitcom's success, too.
Although Clement and La Frenais have written many other shows, including Mr Aitch, The Further Adventures Of Lucky Jim and Over The Rainbow, you'd be hard-pressed to find programmes to beat The Likely Lads, Whatever Happened To The Likely Lads?, Porridge and Auf Wiedersehen, Pet.
Understandably, The Likely Lads, starring Rodney Bewes and James Bolam, launched their professional writing careers and remains special to the writers.
Although La Frenais admits it isn't necessarily the best thing they've written, he appreciates it's probably the most significant.
"I still enjoy watching the episodes, even though a few seem overwritten. After Whatever Happened To…? we were very assured and had a lot of confidence. It was a prolific period for our writing.
"The Likely Lads opened doors and enabled us to become successful in TV and films. It changed our lives and for that we're grateful."
Strength of characterisation is among Clement and La Frenais' trademarks. Pick up any of their scripts and you won't find a barrowful of gags. Instead, you'll see a depth of character an actor can really get their teeth into.
"We're not gag writers," says La Frenais. "We obtain our humour from the characters themselves."
Look no further than Porridge and The Likely Lads for proof. In both, the situation is harsh but the grimness is cleverly balanced by the vigour and colour of the characters.
In the field of sitcom alone, Clement and La Frenais have won The Society of Film and Television Arts' award for both Whatever Happened To The Likely Lads? and Porridge, as well as picking up a Screen Writers' Guild award for their prison-based series.
But despite the success stories, Clement and La Frenais have also endured the odd disappointment, such as their 1993 comedy drama for ITV, Full Stretch, about an ex-footballer turned owner of a failing limo company.
"I really thought that would work," admits Clement, "but the programme wasn't given a chance to settle because of changes in ITV at the time.
"It was a shame because the casting was wonderful and we believed we could have created the new Minder."
But whatever they write in the future, humour will remain an integral component.
"I'd never want to write anything without humour," says Clement. "I think it's essential. Even in the darkest, most heavy movie it's important because life contains humour, often in the most inappropriate places and I like that."
Since the mid-1970s, the writers have lived in Beverly Hills, close to the heart of the movie industry.
It didn't take long for them to settle into the American way of life. "It's a hard-working town, very work orientated," says Clement.
"We have a routine. Ian comes around at about 9.30 each morning and we work till 4.30. He's better at dialogue, while I'm better at structure, so together we work well."
Without question, the Clement and La Frenais partnership is one of the most respected and sought-after in the entertainment business, as their ever-increasing list of credits and awards prove. Long may it continue.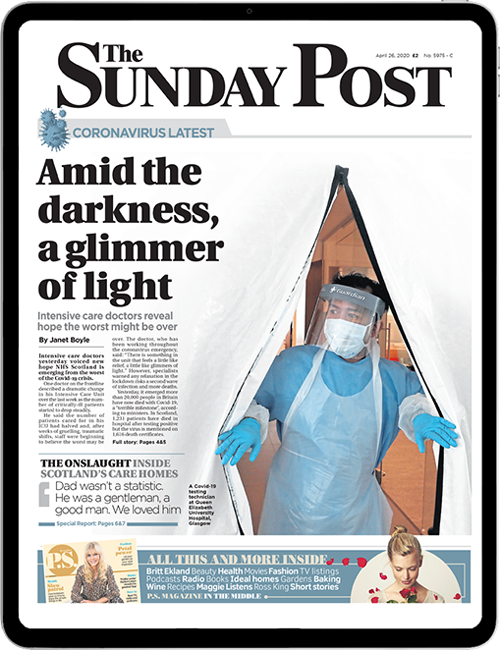 Enjoy the convenience of having The Sunday Post delivered as a digital ePaper straight to your smartphone, tablet or computer.
Subscribe for only £5.49 a month and enjoy all the benefits of the printed paper as a digital replica.
Subscribe