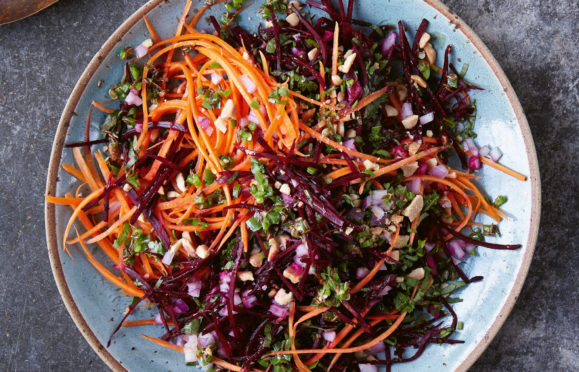 This beetroot, carrot and peanut salad makes for a great barbecue side (serves four).
You'll need
For the salad
50g roasted peanuts, coarsely crushed
4 raw beetroot, about 400g, grated
1 red onion, finely chopped
20g fresh coriander, finely chopped
1 carrot, grated
2 tbsp lime juice
½ tsp salt
For the tadka
1 tbsp groundnut oil
1 tsp cumin seeds
2 green chillies, finely chopped
Method
Use a pestle and mortar to coarsely crush the peanuts, then put them into a bowl with the rest of the salad ingredients.
To make the tadka, heat the oil in a small pan and add the cumin seeds. Once they start to sizzle, add the green chillies, give them a stir, then take the pan off the heat.
Pour the tadka over the salad, toss well and serve. This will keep in the fridge for a couple of days.
---
Recipe courtesy of Chetna's Healthy Indian Vegetarian by Chetna Makan, photography by Nassima Rothacker, published by Mitchell Beazley, priced £20 (octopusbooks.co.uk)