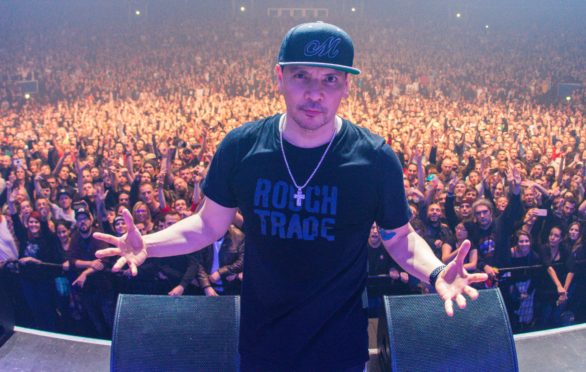 In his ventures into the world of virtual reality, turntablist and contributing member of the Beastie Boys Mix Master Mike made a perfect clone of himself.
As a result, a version of himself exists that can do shows without the man himself being there.
But with so many brilliant memories of visits to Scotland, fans heading along to Mike's Glasgow show next month needn't worry – they'll definitely get to experience the real thing.
"I'm excited to come back," Mike tells The Sunday Post. "It's going to be an awesome tour and I've definitely got a big X on that date.
"Scotland, they know! You don't have to send a memo, they understand it. It makes me feel at home that I know that everybody's with me, I'm not the only insane dude."
There was no occasion where that was more apparent than the iconic show Mike played with the Beastie Boys at Glasgow's SECC back in 1999.
Thousands were wowed as the hip hop legends showed off their trademark bombast at the Clydeside venue.
Broadcast all over the world on MTV, and still widely watched today, it went down as one of the group's biggest shows.
"To this day I get fans sending me clips of that. They tag me on videos from that show. They tell me that it changed their lives, and it changed my life too," Mike recalls.
"I remember the moments before I hit that stage in my dressing room, knowing that the whole world would be watching. It's high up there as one of the most defining moments for me, that Glasgow show."
Mike takes to the much more intimate venue of Saint Luke's, over on the other side of town, for his solo show, which he describes as an "all out audio onslaught, with no foreign objects" – it's just him, two turntables and a mixer.
And he says that, while he'll always go full pelt into a show, there are different gears when it comes to club shows versus arena shows.
"When I do a club date it's an intimate setting and there are cameras and screens and they can see my hands and the whole thing becomes a different show.
"People are actually watching something happen on a big screen live, it's like a hockey game. It's a spectacle, people seeing what I do up close.
"In a stadium, it's an entirely different mindset because it takes a whole lot more energy to summon up and take people's energy and then give it back to them.
"I opened for Metallica on a stadium tour and it's an overwhelming challenge that's just awesome. After you come from doing stadiums, everything else is a breeze.
"There's a different mindset, but you'll still get me never holding back. I'm the risk taker, there's nobody that takes more risks than I do."
Mike goes into every show looking to create a full-on experience. His position as the DJ is one of great power – one move here or one move there totally changing the way the audience feels and moves to the music.
He is, to refer to Metallica again, a master of puppets – but he sees the crowd differently.
"They are my people. For me, it's like power in numbers, my purpose is to cause a mass awakening and take people away, show them some cool stuff, and hopefully one day they'll tell their grandkids about what they saw. That's the motivation."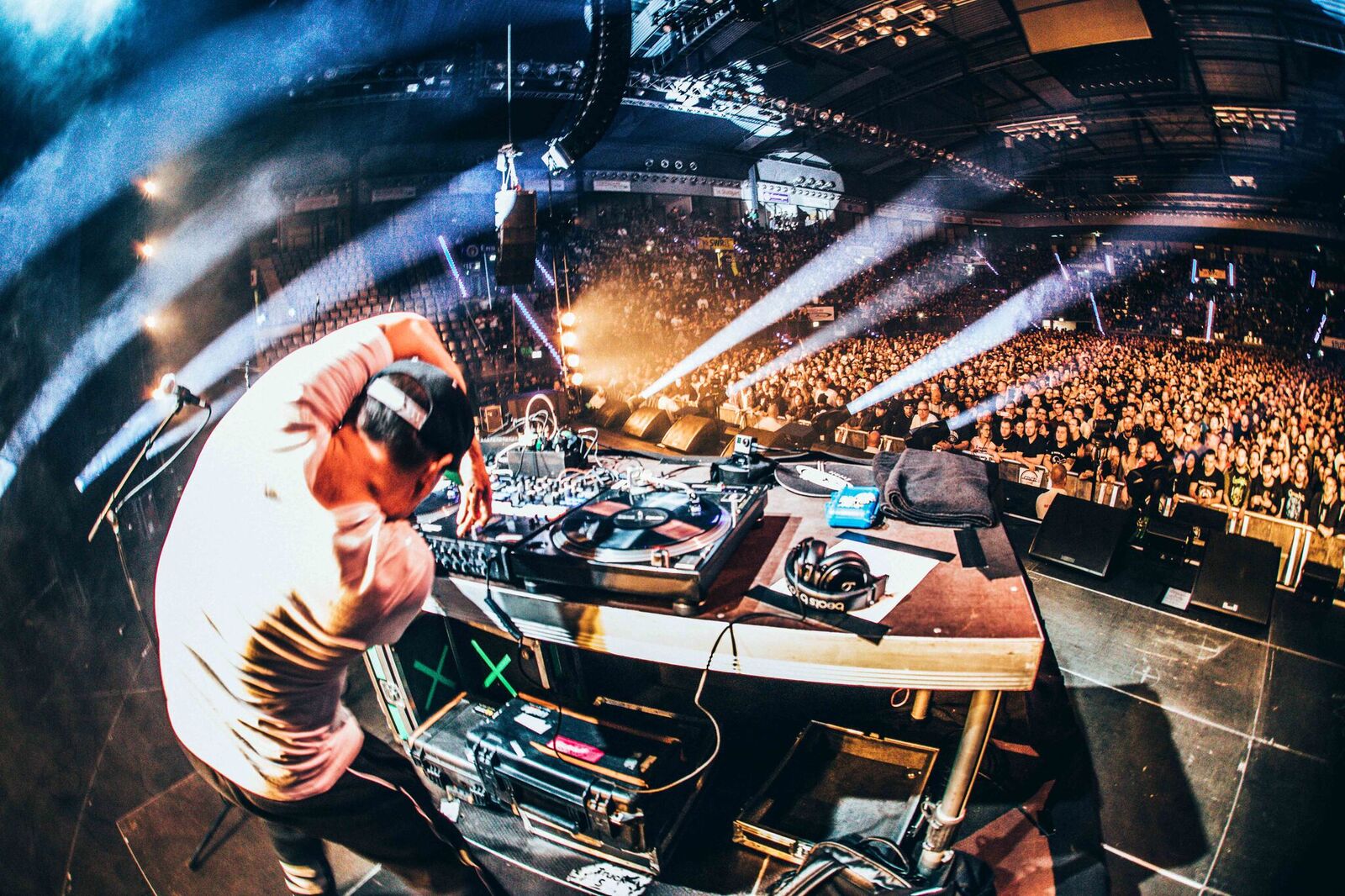 Despite being in the business for over three decades now, San Francisco-born Mike still feels like the teenager that would triumph in DJ battles back in the early nineties.
Always looking ahead to the next project, he's constantly aiming to tap into anything new and creative.
"They say the average human is using only 13% of their mind, but I'm trying to tap in to use at least 30-40%," he explains. "Then when you get to 50% you get into other fifth dimensional mindsets and you're able to do all kinds of crazy superhero-type stuff.
"Our government is trying to knock out our curiosity and motivation, and those are the things I go by. I'm an explorer, if they tell me not to look over that fence, I'm looking over the fence! They tell me not to go to Area 51, I'm going!"
Continuing on the idea of exploration, Mike has found the world of virtual reality.
Sick and tired of the same old platforms for releasing albums, he felt he needed to attach something to them.
"I had two albums that I refused to just put out. I spent day and night crafting them and if I just put them out they'd get lost in the shuffle.
"For me, it's all about attaching something to your music that's going to make the project timeless. What better universe than the virtual world, where I can create my own environments."
Magma Chamber and Moon Base Invasion saw Mike and his team at the forefront of VR technology in music, and also featuring at Cannes and scooping various awards.
"I'm an explorer, always trying to push it and advance it," Mike says. "People ask me what I think of music now, it's that there's not enough people pushing it. You've got to keep thinking as an artist."
"Everyone's more along the line of 'let's do this for hits' or 'let's do this for more followers' and the motivation is backwards.
"We need to flip it back. In our day it wasn't about that, it was about the art as a whole and everybody working together.
"I don't want to say I know it all, but I know a lot. My career's been a glorious career, it always baffles me. I always want to know what I'm going to do tomorrow, that's what keeps me going."
While looking forward constantly, Mike is always thankful for his time with the Beastie Boys.
Joining for 1998 album Hello Nasty, which led to two Grammy Awards, Mike worked with the group until their disbandment.
"These are important chapters in my life, they are not only bandmates but they're my family. We spent our lives on the road together, it was much more than the music.
"I hold it deep in my heart, those memories. I understand things happen for a reason. Before I joined them I was my own entity. Being with the Beasties I learned a lot, on a business level too, how to carry yourself in front of people.
"You walk up on stage and see thousands of people out there you think, 'wow my life won't be the same'."
The tragic death of Adam Yauch, a.k.a. MCA, brought the band to an end – but under different circumstances, would they still be going?
"We'd be on tour right now, with a new album. I guarantee you," Mike insists.
"I'm making so much more music than I was back in the day. I have so much in me that I think there'd be more Hello Nastys I'd tell you that."
---
Mix Master Mike, Saint Luke's, Glasgow, October 6. Tickets at https://www.seetickets.com/event/mix-master-mike/st-luke-s/1397066