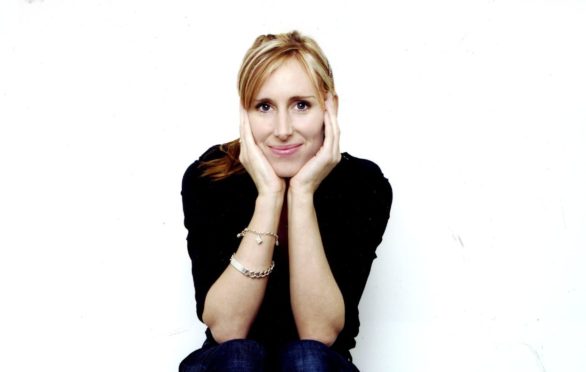 Her insightful words and clever drawings have connected with children – and their parents – around the world.
But, despite selling 15 million books across the globe, Lauren Child is ready for new challenges after lockdown inspired a new determination to find fresh ways of making a difference.
The former Children's Laureate and illustrator, creator of the Charlie and Lola books and TV series as well as the best-selling Clarice Bean and Ruby Redfort books is particularly concerned for children who are living in the midst of the pandemic.
She said: "I've started to think about the purpose of my work. Everything that is going on outside comes through the filter of me and affects what I am writing, illustrating or thinking about. It does make me look at the world and wonder what I can contribute and what is important to say. It is less about legacy and more about what can you contribute that is a good thing right now."
The author, 54, told The Sunday Post: "Children don't necessarily tell you anything. Just because they look like they are dealing with something doesn't mean they are, just as it doesn't mean they aren't.
"I know this from my own daughter. I knew she was really anxious because I know her well enough to know what the signs are. If she doesn't want to sleep on her own, I know that there is something very big going on for her."
Lauren's own youth, which she remembers vividly, and the fears she faced drive her insight. She revealed: "What I learned in my own childhood is that it was very much adults whispering about things that made me very nervous.
"I'd rather hear it than have people whispering, because whatever you can imagine (as a child) is nearly always worse than the truth.
"It is much more useful if a child asks you, to tell them. You can obviously edit, but it is important to discuss, because it doesn't just go away, it buries itself. As a child, I was terrified of nuclear war and rabies. What adults often forget is how big these things can seem because as a child you can control nothing."
Lauren, who lives in North London with her partner of 16 years, QC Adrian Darbishire, adopted her daughter Tuesday eight years ago from Mongolia where she was doing some work as a Unesco artist for peace. Adoption, she says, was never "a second choice" – the arduous process took five years to complete.
She is open with her 10-year-old daughter and the pandemic is no exception: "Discussing things and looking at the situation is much more helpful than saying it's never going to happen.
"Our daughter was very frightened because she was afraid something would happen to us. We have talked about all of that, worse case scenarios, what would happen, and how we'd manage. All I can do is try to answer her questions and help her to feel secure. I cannot make it go away but I can provide escape and we can do other things that are really nice.
"We make cakes and write postcards to people. Doing those kind of things for someone else makes you feel like you are helping, and are more in control."
Her work reflects the world children live in and helps them in some way to understand it. She has created more than 40 books, as writer or illustrator or both, selling 15 million copies globally.
She was Children's Laureate from 2017 to 2019, and was made an MBE for services to literature. In addition to Charlie and Lola and Clarice Bean and the seven books in the spin-off Ruby Redfort detective series, Lauren has illustrated classics including The Princess and the Pea and Astrid Lindgren's Pippi Longstocking. Pippi Longstocking Goes Aboard is just out to celebrate Pippi's 75th anniversary.
In her latest picture book The Goody, Lauren explores the labels we attach to children. That too sprang from her youth.
"It was one of the things I thought of as being really unfair, being wrapped up in these descriptions of yourself. You have no real say over it, when someone describes you as unfocused, or lazy, or helpful or sporty.
"It is very difficult to shrug off those labels. I was always told that I was really determined. It has made it very difficult for me to give up on things as a result.
"That thing about being the responsible, helpful or kind child can become quite a burden not just in childhood but in adulthood."
The real life stories of her past have arguably shaped her – and Scotland has played a part. She revealed: "There is a tragic story about Queen Victoria coming to visit my Scottish relatives.
"It all happened on June 11, 1872. My great-great grandmother Mrs Rattray and her family lived in a cottage on a farm on the edge of the Balmoral Estate in Aberdeenshire, though not part of the estate.
"That day she had left her three-year-old son in the care of her nine-year-old son while she went off to visit her dying mother. While she was out the boys went fishing but the little one fell into the burn, his older brother jumped in to save him and both were carried off with the current into the fast-flowing River Dee. They both drowned.
"Queen Victoria, hearing of the tragedy, decided to visit my great-great grandmother in her cottage and offer her sympathy.
"Victoria then sat talking to her while my great-grandmother, a baby called Elspeth, sat on her lap. Elspeth is my maternal grandad's mother. My mum went to visit their graves in Crathie Church. I knew that we had Scottish ancestors but I didn't know it was quite so dramatic.
"We used to holiday in Scotland a lot in my childhood. We went for several years to the Mull of Galloway. My father's (late) friends Mark and Lottie Cheverton started the Leith School of Art, so we'd visit them and spend time in Edinburgh. They were amazing people."
After leaving school Lauren went to art college in Manchester but left after a year before eventually setting up a lampshade company called Chandeliers for the People. She then went on to work with influential artist Damien Hirst.
Writing a children's book came after she saw the 1990 movie Edward Scissorhands and admired how director Tim Burton had created a "world with his imprint on it". Inspired, she wrote the first Clarice Bean that was published in 1999.
She revealed: "She is the voice inside my head, the girl who says the things I wish I could have said. She's braver than me, but we think the same way and worry about the same things."
Now Lauren is about to take a leaf out of her favourite character's book and step bravely into the Covid-altered world.
"We are going through extraordinary change at the moment which is very big and dramatic. What it has done for me is remind me that I have to keep searching out happiness; happiness in my work."
While she will still write and illustrate (another Clarice book could be on the cards), she has her sights on TV and film. "Now is a good moment to stop being afraid of doing other things. I'd like to work in television or be involved in a series because film and TV was my first love and drew me to books."
---
The Goody by Lauren Child, Hachette, and Pippi Longstocking Goes Aboard by Astrid Lindgren, illustrated by Lauren Child,OUP, are out now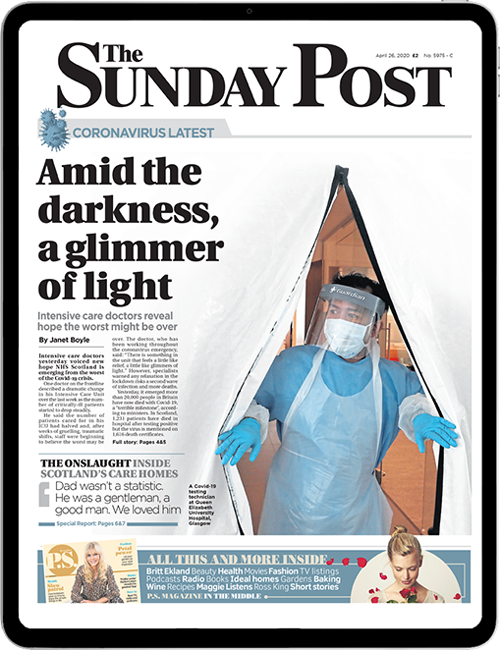 Enjoy the convenience of having The Sunday Post delivered as a digital ePaper straight to your smartphone, tablet or computer.
Subscribe for only £5.49 a month and enjoy all the benefits of the printed paper as a digital replica.
Subscribe