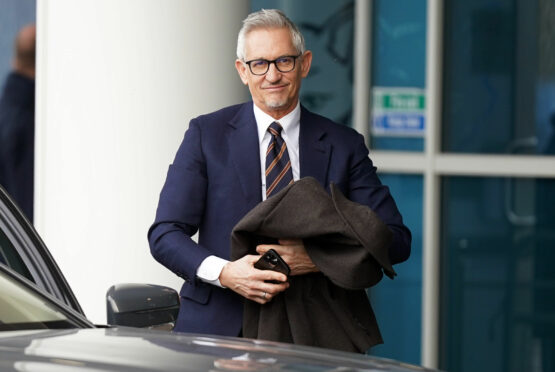 A raft of BBC football shows were cancelled or curtailed yesterday as the fallout from Gary Lineker's row with the broadcaster escalated.
BBC chiefs apologised as the Sportscene highlights programme followed Match Of The Day by implementing an "amended format" after pundits and commentators refused to broadcast in support of Lineker.
The host was suspended by the broadcaster on Friday over a tweet criticising the UK Government's policy to stop migrants on small boats crossing the Channel. He compared the language used by Home Secretary Suella Braverman to the rhetoric of the Nazis and reportedly refused to delete the post or apologise after discussions with the BBC.
On Friday, the corporation said he could not present Match Of The Day until an agreement could be found on Lineker's use of Twitter, claiming he had breached rules about presenters voicing opinion on social media.
The decision prompted his colleagues to show solidarity by refusing to appear and plunged the BBC into crisis with critics accusing them of running scared from the UK Government while highlighting the Tory links of the chairman and director general.
Last night Prime Minister Rishi Sunak commented on the row, saying it was a matter for the BBC, not the Government.
Sunak said: "Gary Lineker was a great footballer and is a talented presenter. I hope that the current situation between him and the BBC can be resolved in a timely manner, but it is rightly a matter for them, not the Government."
Labour leader Sir Keir Starmer said: "The BBC is not acting impartially by caving in to Tory MPs who are complaining about Gary Lineker. They got this one badly wrong and now they're very, very exposed.
"At the heart of this is the government's failure on the asylum system. And rather than take responsibility for the mess they've made, the government is casting around to blame anybody else – Gary Lineker, the BBC, civil servants, the 'Blob'.
"What they should be doing is standing up, accepting they've broken the asylum system, and telling us what they're going to do to actually fix it, not whingeing on about Gary Lineker."
Philippa Childs, head of Bectu, a trade union which represents thousands of BBC workers, said: "This is a deeply concerning decision from the BBC. It will give the appearance that they have bowed to political pressure from ministers to take someone off air for disagreeing with the policies of the current government.
"Taken with the ongoing controversy over the appointment of the BBC chairman, who has a much more important role in upholding the reputation of the BBC, and who has not stepped back while under investigation, it also risks giving the impression of double standards on these issues."
Yesterday, Radio Scotland's coverage of Hearts' clash with Celtic on Sportsound was cut with pre-recorded podcast material instead of the usual studio reaction.
The TV coverage of the match at Tynecastle followed suit with "limited sport programming" put in place. A statement said: "The BBC will only be able to bring limited sport programming this weekend and our schedules will be updated to reflect that.
"We are sorry for these changes which we recognise will be disappointing for BBC sport fans. We are working hard to resolve the situation and hope to do so soon."
Former Arsenal player Alex Scott pulled out of presenting Football Focus yesterday while Final Score, which normally airs at 4.30pm on Saturday, did not go ahead either.
I made a decision last night that even though I love doing football focus and we have had an incredible week winning an SJA award that it just doesn't feel right going ahead with the show today. Hopefully I will be back in the chair next week…

— Alex Scott MBE (@AlexScott) March 11, 2023
The BBC confirmed Match Of The Day would be aired with no commentators or hosts while no players or managers from the Premier League would be giving interviews.
Lineker was pictured laughing in the stands of the King Power Stadium at Leicester City's 3-1 defeat by Chelsea yesterday. The England legend – a former Leicester player – had waved at fans and cracked a smile before heading into the ground.
The Match Of The Day host accused UK ministers of using "language that is not dissimilar to that used by Germany in the 1930s".
After he was forced to step down from the show and refused to back down from his criticism of the UK Government's immigration bill, colleagues including former Premier League footballers Alan Shearer and Micah Richards refused to appear on yesterday's edition. Former Celtic and Arsenal player Ian Wright revealed he would not appear on Match Of The Day again if Lineker was sacked by the broadcaster.
The Professional Footballers' Association (PFA) trade union has also shown solidarity with Lineker.
Wright said: "If the BBC do get rid of Gary Lineker I am out. I am gone, I am not staying there. On his own platform, he should be able to say what he wants to say. I am behind him."
Match Of The Day interviews were also ditched as players backed Lineker. The PFA said: "We have been informed that players involved in today's games will not be asked to participate in interviews with Match Of The Day.
"The PFA has been speaking to members who wanted to take a collective position and to be able to show their support for those who have chosen not to be part of tonight's programme.
"During those conversations we made clear that, as their union, we would support all members who might face consequences for choosing not to complete their broadcast commitments."
A group of 36 Conservative MPs and peers signed a letter to BBC director general Tim Davie, demanding a full, independent investigation into Lineker's comments about the bill. They have also demanded the corporation secures a full apology "without reservation" from Lineker.
Former BBC director general Greg Dyke criticised the broadcaster for forcing Lineker to step down from the programme. He said: "What the BBC did was mistaken. Gary Lineker was a brilliant footballer and he has built his reputation on being a footballer and then went into broadcasting and has done it very successfully."
The BBC said: "The BBC has been in extensive discussions with Gary and his team in recent days.
"We have said that we consider his recent social media activity to be a breach of our guidelines."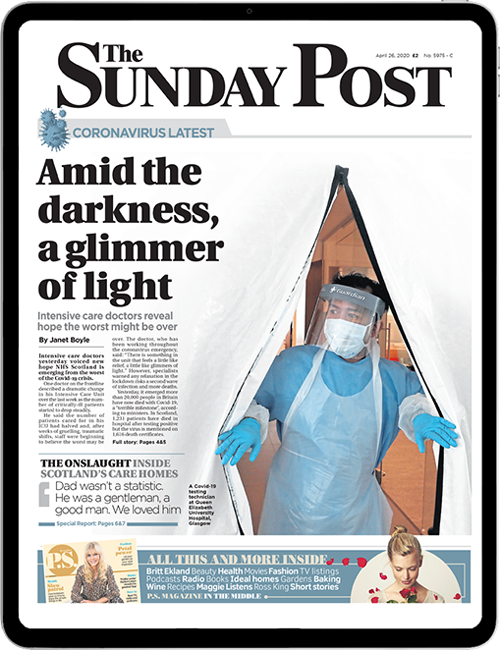 Enjoy the convenience of having The Sunday Post delivered as a digital ePaper straight to your smartphone, tablet or computer.
Subscribe for only £5.49 a month and enjoy all the benefits of the printed paper as a digital replica.
Subscribe