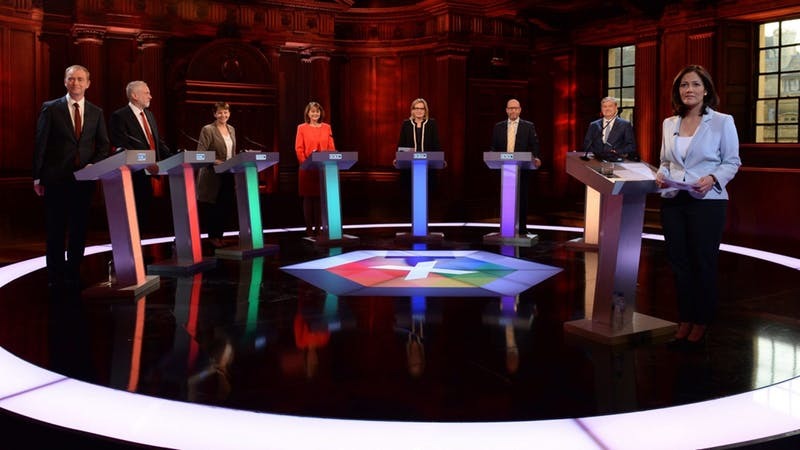 JEREMY CORBYN has accused the Conservatives of planning another five years of austerity to pay for tax handouts for the wealthy if they win the General Election on June 8.
In his opening statement in the BBC's election debate, the Labour leader said there was "nothing remotely strong or stable" about the Tories' record in office.
"Now the Conservatives want five more years of cuts to our vital public services to fund tax handouts for the wealthy few. Labour will make very different choices," he said.
https://twitter.com/UKLabour/status/870005430830997504
Representing the Conservatives after Theresa May rejected Mr Corbyn's challenge to take part in the seven-way debate, Home Secretary Amber Rudd accused the opposition parties of offering "bluff, bravado and tempty, shiny election promises".
"The only question to consider is who should be in No 10 to steer Britain to a brighter future? Jeremy Corbyn with his money tree, wish list manifesto and no plan for Brexit or Theresa May with her record of delivery," she said.
Alongside Labour leader Mr Corbyn and Ms Rudd on the stage in Cambridge were Liberal Democrat leader Tim Farron, Ukip's Paul Nuttall, Green Party co-leader Caroline Lucas, Leanne Wood of Plaid Cymru and Scottish National Party depute leader Angus Robertson.
https://twitter.com/Conservatives/status/870004796626948097
SNP Westminster leader Mr Robertson said his party would hold the Tories to account on Brexit, welfare and protecting public services, and vowed to offer "a strong voice for Scotland" in Westminster.
He said: "A vote for the SNP is a vote against Tory cuts that will harm our public services and push many more hard-working families into poverty."
AR: "I am proud that we have led the effective opposition, when too often, sadly, Labour has dropped ball." #BBCDebate #VoteSNP #GE17

— The SNP (@theSNP) May 31, 2017
Ms Wood opened the debate with an attack on the Prime Minister for refusing to take part.
"Theresa May called this election because she is taking you for granted. She won't turn up to these debates because her campaign of soundbites is falling apart," she said.
https://twitter.com/MartinSLewis/status/870004245310750720
She added that Labour in Wales was "airbrushing" Mr Corbyn out of its campaign and pleaded with voters to give her a mandate to represent the Welsh.
For Ukip, Mr Nuttall began with a pledge to "put the interests of British people first" by boosting social care and wages and slashing immigration and the foreign aid bill.
https://twitter.com/UKIP/status/870001897826115586
Mr Farron kicked off with a jibe about Mrs May's absence, saying: "Where do you think Theresa May is tonight? Take a look out your window. She might be out there sizing up your house to pay for your social care."
The Lib Dem leader took aim at Tory plans for social care, school lunches and Brexit, while offering to shore up the NHS and allow the public to have a vote on the Brexit deal.
https://twitter.com/LibDems/status/870005344440786944
Mr Farron said: "Look, I know we don't all agree on Brexit but she is off to negotiate a deal for you, for me, for all of us. Imagine if it's a bad deal. I mean dementia tax bad."