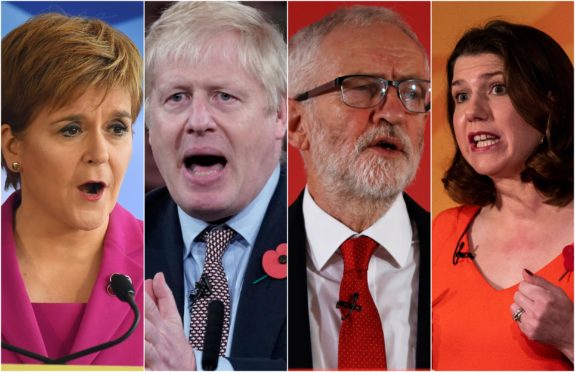 The BBC has announced their schedule for TV debates ahead of the general election.
Boris Johnson and Jeremy Corbyn will face off on Friday December 6 live from Southampton.
There will also be a seven-way debate including leaders or major figures from the Conservatives, Labour, SNP, Liberal Democrats, Green, Plaid Cymru and the Brexit Party.
It will air live from Cardiff on Friday November 29.
BREAKING: BBC #GE2019 debates:
? Fri 22/11 Question Time Special, Johnson, Corbyn, Sturgeon and Swinson, audience Qs, 30 min each.
?Fri 29/11: 7-way debate with "leaders or major figures" from Con, Lab, SNP, LD, Green, PC, Brexit Pty
? Fri 6/12: Johnson v Corbyn 'PM Debate'

— Jonathan Savage (@JSavageTweets) November 8, 2019
Several special editions of Question Time will air in the run up to the December 12 poll.
An episode on Friday November 22 will be a leaders' special from Sheffield, with Johnson, Corbyn, Nicola Sturgeon and Jo Swinson facing questions from the audience for 30 minutes.
Further specials are planned with Brexit Party leader Nigel Farage and one of the Green Party's co-leaders, either Sian Berry or Jonathan Bartley.
Question Time host Fiona Bruce said: "Question Time has a proud history of giving the public – the voters – the chance to put their points and questions directly to their elected representatives. That's never more important than during an election campaign."
A number of other programmes are also planned, including a BBC Scotland leaders' debate live from Glasgow on Tuesday December 10 and a Question Time for under 30s on Monday December 9.