Now more than ever it's important to manage your savings. There seems to be an endless array of quick-fixes and empty promises from big banks and loan sharks. We've partnered with Scotwest to tackle some of your most puzzling questions and put together a list of top tips to manage your savings.
Some Sunday Post online content is funded by outside parties. The revenue from this helps to sustain our independent news gathering. You will always know if you are reading paid-for material as it will be clearly labelled as "Partnership" on the site and on social media channels,

This can take two different forms.

"Presented by"

This means the content has been paid for and produced by the named advertiser.

"In partnership with"

This means the content has been paid for and approved by the named advertiser but written and edited by our own commercial content team.

---
Your biggest savings questions, answered
Bank or credit union? What is the best savings method for your lifestyle? When it comes to managing your finances, be sure you have all the right answers. Check out our top tips to best manage your savings.
3 main reasons for saving regularly
For today: Saving regularly helps you with day-to-day necessities. When you put aside a portion from your paycheck each month, you create a reserve of funds that can help support your lifestyle. From buying a tablet or a new phone to booking that holiday abroad, savings can fund luxuries for your life, today.
For tomorrow: While it may seem ages away, it's never too early to start saving for the future. Whether you're hoping to start a family, a business, or just prepare a comfortable standard of living during retirement, a healthy savings account is a must.
For (hopefully) never: The old adage 'better safe than sorry' has been passed through the generations for a reason. It's important to ensure that you have a safety net of savings available if something unexpected comes your way. From broken boilers, car engines on the fritz, or emergency medical bills – it's always better to be prepared.
Should you choose a bank or a credit union?
The first step in managing your savings is making a critical choice; should you save with a bank or with a credit union?
The primary difference between banks and credit unions like Scotwest is that banks work for profit and credit unions do not. Credit unions are owned by their members and since they are set up as a cooperative, they are driven by a common bond or shared interest.
Exempt from federal taxes, credit unions are not tied by obligations to make profits for their shareholders. While banks may seem like they are controlled by faceless directors in the background, credit unions are primarily concerned with their direct customers. They work to offer the lowest rates, lower fees, and higher APYs.
Free from the tethers of profit margins and shareholders, credit unions are able to offer higher quality levels of customer service and more personalised attention.
How should you save?
Deciding to take your savings seriously is the first step. You want to be sure that the way you save will be secure and sustainable. That's why Scotwest recommends the Scotwest Saver Account for your main savings account. At a credit union like Scotwest, each member must maintain a balance of at least £1 to retain their membership.
To ensure that its members savings are protected under the Financial Services Compensation Scheme, the maximum combined savings across all Scotwest Savings Accounts cannot exceed £85,000 per member.
Can you save with direct debit?
At Scotwest, you're able to save and pay directly into your Scotwest Saver Account with direct debit and payroll deduction.  A no-brainer, the funds go directly from your employer into your savings account, making it easier than ever to save up for life's luxuries.
You can pay into your Scotwest Saver Account by direct debit, or if your employer offers Scotwest as an employee benefit. Funds come straight from your wages or salary via payroll deduction. Even saving a small amount on a regular basis can soon add up. For members looking for a more relaxed way to save and who prefer to make occasional deposits or extra payments, cheques and debit card payments are also accepted.
How can you plan ahead for the holidays?
Last year 4,200 Scotwest Members saved over £3.3 million through the Christmas Savings Account.
With the Christmas Savings Account at Scotwest, you can spread the cost of the festive season by saving throughout the year. Simply open a special Christmas Savings Account and schedule a time to set aside money, whether it's weekly, fortnightly, or monthly.
Come November, Scotwest will automatically pay your savings into your chosen bank or building society account. When the holiday season arrives, those extra shopping trips or festive nights out become a lot more budget-friendly and you'll have money available and ready to use.
Unlike hamper schemes, your money with Scotwest is covered by the Financial Services Compensation Scheme (FSCS) and  you may receive a dividend prior to pay-out each year.
Why join Scotwest credit union?
So, you've decided to take control of your savings and join a credit union. Why join Scotwest? One of the largest credit unions in the UK,  Scotwest provides ethical, competitive and fair financial services to anyone that lives or works within the West of Scotland, Stirling, Perth & Kinross, Dumfries & Galloway or the Scottish Highlands.
Scotwest describes its vision as: "Delivering better financial lives through caring about individual members and their happiness, growing together to become Scotland's leading credit union".
Whereas the big banks aim to make a profit, Scotwest is passionate about helping people achieve their financial and savings goals. A member said: "Scotwest helped pay the final 2 years of my son's degree course. He ended up with first class honours and a great career. Scotwest was the building blocks of that".
Indeed, its members can attest to the people-focused nature of Scotwest. One member said: "It's a good way of making your money work for yourself and work locally for local people".
In line with its focus on providing personalised and tailor-made service, Scotwest prides itself on its customer service. One member said: "They'll talk to you on a 1-to-1 basics and they are there to help you out. Whatever you want to save whether it's a little as £5 a month, whatever you are comfortable with will help you in the long run". Another member added "I've stayed with Scotwest for so long because they are a financial friend. They're always there when I need them".
Take control of your savings and join the Scotwest Credit Union today.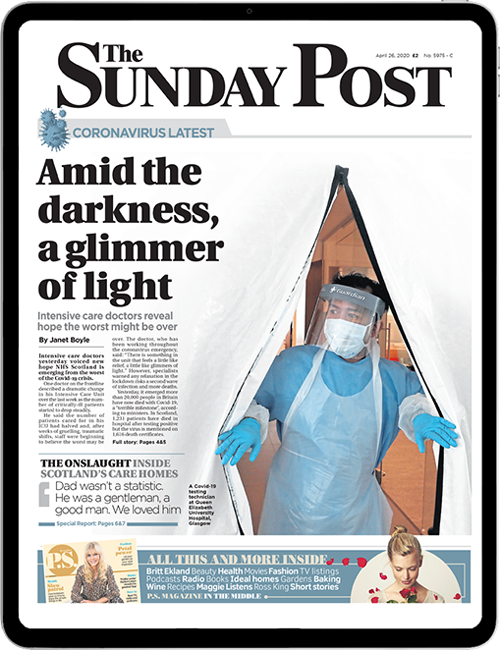 Enjoy the convenience of having The Sunday Post delivered as a digital ePaper straight to your smartphone, tablet or computer.
Subscribe for only £5.49 a month and enjoy all the benefits of the printed paper as a digital replica.
Subscribe