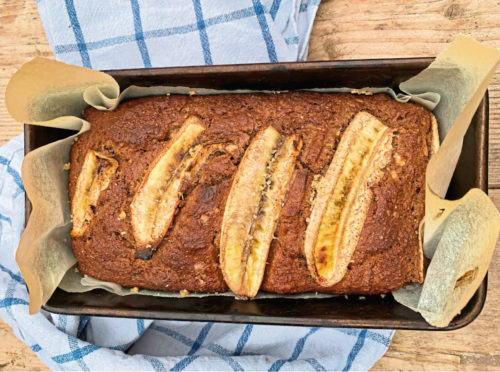 Delicious and easy to bake, this is truly a bread of heaven!
Thanks to food writer and chef Claire Thomson and Pukka Herbs for this recipe.
Cooking time: 1 hour
Serves: 4
---
You'll need
3 or 4 very ripe, brown and freckled bananas, mashed, plus one banana sliced in three lengthways
75g butter
75g caster sugar
1 tbsp malt extract (or brown sugar)
1 medium egg, beaten
1 tsp baking soda
2 tbsp Pukka Cacao Maca Magic latte mix (or cacao powder)
Pinch of salt
180g rye flour (or wheat, spelt or wholemeal flour)
Method
Preheat oven to 180C/Gas mark 4
Grease 10 x 20cm loaf tin with butter or oil
Melt butter in pan or microwave. In a big bowl, mix the melted butter, cacao latte blend, mashed banana, beaten egg, sugar and malt extract together with a wooden spoon.
Sprinkle baking soda and salt over the mixture and mix thoroughly.
Add the rye flour and mix to combine.
Pour the mix into prepared loaf tin. Arrange the three banana lengths on top.
Bake for 40-45 mins, or until a skewer comes clean from the centre of the cake.
Cool on a wire rack for 10 minutes before removing from the tin.