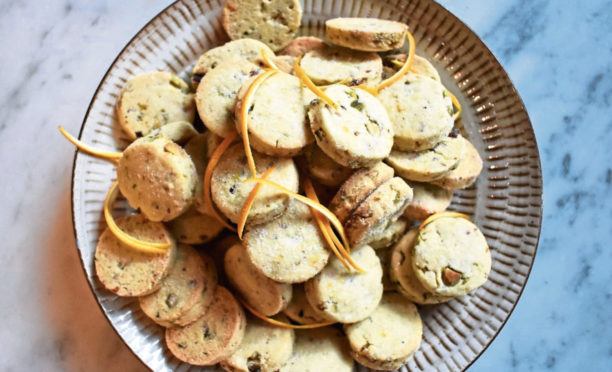 You'll need
200g unsalted butter
125g caster sugar, plus extra for sprinkling
300g plain flour, sieved, plus extra for dusting
75g cornflour
100g fresh pistachios, roughly chopped
Zest of an orange, finely grated
Method
Preheat oven to 180C/350F/Gas 4, line baking tray with greaseproof paper.
Cream butter and sugar together in a bowl until light and fluffy. Slowly fold in flour and cornflour, then fold in pistachios and orange zest.
Transfer to a floured surface and roll out to a thickness of 3–5mm. Cut the dough into small rounds.
Place on baking tray and bake in oven for 8–10 mins or until golden.
Remove and sprinkle with caster sugar, then cool on a wire rack
Thanks to Carina Conti, owner of The Scottish Cafe & Restaurant, Edinburgh, for the recipe