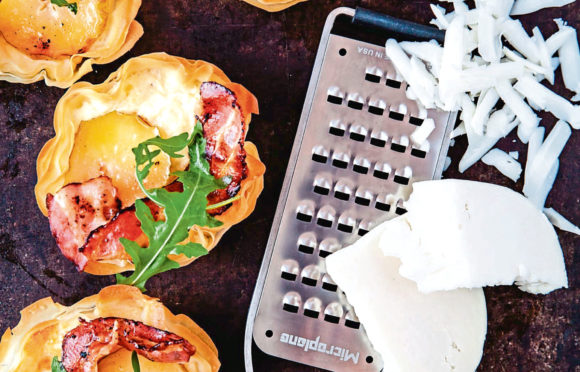 Thanks to Microplane for this delicious recipe.
You'll need
2 small pears, thinly sliced
1 tbsp butter
1 tsp sugar
6 slices unsmoked streaky bacon
270g pack of ready-made Filo pastry
100g butter
150g sour cream
300g grated hard goat's cheese
3 med eggs
Salt and pepper
Nutmeg
Zest of one lemon
Handful of rocket
Method
Preheat oven to 175C / gas mark 3.
Put butter, sugar and pear slices in a pan and gently cook until golden, then set aside. In the same pan fry the bacon until crispy, then set aside.
Brush tartlet cases with butter and line with baking paper. Unwrap filo pastry and cut into six. Put one piece of filo pastry at a time into each dish. Using a pastry brush, cover each piece with some of the melted butter and then layer with another piece of filo, brush with butter and so on.
Thoroughly mix sour cream, grated cheese and eggs. Season with salt, pepper nutmeg and lemon zest. Divide the mix between the six tartlet cases.
Bakeoven for about 20-30 mins until filo is crisp and golden brown and the cheese firm.
Garnish with a slice of pear, bacon and rocket.