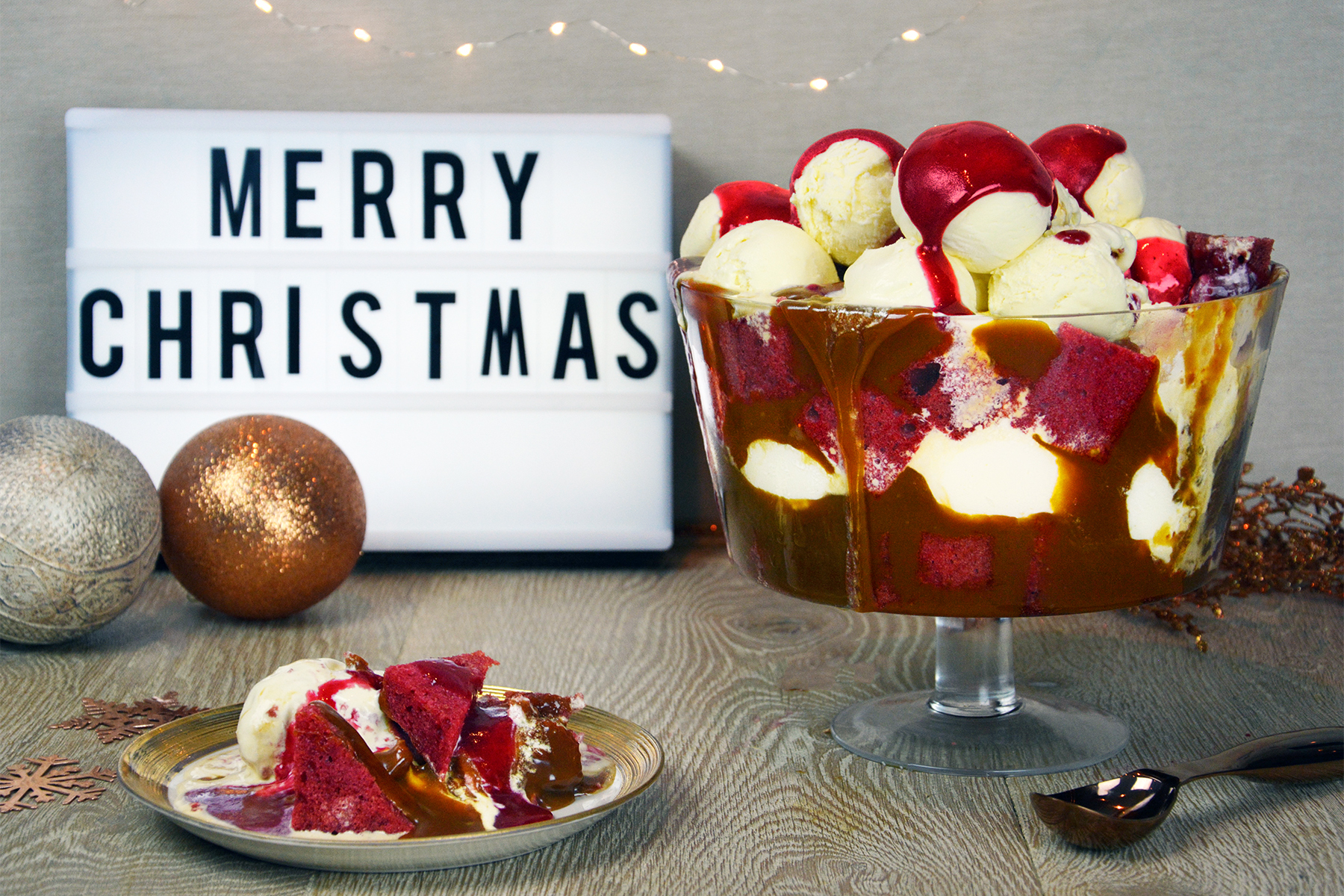 CHRISTMAS pud isn't everyone's cup of tea, but this is a show-stopping alternative both kids and adults love. It uses red velvet cake as a base, so it's dramatic and festive-looking.
Before you bake your cake, take the cream and butter out of the fridge so they're at room temp. You can make it in advance, too – just cover with clingfilm and freeze.
Thanks to Kelly's Ice Cream for this week's bake.
You'll need
570ml vegetable oil
450g caster sugar
5 eggs, beaten
2 tbsp vanilla extract
250ml buttermilk
2 tbsp white wine vinegar
570g plain flour
10g cocoa powder
3 tsp bicarb. soda
3 tbsp red food gel
1.5kg Kelly's clotted cream ice cream
For the salted caramel:
500g white sugar
400ml double cream
100g butter
2tsp sea salt
Cranberry coulis:
200g cranberries
100g granulated sugar
Method
Preheat the oven to 180C/160C fan/gas 4. Grease and line a 34cm–24cm baking tray with parchment.
Whisk oil and sugar until combined. Slowly add eggs and beat until pale and thick. Add vanilla, buttermilk, vinegar and 150ml of water, whisking continuously. Whisk in flour, cocoa and bicarb of soda. Add enough food gel so the batter is deep red in colour.
Pour batter into prepared tray and bake on the middle shelf of the oven for 45-60 mins until a skewer comes out cleanly. Remove from tin, cool on a wire rack then cut into 6-7cm cubes.
Heat a frying pan over a medium heat. Add sugar and leave to caramelise until deep golden in colour, approx 5 mins. Carefully stir in the cream, butter and salt and simmer for 3 mins. Cool.
Place the cranberries, sugar and 100ml of water in a saucepan over a medium heat and simmer for 10-15mins until it is a light, syrupy consistency. Blend with a stick blender until it is almost smooth. Cool fully.
Create a layer of cake on the base of the trifle dish. Top with a layer of caramel followed by ice cream. Repeat this step until you have used up all the ingredients. Drizzle the final layer of ice cream with the cranberry coulis.
---
---