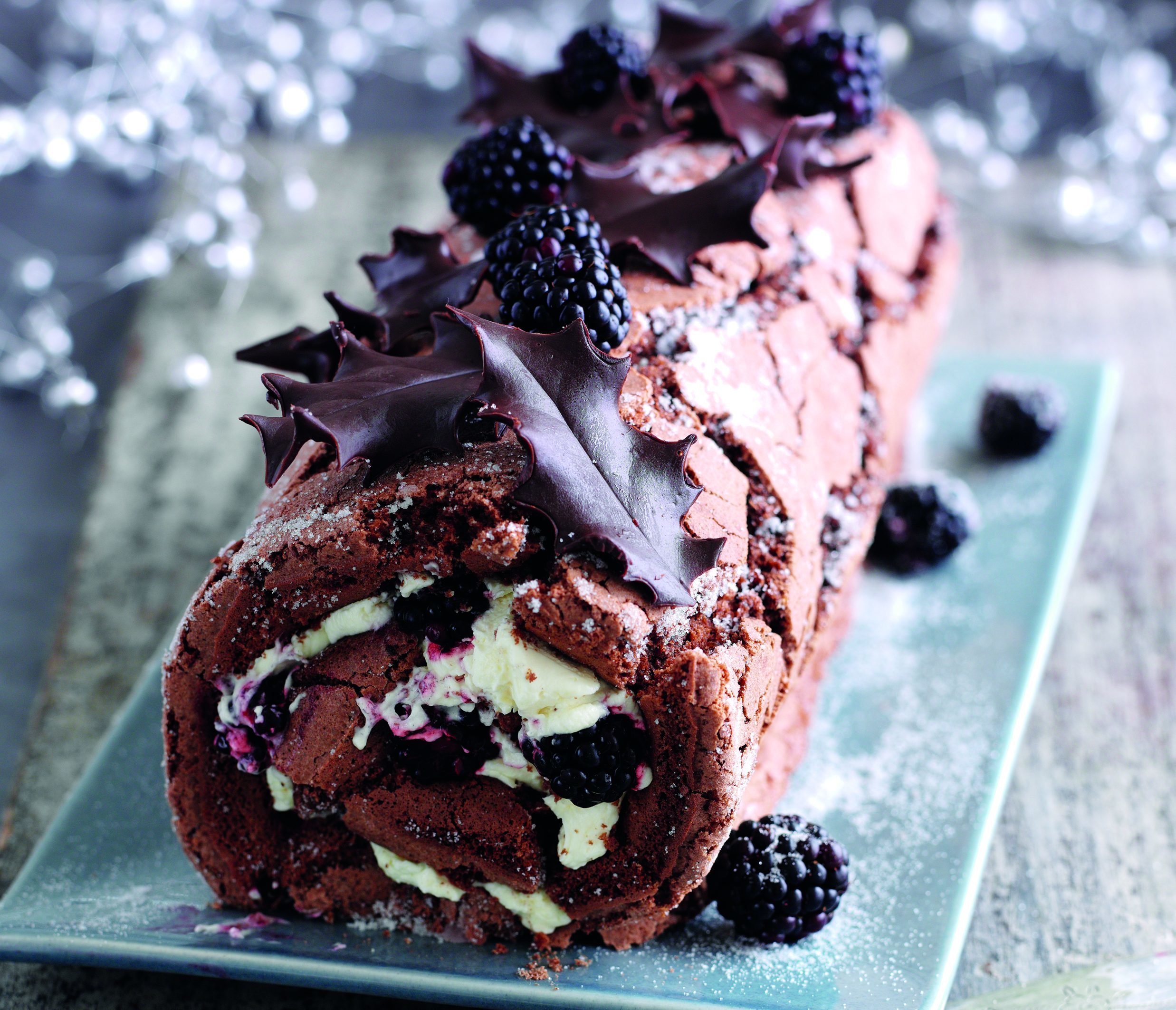 WE have a real Christmas cracker for this week's bake.
It mainly uses store cupboard ingredients and, if you're feeling ambitious, you can make it today! Wrap the roulade in paper and foil and keep it in the fridge to serve tomorrow.
The recipe is flour-free and uses ground hazelnuts, but you could substitute them for ground almonds, which gives similar results.
Thanks to Seasonal Berries for this delish bake.
You'll need
200g dark chocolate, broken into pieces
5 large eggs, separated
175g caster sugar, plus a little extra
50g ground hazelnuts
2 tbsp hot water
225g blackberries
3 tbsp sloe gin, cherry brandy or kirsch
400ml double cream
2 tbsp icing sugar
Chocolate holly leaves and extra blackberries to decorate
Method
Preheat the oven to 180C/160C fan/gas mark 4. Cut a rectangle of non-stick baking paper a little larger than a 34 x 23cm swiss roll tin or roasting tin. Snip diagonally into the corners of the paper then press into the tin so base is lined and paper stands just above the sides of the tin.
Melt the chocolate in a bowl set over a pot of gently simmering water. Whisk the egg whites until peaking. Using the same whisk, beat the egg yolks and sugar together in a second bowl for 4-5 minutes, until thick and pale and the mixture leaves a trail.
Fold the melted chocolate into the egg yolk mixture, then gently add the hazelnuts and water. Fold a little of the egg white into the mixture to loosen it, then fold in the rest.
Spoon into tin and smooth. Bake for 15 minutes until top is slightly crusty. Leave to cool, covered with a clean tea cloth. Add blackberries and liqueur to a bowl. Cover and leave roulade and berries for 3-4 hours.
About 2-3 hours before serving, whip the cream until it forms soft swirls then fold in the icing sugar and the liqueur from the soaked blackberries.
Wet a clean tea cloth under a hot tap, wring out and put on the work surface so the shorter edges face you. Top this with a clean sheet of non-stick baking paper and sprinkle with a little extra sugar. Turn the roulade out on to the sugared paper and remove the lining paper.
Spread the cream over the roulade, sprinkle with blackberries then roll up the roulade, starting from the short edge nearest you and using the paper and damp tea cloth to help. The roulade will crack, but carry on rolling and pressing into a good shape until you reach the other end. Wrap the paper and cloth around the roulade for a few minutes to set the shape. Remove paper and cloth and transfer the roulade to a serving plate. Decorate with chocolate holly leaves and blackberries.
---
---