VIDEO: Watch as bagpipers pay a very Scottish thank you to the NHS
Bagpipers across Scotland banded together to pay an emotional musical tribute to the NHS and the key workers fighting the coronavirus crisis.
Pipers emerged from windows, balconies, front doors and gardens on Thursday evening to play a rendition of Scotland the Brave, while their audiences clapped and cheered to show their own appreciation to NHS staff.
The National Piping Centre put out a call yesterday for pipers to 'Pipe Up For Key Workers' at 8pm on 2nd April to play for those working tirelessly on the Covid-19 frontline – and the response was huge.
Finlay MacDonald, director of Scotland's National Piping Centre, said: "We're calling all pipers around the world to get their pipes out this Thursday and stand in their doorway or at their window and play Scotland the Brave once through in honour of all the key emergency staff and all the key workers that are keeping us safe and well through this Covid-19 pandemic."
The idea for the mass piping came from the Clap For Our Carers campaign, which saw Scotland erupt in applause last Thursday to show appreciation for all the doctors, nurses and care workers fighting the pandemic.
It is thought the round of applause will now take place every Thursday during lockdown at 8pm.
Let's hope the pipers join in every week!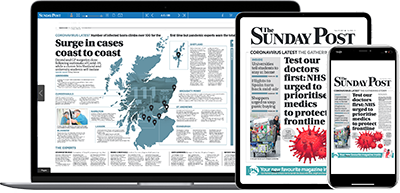 Our free web and ePaper offer to help you stay informed in these challenging times
3 months free access to our web and ePaper pack including Premium articles.
Subscribe