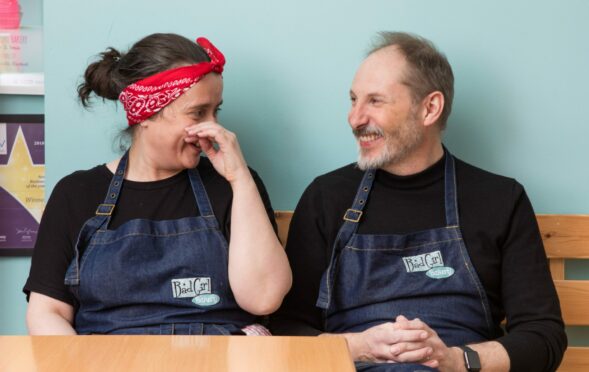 When it comes to Christmas, Jeni Iannetta is the master of two crucial elements for success –preparation and planning. Well, three things, really, as the 50-year-old is also pretty good at whipping up a pudding, too.
"I'm in the office today with a mountain of paperwork to do, but what I'm actually doing is wrapping Christmas presents," she explained with a laugh when we spoke a few weeks ago.
"Well, December is a bit full-on in the shop, so my goal was to have everything done before it begins. Then we can be clear and not have to think about anything else. I've got to meet that goal!"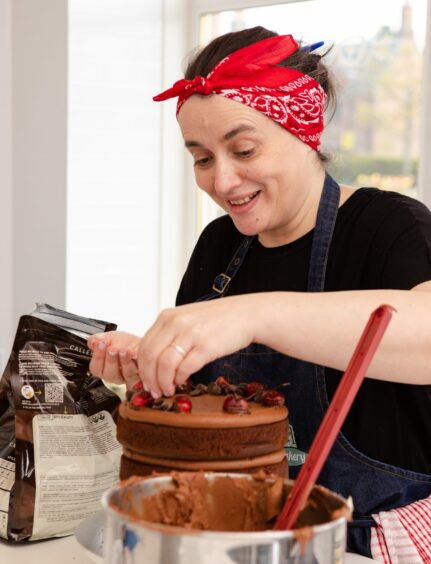 Iannetta's "shop", of course, is the hugely successful Bad Girl Bakery, which she opened with her husband, Douglas Hardie, in 2017. So-called after "the people who tut and say 'Oh, you bad girl' when you reach for a treat", the bakeshop and café started life at Iannetta's kitchen table in Muir of Ord, in the Highlands, but grew rapidly when locals developed a taste for her cakes, pastries, cookies and buns.
After the café attracted queues around the block, selling out quickly and often, an expansion was followed by an increase in wholesale business and, now, even a shiny new cookbook.
Released last month, the book features more than 100 tried and tested recipes, with chapters covering everything from "everyday treats" to "cake for breakfast".
"We didn't think in a million years we would write a cookbook," said Iannetta. "It's the best thing I've done professionally in terms of the process – I loved writing it, loved working with our team on recipes, loved when it came to doing photography. The idea of it being in people's homes is really overwhelming"
She added: "I'm not a trainer baker. I didn't go to pastry school, so my style of baking is much more like a homebaker. What we strive for is bakes that look and taste fantastic without lots and lots of steps and complications – which is especially important at this time of year."
Christmas baking
Ah, yes, Christmas. Despite the panicked wrapping, it's one of the best times to own a bakery, Iannetta admits, what with the "wee ones coming in to buy cakes for Santa", the general merriment, and the excuse to use mincemeat in everything from crumbles to scones.
"I love baking for this time of year," says Iannetta, "because as soon as you hit autumn everything gets kind of stickier, darker, spicier and more indulgent. I love baking with cinnamon because it has such a warm flavour. Oh and peppermint. We do a really nice cupcake that has crushed-up candy canes in the buttercream. Christmas is a time you can really up those punchy flavours."
So, apart from the usual suspects, what does she recommend for festive parties?
"We've got loads and loads of favourites in the shop but, to be honest, anything with marzipan is a big hit with me," she said. "Or we also make little cake truffles, which are made with cake crumb, buttercream, sometimes ganache, and dipped in chocolate.
"But, really, my top tip is to make things that double up, like brownies. They can be served as tiny wee squares with coffee, dished up for dessert, made up as a gift, and you can use slices in trifle, too.
"In the book, the cardamom and white chocolate sticky bun recipe would be just fantastic for breakfast on Christmas morning. You make the dough the night before, prove in the morning, then bung them in the oven. Or I also love our grown-up tiffin, which has cranberries and pecans. It's really festive looking, and can be made a couple of days in advance."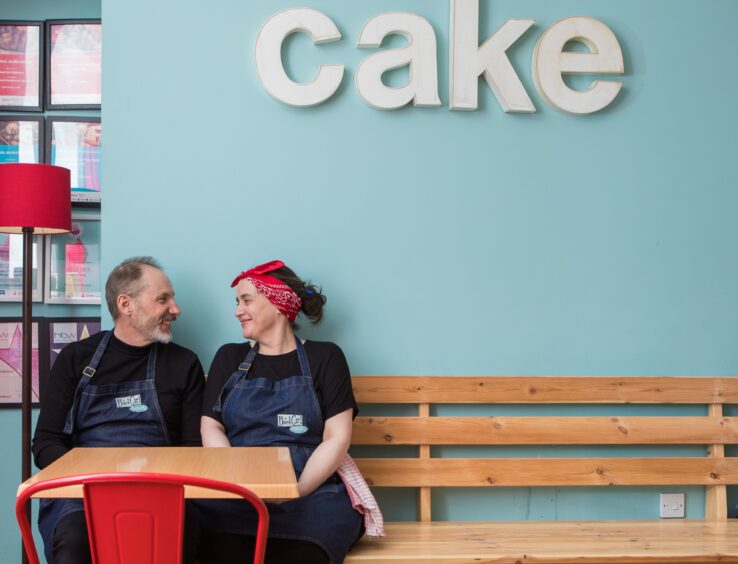 Just before I leave Iannetta to tackle the Sellotape and tree-emblazoned paper, she shares one last pearl of wisdom.
"The pressure to make things complicated is really strong at Christmas time, and I sometimes think simple is better. After all, as a good friend once said to me, 'It's just a Sunday dinner, so don't stress'. It's all about the leftovers anyway, isn't it?"
---
Recipe: Deluxe coconut brownie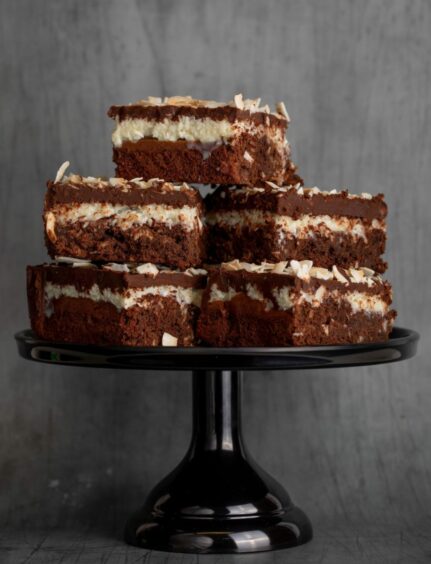 Coconut brownie with a coconut truffle topping and a dark chocolate glaze: this brownie is a beauty, and the combination of dark chocolate and coconut is a winner.
You can, of course, make the brownie without the toppings, but they are so simple and quick that it really is worth it! Makes 12
You'll need
35 x 24cm traybake tin
For the brownie:
300g 70% dark chocolate, chopped
300g unsalted butter, chopped
6 medium eggs
300g caster sugar
50g soft light brown sugar
2 tsp vanilla extract
50g plain flour
50g self-raising flour
50g desiccated coconut
100g dark chocolate chips
salt
For the coconut topping:
200g desiccated coconut
1 x 397g can condensed milk
Handful of toasted coconut flakes (optional)
For one batch of Dark Chocolate Glaze:
200g really good 70% dark chocolate
120g unsalted butter or plant-based butter, chopped into small cubes
60g golden syrup
sea salt flakes
Method
First make the dark chocolate glaze. Put the chocolate, butter and syrup into a heat-proof bowl and set it over a pan with a couple of inches of water in the bottom. Make sure your heat-proof bowl is well above the water. Put the pan on a low heat and let the water come to a simmer (you can lift the bowl to check but watch out for the steam).
Things will start to melt really gently. Give it a stir from time to time and take the pan off the heat before everything is completely melted, when you can still see little lumps of almost-melted butter. The heat in the bowl will carry on melting everything and you won't run the risk of burning the chocolate.
Stir in a pinch of salt once it's off the heat.
Preheat the oven to 180°C (160°C fan).
Weigh the 300g chocolate and the butter into a large heat-proof bowl and melt really slowly over a pan of just-simmering water. Once melted, set aside to cool.
Add the eggs, caster and soft brown sugars and vanilla to the cooled melted chocolate and mix with a spatula (or on low if you're using a mixer).
Fold in the plain and self-raising flours, the desiccated coconut and a pinch of salt and mix gently until everything is combined. Give the bottom of the bowl a good scrape with the spatula just to make sure, then stir in the chocolate chips and scrape the batter into the traybake tin, smoothing it out into an even layer.
Bake on the middle shelf for 25 to 30 minutes, then insert a skewer into the centre of the brownie. If there are one or two damp crumbs on the skewer, it's ready. If there's any wet batter at all, it's underdone, so put it back in the oven for five more minutes and check again. Leave in the tin to cool.
Mix the coconut and condensed milk together, then spread it thickly over the cooled brownie (the back of a spoon works best for this).
Finally pour over the chocolate glaze and top with the coconut flakes (if using). Put in the fridge until the topping has set.
---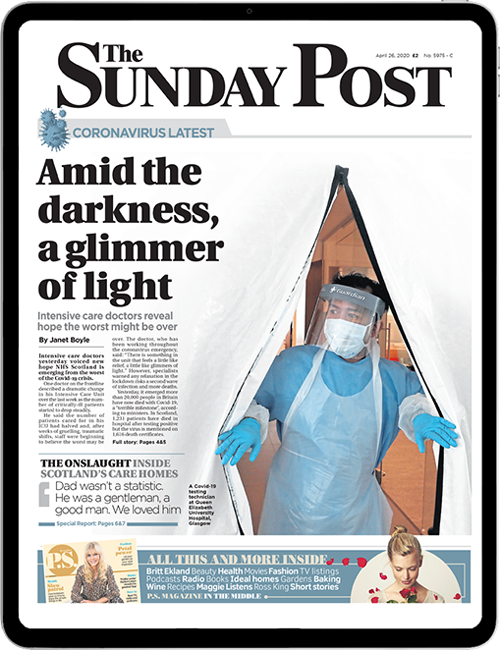 Enjoy the convenience of having The Sunday Post delivered as a digital ePaper straight to your smartphone, tablet or computer.
Subscribe for only £5.49 a month and enjoy all the benefits of the printed paper as a digital replica.
Subscribe