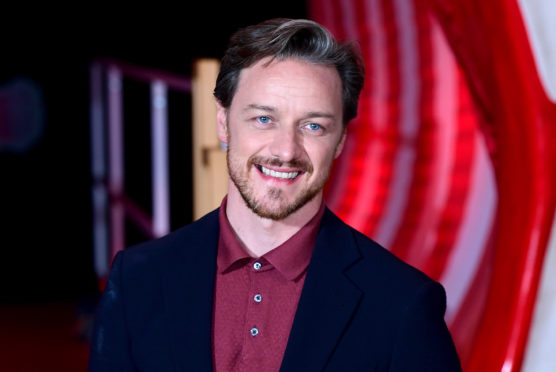 For James McAvoy, being asked to be part of His Dark Materials was, as his Hollywood colleagues might say, a no-brainer.
McAvoy has been a fan of the books since being introduced to them by fellow Scots actor Mark Bonnar – currently starring in Guilt – in a backstage chat nearly 20 years ago.
Now he's playing the role of Lord Asriel in the big-budget BBC1 adaptation of Philip Pullman's best-selling novel series.
"I was introduced to these books by two people when I was about 20 or 21 – Mark Bonnar and (actress) Indira Varma," explained James.
"We were in a play and I was telling them how good Harry Potter was and they went: 'You've got to read His Dark Materials'.
"They said it would change my life and it did. I've read it three times, I think. I've listened to the audiobook twice. I've listened to the BBC radio adaptation, a play version of it, which was abridged, twice. So I'm a massive fan."
When James, who recently starred for the final time as Professor X in the hit X-Men series of movies, heard the BBC were developing the series, he originally envisaged starring in a smaller role.
"I got very excited. I started thinking who I could play," he added. "I thought Lee Scoresby? No, it should be an American and it's just not me. Then I was like: 'Maybe I could do a voice of one of the dæmons.' But I knew Kahleen Crawford, who's an amazingly talented casting director.
"I was at her house one night and we were chatting away about it. I was chatting purely as a fan and we were excited. I revealed my pretty decent wealth of knowledge on the world.
"That just stuck in her head, I guess, because about three days before they started rehearsals, I got a call from Kahleen going: 'Hey, could you come in, last minute?'
"It was:'How last minute?'… 'You start Monday… 'Who will I play?'… 'Lord Asriel.'
"I've never really seen myself as Lord Asriel,' but I was like:'Yes, I'll be there.'"
The show's ambition impressed James, and left him in no doubt that television, these days, can do what movies can't.
"Just like Asriel's grand plan, this show is almost foolhardy in its ambition," he said.
"It's what TV, the BBC and HBO, can do that movies can't, and it's what they should do, because this is challenging as well as entertaining.
"It's challenging for us as the makers of it just because of the scale of it and the complexities, the animals, the far-flung locations and so on."
His Dark Materials, BBC1, tonight, 8pm