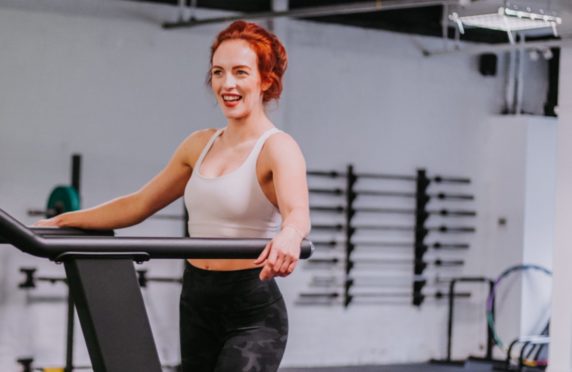 For months now, with treadmills at a standstill and rust gathering on dumbbells, the only bunnies at our local gyms have been dust.
But from tomorrow, sports centres and swimming pools will be able to reopen their doors as lockdown continues to ease, allowing fitness fans to take their first spin, yoga and Zumba classes since March.
However, with the popularity of online work-outs soaring during quarantine – Joe Wicks' YouTube classes, for example, racked up more than 80 million views alone – and strict new social distancing and cleaning measures now in place, not everyone will be running back to the gym.
Lyndsey Roberts, 33, owner of the Strong Like A Mutha gym, in Glasgow, says a dedicated space to exercise can be a crucial escape, easing the stresses and strains of these strange times.
Lyndsey knows more than most the power of work-outs – but it was her own personal experience of depression and anxiety that inspired her to set up a safe space where people could exercise their bodies and their minds.
She set up Strong Like A Mutha in 2016, after giving birth to son Henry, now four, and has seen first-hand the impact a welcoming gym environment can have on people of all ages – something she believes wasn't fully recognised over the long months gyms have been shuttered.
She said: "I don't think the impact of having places like ours close was considered, especially in terms of mental health. Obviously, I was completely behind the Scottish Government's decisions, and I believe what they're doing is in the best interest for people's health. But it was difficult to understand [the reasoning] when other sectors started to open back up.
"People come to us initially because they want to change something in their physical body, then they stay because of the effect it has on their whole life – their mental and their physical health."
Now that her gym can reopen from tomorrow, Lyndsey has put a range of measures in place to ensure the space is Covid-compliant, which has required a significant investment. But she says it's worth every penny to ensure she can welcome back her regular clients.
"We've now completely changed our business model so that we will operate in small-group personal training sessions, with four participants to one coach," she explained. "We're very fortunate that, unlike a lot of independent gyms, we have a lot of space, so we've been able to utilise that really well.
"All of our sessions have to be booked in advance, you can't just walk in. Previously that helped us provide a better service, whereas now it helps us to be compliant with safety measures.
"We've also split the gym into little 'pods' or mini gyms with all the equipment you would need for your session, so no one has to share.
"We know the advice is to minimise the sharing of kit, so we will be adapting all of our programming to make sure that can happen. Everyone will have their own cleaning station, so they can keep their kit clean before, during and after. And we're asking people to arrive on time and dressed for their sessions. Plus, we've also upped our cleaning regime, so we've got another professional company to regularly deep clean, and do extra cleaning protocols for us."
She added: "As a team, we've been experiencing lockdown as well, so we are keen to get back to our routines and doing what we love. But at the forefront of our minds, we want to make sure everyone is safe, and we want to do everything we can to make sure we're being compliant – and that we are sticking to our core value of putting our community first."
Here, we speak to two women – a fitness fanatic and a new 5k runner – to get their thoughts on the reopening.
---
I've missed the buzz, the music, the people. I'll be first in the queue

Jennifer Lee, 34, fashion PR, from Glasgow
As a self-confessed fitness addict, Jennifer usually visited her gym four or five times a week. So, when lockdown hit, she was forced to turn to at-home workouts – which, she admits, was a challenge.
"I have been working out at home, but I like to lift weights and I haven't been able to do that over lockdown. Everyone seemed to be buying a set, so you couldn't actually buy any online," explained the 34-year-old, who works in fashion PR.
"So, I've been training using a workout my personal trainer set out for me, using my own body weight and resistance bands, and I've also tried to go running outdoors about four times a week.
"But I've just not seen the benefit as much as I do when I'm at the gym. When I'm there, I'm in the zone, I've got all the kit, I can listen to my music, I can really get into it."
With her gym opening at 6am tomorrow, Jennifer aims to be first in the queue.
She said: "If I can get up and out of bed, I'll be there. I want to go early to try to avoid the queues because I think it'll be quite busy. We've all been living, working and doing gym sessions at home, so it'll be nice to get back to the gym where you can enjoy the buzz of other people. The atmosphere gives you such a boost.
"It'll be interesting to see what measures have been put in place and what the new set-up will be. I don't feel nervous at all about going back. I'm more excited than anything. And I'm sure there will be lots of cleaning measures in place to make sure it's safe."
She added: "I actually think I'm more excited to go back to the gym than I was when the pubs reopened!"
---
I run 5k every day but I won't be running to a gym any time soon

Moira Bayne, 61, charity CEO, from Bearsden
A year ago, with her 60th birthday fast approaching, Moira decided she would join a gym to get healthier, and started to enjoy attending classes at lunchtime and after work meetings.
However, when lockdown forced the gyms to close, Moira turned to running and online classes – and admits she won't be returning to the treadmill any time soon.
She said: "In the first few weeks of lockdown, I was quite anxious and I found running really helped. I've run a 5K more or less every day since then, and I've also really enjoyed going to the weekly Park Run event.
"My kids are grown up and my husband is retired, so I've actually got a lot of time on my hands. But, rather than heading to the biscuit tin, which is my natural inclination, I turned to running!
"A friend of mine usually works as a dancer on Disney Cruise Ships and is a qualified yoga teacher, so she decided to offer online classes. So, I've been joining those classes twice a week as well. I don't think I've ever been fitter or healthier."
With her gym in Glasgow's city centre, Moira's routine no longer allows her to pop in for 20 or 30 minutes between appointments, and she misses the expert advice and motivation.
"It's a shame, but I won't go back any time soon," explained the CEO of charity Housing Options Scotland.
"I'm not concerned about going back to the gym itself, but my gym is in the town centre. So I would need to go on public transport, which I don't feel comfortable doing. Until the pandemic is over, I don't think I'll be back."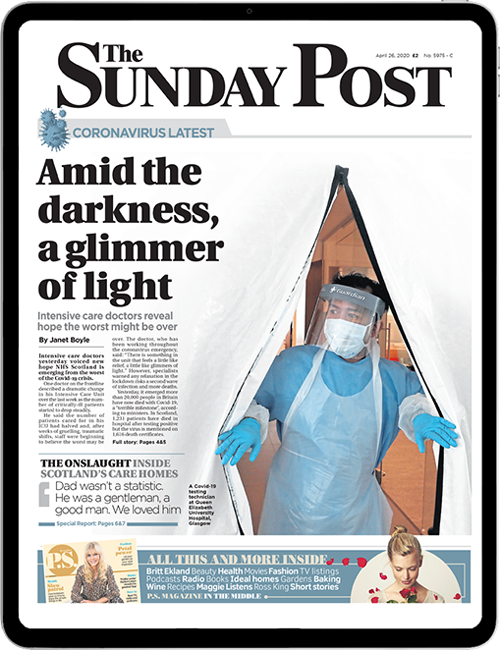 Enjoy the convenience of having The Sunday Post delivered as a digital ePaper straight to your smartphone, tablet or computer.
Subscribe for only £5.49 a month and enjoy all the benefits of the printed paper as a digital replica.
Subscribe