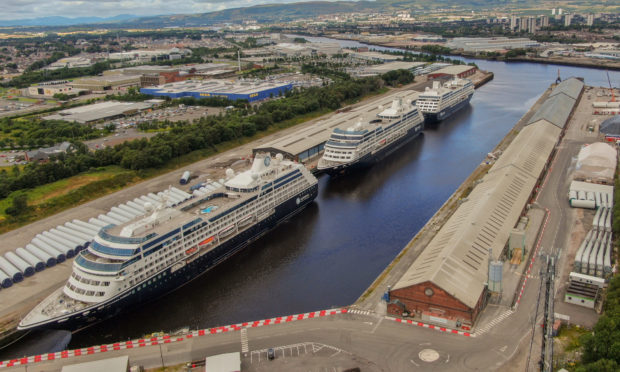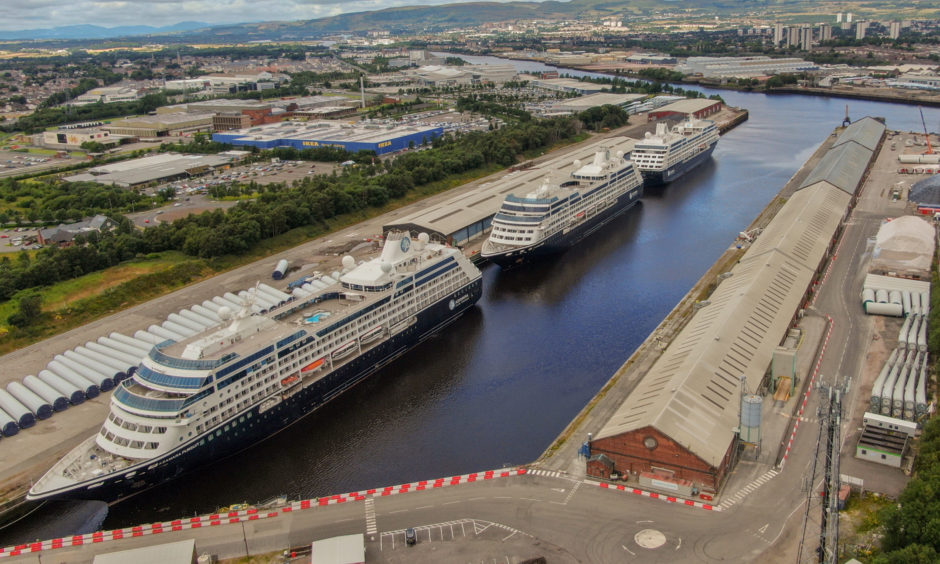 As hundreds of Scots gathered on the banks of the river Clyde to witness the rare sight of a cruise liner arriving in Glasgow, most were unaware that one of their own was on the bridge.
Captain Magnus Davidson, who studied at the city's former College of Nautical Studies,  is the master of the Azamara Quest, one of three sister ships currently laid up at the King George V Dock at Shieldhall.
The ships, each capable of carrying around 700 passengers, are seeing out the coronavirus pandemic in Scotland as cruise holidays look out of the question for some time to come.
Azamara Pursuit, Azamara Journey and Azamara Quest arrived separately last month, with each welcomed by packed riverbanks at Clydebank, Renfrew and Braehead as they were guided upriver by a pilot and tugs.
Visiting cruise ships normally dock at Greenock's Ocean Terminal, and such vessels haven't been seen within city limits since the glory days of Clyde shipbuilding.
"I know and love Glasgow, but I've never sailed upriver here before, so that experience was memorable," Captain Magnus, 39, said.
"The scenery was beautiful and for me, personally, I felt a real sense of homecoming.
"I was very surprised to see so many people. It was extremely heartwarming to see the interest in the ship sailing up the Clyde and to feel so welcomed in that way.
"There's always been a special connection between the people of Glasgow and the sea and to see so many people lining the riverbanks, waving as we sailed upriver, was just fantastic."
Captain Magnus, as he is always referred to on board, was born in Norfolk but moved to Shetland when he was nine.
That was where he fell in love with life out on the waves, leaving school at 16 to join P&O Cruises as an apprentice.
After studying for three years in Glasgow, he rose through the ranks and eventually joined Azamara's parent company Royal Caribbean in 2006 as a First Officer.
He took command of Azamara Journey in 2015 and has since moved to sister ship Azamara Quest.
He's used to mingling with passengers at dinner and events, and is often found strolling the decks, chatting to guests to see if they're enjoying their trip.
But the ships won't be welcoming passengers on board for a number of months yet.
In the meantime, the liners still require a skeleton crew – many from much further afield than Captain Magnus – to keep them ticking over and ensure they remain shipshape for when they go back into service.
It's a combined effort between different departments onboard, with each crew member playing an important part to ensure everything runs safely and efficiently, from those below deck in the engine room to officers on the bridge.
Planned maintenance is always ongoing, as well as frequent safety drills and training.
Captain Magnus, who counts Australia and Japan among his favourite destinations, normally stays at sea for two and a half months at a time, but he's now been aboard the Azamara Quest for five months.
He said: "It's been similar for all seafarers around the world with many having been onboard for much longer durations, and it's important that countries establish protocols to allow crew changes to take place as I'm glad to say is the case here.
"The challenge over the past months to repatriate our own multinational crew has been huge and complex but is now largely completed.
"Thankfully, family and friends at home have stayed well whilst I've been away but there's no doubt it's been a trying time for many onboard knowing they were not able to get home at the height of the crisis."
Luckily, there's a strong bond between the staff remaining on board the ships, and the camaraderie has kept them going.
"We've always been a close team but this period has served to strengthen those bonds. The sense of community is incredible.
"The crew has been amazing in looking after each other and I'm extremely proud of them all.
"It's hard to choose a best moment, but each occasion that we managed to arrange homeward travel for a group of our crew and see them on their way back to family and friends was heartening."
The crew remaining in Glasgow aren't confined onboard the ships, and have been able to get ashore while following the Scottish Government's Covid-19 guidelines.
The ships had been at sea for at least two weeks before arriving in Scotland, and had all undergone deep cleans.
When restrictions are eased further, some of the crew will be able to explore a little further and see what Glasgow has to offer.
Of course, they'll also get to experience the unique climate – a little different to previous stops on their journey.
Captain Magnus said: "I hear we just missed a fine early summer, but we spent several weeks alongside in the extreme summer heat of Abu Dhabi and Dubai, so I for one am happy enough to be back in the Scottish climate!"
Azamara have suspended all cruises until at least September 15, with the tourism industry as a whole hugely impacted by the coronavirus crisis.
"The travel and tourism sector has never seen such a sudden and total shutdown," Captain Magnus said. "It's difficult to predict exactly when a form of normality will return, although it's encouraging to see Europe opening up again for international travel and holidays.
"Our cruise line is working with various government bodies and other experts to determine the best solution for cruising to resume safely and healthily.
"I'm very confident that when conditions are right and people feel ready to travel again, we'll also be ready and excited to welcome guests back onboard."
---
As a special thank you to Glasgow for its hospitality, five nurses from Glasgow's Royal Hospital for Children were treated to a visit on board the Azamara Pursuit last week.
Their tour was organised by the cruise operator "in the spirit of giving back to our beloved NHS heroes".
Nurse Michelle McGinty said: "We feel so honoured to have had the privilege of going onboard such a beautiful ship.
"We all had a fantastic time and the staff made us very welcome. Work has been a bit crazy, so to see the beautiful ship every morning sure puts a smile on our faces."
Captain Carl Smith of Azamara Pursuit said: "It was such a pleasure to welcome Michelle, May, Pauline, Tracy and Linda into our home, Azamara Pursuit, at a time when our passengers are unable to sail.
"The response to Azamara's arrival into Glasgow has truly been heartwarming for us all and we were delighted to offer this treat to the nurses as our very own NHS thank you."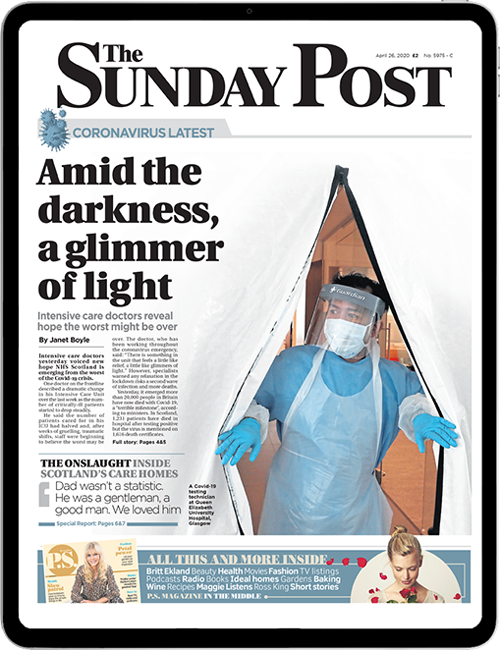 Enjoy the convenience of having The Sunday Post delivered as a digital ePaper straight to your smartphone, tablet or computer.
Subscribe for only £5.49 a month and enjoy all the benefits of the printed paper as a digital replica.
Subscribe