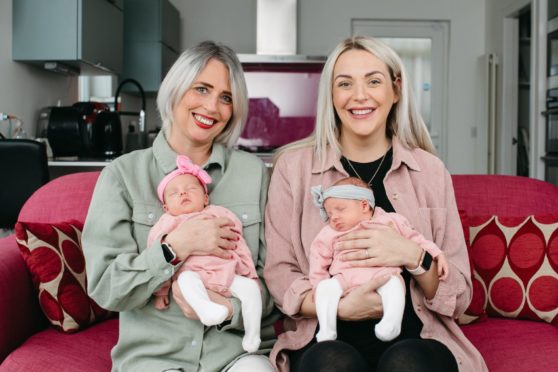 Margot McCuaig's family has been seeing double for generations, with twins branching all over the ancestral tree.
Her great-gran had three sets of twins, her elder sister has twins and Margot herself is a twin, after arriving 20 minutes before her wee brother John, as she still likes to remind him 53 years later.
Margot was pregnant with twins but sadly lost a baby, who would have been brother or sister to surviving daughter Siobhán, and now, as she prepares to publish a novel about twins, Siobhán has welcomed twins of her own.
"As soon as I heard Siobhán was pregnant, I was pretty sure she was going to have twins. I just had a strong feeling about it," said Margot.
"I was writing about twins in the book and I just thought 'I've written it in these pages – it's going to be twins!' Weirdly my book editor had two sets of twin grandchildren. It's like I was surrounded by them while writing about them!"
And sure enough, after their first scan, it was confirmed Siobhán and husband Aaron were expecting twins.
Margot, an award-winning filmmaker and writer, who splits her time between living in Glasgow and Rathlin Island, Northern Ireland, said: "It was an incredibly emotional moment. I was so excited for her. It was like she was getting back what she lost.
"She can enjoy the bond of twins, just from a different perspective. To know that my daughter was having twins and would experience such exhilaration as a mother was wonderful."
Siobhán, 32, had a turbulent, high-risk pregnancy. The twins were identical but shared a placenta which meant an everyday fear of twin-to-twin transfusion, where one baby can get more blood supply than the other.
On top of this stress, the accident and emergency nurse suffered from hyperemesis gravidarum, a complication that causes vomiting, and was violently ill every day. And she caught Covid-19 in the middle trimester at a time when its effect on pregnant women was largely unknown.
"It was a very difficult time," said Margot. "I was so worried about her and the babies. Thankfully she wasn't hospitalised with Covid but she wasn't well with it at all." On March 23, at 36 weeks' gestation, Órlaith Naomi and Grace Margot Connolly were born safely. Now they are the apples of mum, dad and five-year-old big brother Ruairí's eyes. And gran could not be happier or prouder.
"The girls are just perfect," said Margot. "Órlaith was 6lb 7oz and Grace was 5lb 10oz, so they were a good weight.
"And Siobhán is doing well. She is just so incredibly in love with the girls. I see the way she looks at them and I just know how happy she is. It is absolutely what she deserves after all she has been through."
Margot's experience of being a twin and sharing a special relationship with brother John has shaped her life.
"We've always been super-close," said Margot. "I always describe it as being a family within a family. We were two of five children and we were all close but we definitely shared a different level of intimacy. We were brother and sister, but also best friends. We were always together, in the same class at school, sharing friends and the same interests and hobbies.
"It was a wonderful thing being a twin and I just loved the experience growing up. We live hundreds of miles apart now, but that closeness never goes away."
Margot and John came as a bit of a surprise, with their parents only discovering they were in for double trouble the day before they were born.
And Margot, whose firm Purple TV has produced a series of acclaimed sports documentaries first screened on BBC Alba, was met with a similar surprise during her second pregnancy.
"It was 33 years ago, when they didn't really do a lot of pregnancy scans," she said. "I was about 20 weeks into the pregnancy when I started bleeding. An emergency scan revealed I was carrying twins but sadly I lost one of them.
"In those days, it wasn't encouraged to mourn or speak about it. The attitude was that I still had one healthy child – and that was what I focused on. But there was always a profound sense of absence there. Seeing so many twins in the family, I felt it a bit more sharply."
The surviving twin was named Siobhán, and Margot gave her and older brother Daniel a great life, but always felt she had missed out.
"I felt a bit sad for Siobhán because I knew she wouldn't get to experience life in a twin relationship, something I knew was special because it was something I was part of. Fifty years on, John and I are still close. We still do similar things, like buy people the exact same birthday card. In fact, John and I both bought his wife the exact same necklace.
"And if my mum hasn't heard from John in a few weeks and can't get him on the phone, she calls me to ask if he's OK. I still have a sense of whether he's OK – or whether I need to call and check on him.
"You expect that of twins when you live in each other's pockets, but it's so strange that there's still this closeness even though we have gone off to live our own different lives."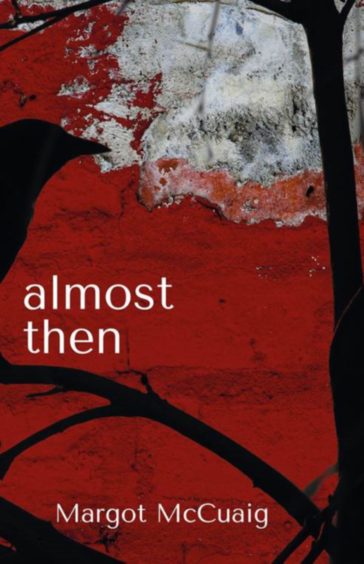 Margot, who published her debut novel The Birds That Never Flew in 2013, drew on her experience as a twin to create the characters in her new book, Almost Then, released just last week.
"My twin was a forceps delivery and when we very young there was a prominent mark on his neck where the steel pincers had imprinted a speckled tattoo, mapping out a permanent reminder of his reluctant birth," she said. "For me, it was a symbol of life, it allowed him to share a world with me, outside my mother's womb. One day, I wrote a very short piece of fiction centred around a forceps delivery, of a twin sister and brother, and it became the beginnings of a new novel."
Fictional twins Rathlin and Breacán became the central characters of Almost Then and, after securing a publisher and going through the editing stages, Margot got some unexpected news. Siobhán was pregnant. Of course, it was twins.
Lockdown means Margot has been unable to travel to her second home in Northern Ireland but it has turned out to be a blessing because in Glasgow she stays just a short drive away from her daughter and the twins, and is able to help out with childcare.
"Thankfully they changed the restriction rules to allow childcare help for under-ones, and it came just in time, so I have been able to help – and even get a cuddle," said doting gran Margot.
"Grace Margot obviously inherited my name which I'm ecstatic about – but Grace was actually the name I gave to Siobhán's twin in my head.
"I never told Siobhán as it was something we didn't really talk about but it was the name she chose without knowing, which makes it even more special – and even more like it was meant to be.
"It's just great to see that legacy of twins continue. It's something so unique and special – and Siobhán is now going to experience it herself having been denied it as a child. I couldn't be happier for them all."
---
Almost Then is published by Linen Press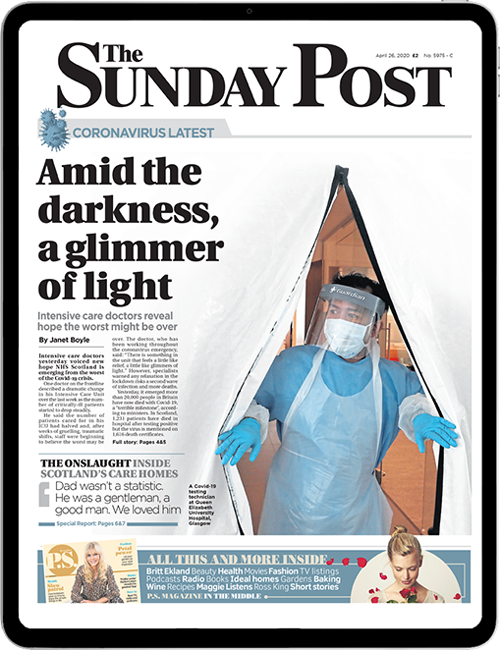 Enjoy the convenience of having The Sunday Post delivered as a digital ePaper straight to your smartphone, tablet or computer.
Subscribe for only £5.49 a month and enjoy all the benefits of the printed paper as a digital replica.
Subscribe