Little ones all over the country will be glued to their TV screens on Christmas Day for the magical animated movie of Julia Donaldson's The Snail And The Whale.
And while they're watching, saucer-eyed, the Gruffalo writer herself will be tuning in from Broughty Ferry – cuddled up to her own young grandchildren.
It's a special day for the former Children's Laureate – who began her writing career in earnest in Glasgow where she lived for 25 years – and not just because of the movie.
She will be with her son Jerry and his family at their home close to Dundee.
But it will be poignant, too. Julia lost her "biggest fan" – her mum – in 2003, the year she and German illustrator Axel Scheffler published the book.
Her beloved mother never lived to see its success – or the captivating animation created by Oscar-nominated production company Magic Light Pictures and featuring the voices of Rob Brydon, of TV's Gavin & Stacey, Oscar nominee and Paddington star Sally Hawkins, the Peep Show's Cariad Lloyd and Game Of Thrones' Dame Diana Rigg.
Sussex-based Julia, 71, who shares a second home in Edinburgh with her former Glasgow paediatrician husband, Malcolm, tells P.S: "We will all be together at Christmas at my son Jerry's home. He is a brilliant cook and he cooks on Christmas Day."
And while she says they're looking forward to watching the film, she is hoping they won't be stuck in front of the TV all day.
"I hope we'll be playing games instead of watching lots of telly," she reveals. "But I have to do what they want, when they're with me I can dictate a bit more.
"Every other year they come to us. We always have carol singing in our house a few days before Christmas.
"We get friends and neighbours round and everyone brings a dish.
"Malcolm plays the piano for that, I can play but I can't just sit down and play a carol the way Malcolm can.
"The children usually put on a show. The oldest grandchild, Poppy, is very good at getting all the little younger boys to obey her.
"I think she is following in my footsteps. She goes to her room and writes stories and definitely has some of the same streak."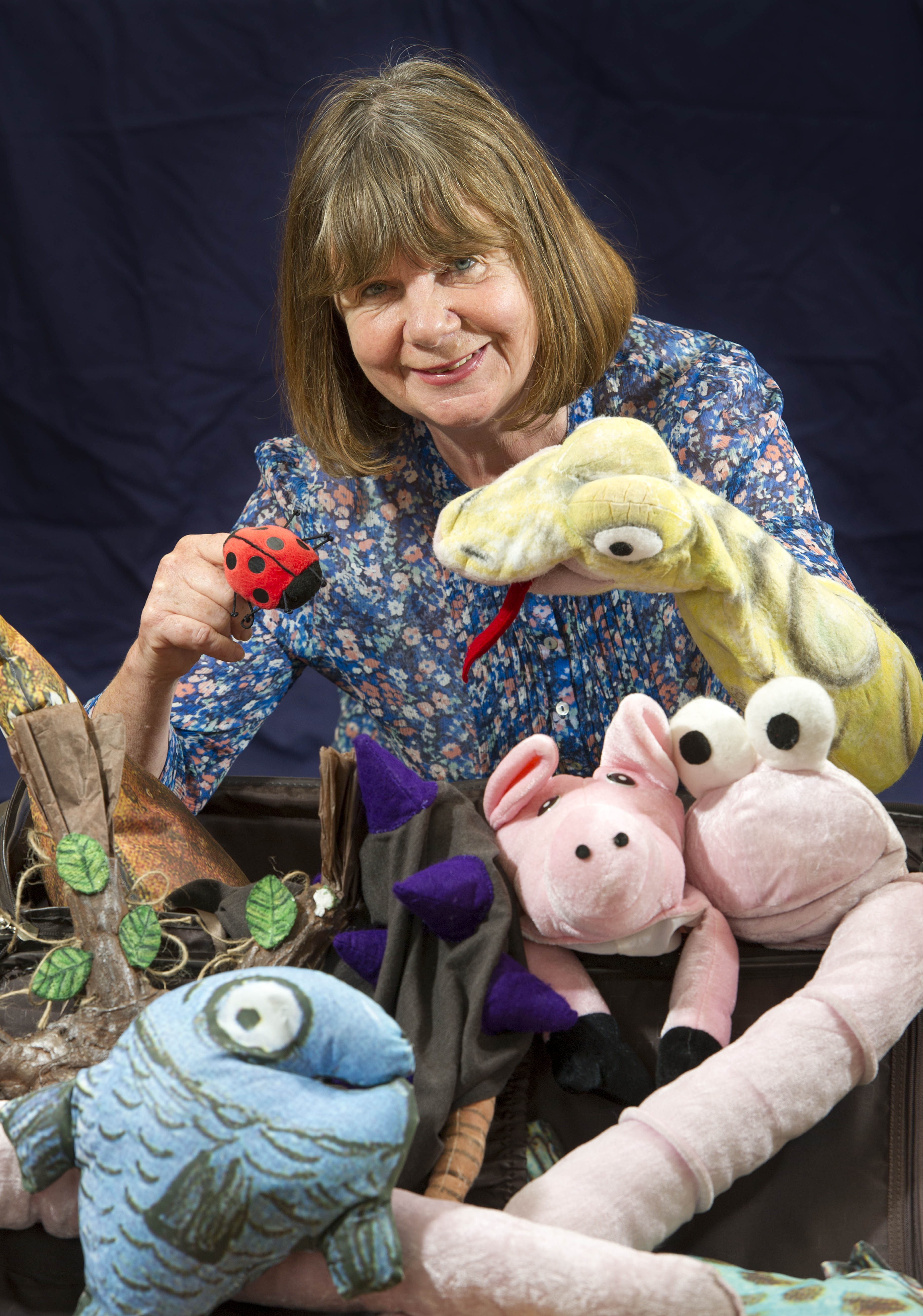 Poppy's cast includes her siblings Felix, six, and Kitty, who will be two one hour into Boxing Day, as well as her cousins Leo, seven, Adrian, six, Vincent, five, Josephine, three, and Rita who was born in September.
Julia says: "It is very nice we have four of each. My son Alastair's wife Chris runs Little Wild Things in Oxfordshire, which provides outdoor nature play for children and that chimes with The Snail And The Whale."
An uplifting story that celebrates the natural world and the spirit of adventure, it focuses on the escapades of a tiny snail who longs to see the world and manages to hitch a ride on the back of a humpback whale.
Julia says: "The message is that even little people can make a difference, and that sometimes it's a good idea to throw caution to the wind, have an adventure and do something a bit crazy and unconventional.
"The other snails represent conformity and conventionality.
"The little snail is the one that's going out on a limb, striking out and doing something different."
And she knows only too well the courage that takes and the rewards it can bring. She's been doing it all of her life.
The writer grew up in what she describes as a "tall, terraced Victorian London house" with her cello-playing Scots father, and her singer mother, along with her grandmother, aunt, uncle and little sister, with whom she dreamed up imaginary characters.
When she was just five her father gave her The Book Of A Thousand Poems.
"I still have it," she says. She learned them by heart and began writing her own.
She also wrote shows and choreographed ballets as "a wind-up gramophone wafted out Chopin waltzes" and went on to study drama and French at Brighton University and the Sorbonne in Paris.
Julia, who met her husband of 47 years at uni, remembers: "Before we had our family, Malcolm and I used to go busking together. I busked alongside studying at the Sorbonne in Paris. Instead of conventional holidays, we would go somewhere and camp, and then we paid for all our food and the campsite by busking.
"I wrote a busking song in French and an Italian one all about pasta which is actually to be made into a picture book.
"Italian publishers discovered this spaghetti song and turned it into a book all these years later. It was the first thing I ever wrote."
The busking led to a career in singing and songwriting for children's TV, working in the 1970s, creating songs for Play Away and other shows.
But it was when she and her family moved to Scotland in 1989, after Malcolm secured a paediatrics post in Glasgow, that she began to write books.
A publisher asked if she could turn one of her old songs – A Squash And A Squeeze – into a picture book. Appearing in 1993, it launched her as an author and began her collaboration with Scheffler, who would go on to work on the monumentally successful The Gruffalo, Room On The Broom and a string of other titles.
Julia was made Children's Laureate for two years in 2011. In the same year she was given an MBE for services to literature.
Since then, adaptations of Room On The Broom, The Highway Rat, Zog, Stick Man and The Gruffalo have delighted Christmas Day viewers, and Julia has become the top-earning author of the last decade, with spending on her books topping £126 million.
The girl who dreamed of a career on the stage has found fame – with top actors now playing the roles she has created. So does she believe in fate?
"I don't feel it is destiny," she says.
"I'm just very fortunate that it has organically happened. The busking led to me writing songs for television, that led to one of my songs being made into a book, that led to opportunities to do school visits, book festivals, and theatre and in a way that comes back to the performing.
"I won't say there's been no effort for me. When I was writing songs for TV I was always trying to pester producers and there were a lot of frustrations and rejections.
"You have to try to persevere but there is luck there too. It has to be a mixture of talent, effort and luck."
And what would her late parents have made of her success?
"My father had polio and was confined to a wheelchair. He died at 59 but he did see some musicals that I staged semi-professionally.
"My mum died aged 85 the year The Snail And The Whale came out.
"She was my biggest fan. They would have been proud, anyone is proud of their children.
"My sister Mary is great. She is in a drama group, volunteers for HomeStart, and is fantastic in her own right. She is so lovely and genuinely proud of me."
And is she top of the pops with her grandchildren?
She smiles: "At first they just took the fact that I write for granted, it was normality for them. Then, when they got to school and discovered other children were impressed they got a bit more kudos.
"We all went to Chessington World of Adventures together. It has a Gruffalo ride and a Room On The Broom experience. We stayed in the themed bedrooms there. I was a very popular granny then!"
---
The Snail And The Whale, Christmas Day, BBC1, 2.30pm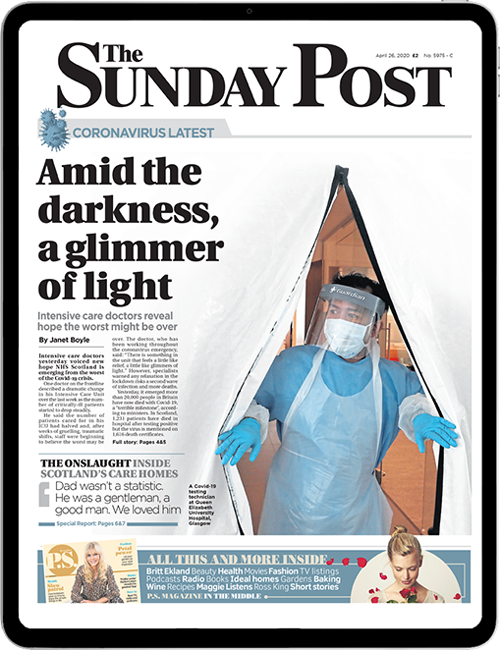 Enjoy the convenience of having The Sunday Post delivered as a digital ePaper straight to your smartphone, tablet or computer.
Subscribe for only £5.49 a month and enjoy all the benefits of the printed paper as a digital replica.
Subscribe