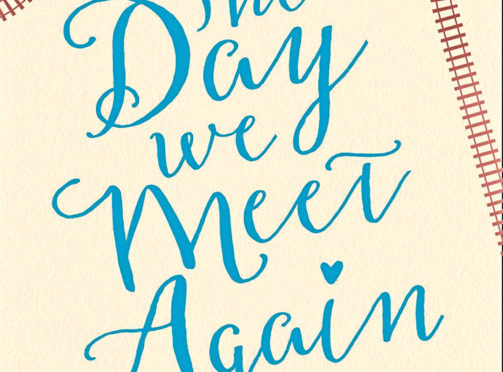 Bumping into the late poet laureate, Sir John Betjeman, proved to be an inspirational moment for ­bestselling author Miranda Dickinson. The "beyond the grave encounter" has led her to pen what she says is her finest novel yet – a love story that starts with a goodbye.
And it is also a celebration of Scotland and its music.
Professional singer-songwriter Miranda – whose tenth novel The Day We Meet Again is out on September 5 – opens the book at the Sir John Betjeman statue on London's St Pancras Station.
But its trajectory stretches to the Island of Mull – where her hero, fiddle player Sam returns to find his roots – and Paris, where his newly-met soulmate Phoebe is off to find herself.
They have to choose between the love of their lives or the adventure of a lifetime.
Miranda – mum to five-year-old Flo (aka Florence) – tells P.S: "My dad was a massive train buff in his early days. He said that if I got the chance to go to St Pancras I should go because it's a beautiful station. So when I had some time to kill in London I popped in.
"I literally walked into Sir John's statue and the story came straight away.
"It's the first time in ten years of writing that has happened."
And that is what happens to Phoebe. She bumps into Sir John and meets Sam at the same time.
"Every time I went to London after that I would visit the statue," says Miranda.
"I went a few weeks ago and hung out with Sir John.
"It was the first time I'd seen him since I knew the book was definitely coming out and I told him it was going to happen."
The story is told alternately by Sam and Phoebe who, before they go their separate ways, make a pledge to return to the statue exactly a year from their initial meeting. But do they?
And there is another character in this book – Scotland.
Miranda says: "I have lots of happy memories of holidays in Scotland – Speyside and the Cairngorms.
"It was somewhere I was excited to visit as a kid. My husband and his dad are fans of Mull, they go bird watching there. So when I was thinking of a place for Sam's side of the story I wanted it to have meaning for my family."
She says Sam's musical journey to Mull was inspired by "the wonderful Scottish and Irish folk music" of people such as Aly Bain, Phil Cunningham, Julie Fowlis and Eddi Reader – who she acknowledges in the book.
"I wanted to pay tribute to Scotland," she says. "I wanted it to be authentic and about someone who rediscovers his Scottish roots.
"The biggest compliment, if I've written the book well enough, is it will make people want to go there."