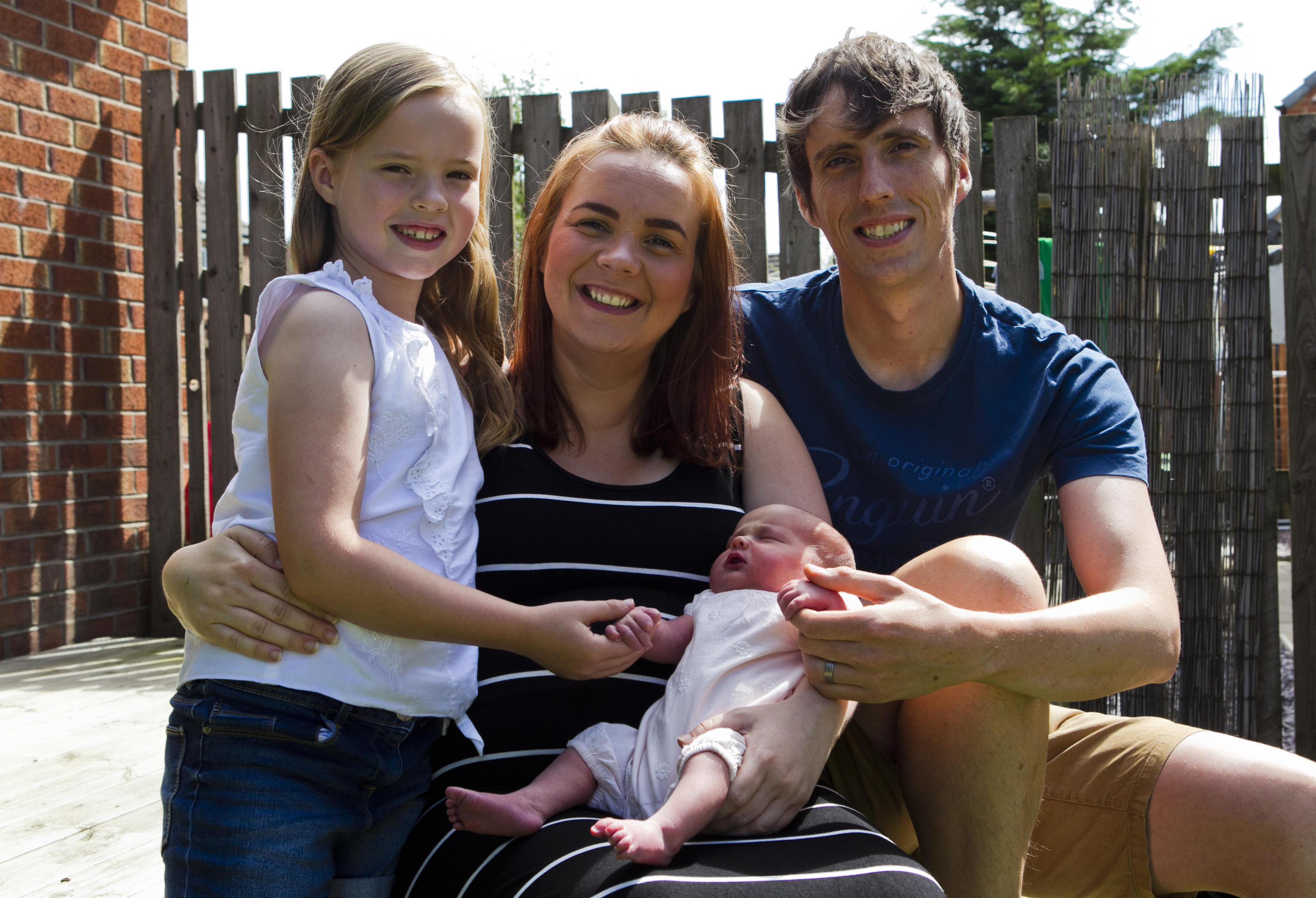 HOBBLING to the end of an astonishing 192-miles-in-four-days run to the Highlands and back, Chris Sim could think of nothing but sleep.
Having been on his feet for almost 100 hours with only a few naps he was hardly able to stand. But the Fife teacher's hopes of rest and recuperation were shattered when his wife Kerryann went into labour.
Just hours later – and weeks early – the couple's second child was born.
Chris, 34, said: "I had been running for so long and I was so pleased to get home and lie down.
"I passed out on our bed feeling totally drained and exhausted.
"But before I could get any proper sleep Kerryann told me her waters had broken. That same day, our baby daughter came into the world. I can't think of a better trophy for finishing a run."
Chris, of Dunfermline, set off on his epic endurance run at 8am a week last Friday and made it home on Tuesday.
His aim was to run Scotland's famous long-distance trail, the 96-mile West Highland Way from Milngavie to Fort William – and back again. To make the feat even tougher, he would climb the UK's highest mountain Ben Nevis when he reached Fort William.
He had conceived the incredible challenge, called the WHW 200, as a way to raise money for the Scottish Association for Mental Health charity (SAMH). Although the due date for the couple's second child was mid-August, they decided it was safe for Chris to go ahead.
The Dunfermline High School design and technology teacher said: "We had joked that it would be typical if Kerryann went into labour while I was running through the Highlands or up Ben Nevis. But we really didn't think it would happen."
As Chris battled some of the worst weather of the summer, including thunder and lightning storms and strong winds, Kerryann kept up with her husband's progress on a live GPS tracker.
She also travelled by car to Fort William to give Chris much-needed emotional support.
Chris said: "The only time when I felt like totally giving up was at Fort William, having run the first 96 miles.
"My ankles were really sore and I got a bit down thinking about how hard it would be to run for another two days.
"I might have been tempted to stop there if Kerryann had not talked me through my feelings.
"She reminded me of why I was doing the challenge and about raising funds for SAMH."
The following couple of days proved an anxious wait for Kerryann.
She said: "The worry of Chris and how he was doing did get a bit much for me at times."
Chris reached the half-way point on the summit of 4,411ft Ben Nevis in "horrendous weather" at about 9pm on the Saturday. He had been on his feet for 37 hours.
He said: "I started the hike up with friends in beautiful conditions and the views were amazing. But as we climbed the wind picked up. It was horrendous and so cold in a full-blown gale at the top."
The return journey from Fort William back to Milngavie was extremely tough, although Chris said he was determined not to give up. Most people take around seven days to hike the West Highland Way one way. Chris ran it, up and down, in just four. He said: "The sleep deprivation was getting to me and I wanted to stop all the time to lie down.
"I tried to have only 20-minute naps but at one point I had to give into a 90-minute sleep.
"I had only five hours of sleep over the whole 90-hour challenge.
"Fortunately I had many friends and people from local running clubs joining me for different sections and that kept my spirits up."
Chris confesses he was frustrated with his speed. He said: "I was forced to walk a lot of the way back and I got annoyed with myself that I couldn't go any faster.
"My joints were sore, especially my knees and ankles. My ankles were also swollen and I had lots of blisters on my feet. The skin on my face was also red and irritated."
By Monday – and after more than three days of running – Chris had slowed to a painful walk.
Kerryann drove to meet him at Rowardennan, some 26 miles from the end.
It was then that she started to feel the first twinges of childbirth – but dismissed them.
She said: "On the drive north to see Chris I had a few pains and tightenings but I put it down to being anxious and tired.
"I just didn't think it would happen then and anyway I was more worried about Chris and seeing him get to the finish."
In the early hours of Tuesday last week Chris finally reached Milngavie, north of Glasgow, at the start of the West Highland Way.
He said: "I gave Kerryann a hug, she drove me home and I couldn't stay awake. She never said a word about the twinges although she was in tears over what I had completed. I went straight to bed and I was really looking forward to a long, long sleep."
But within hours, the couple, who also have an eight-year-old, Freya, were rushing to hospital. Ada was born later that day.
Chris said: "I had just done the longest and hardest run of my life and I was so exhausted. But I wouldn't have wanted to miss the birth of Ada. None of this has sunk in properly yet."
For Kerryann there is relief mixed with joy. She said: "I felt so bad when I had to wake up Chris but I am so relieved he had finished his charity challenge first. We are definitely looking forward to telling Ada this story when she's older."
Astonishing run raised thousands for charity
Chris has so far raised more than £4,000 for the Scottish Association for Mental Health (SAMH). He started raising money for mental health charities when he did the Edinburgh marathon six years ago.
Since then he has completed 33 marathons and ultra-marathons.
He said: "My brother and sister have both suffered mental health problems. My brother has had depression and my sister had post-natal psychosis. I want to show people that there are many ways to improve how you feel. One way is to exercise and I know how much running can improve your feelings of self-esteem and self-confidence.
To donate search "WHW 200 with SAMH" on Facebook or visit justgiving.com/fundraising/chris-sim2