Welsh ministers hope the world's leading mesh removal specialist will train surgeons there after talks to bring him to Scotland stalled.
Officials in Cardiff read last week's Sunday Post reports revealing no progress has been made in bringing US mesh removal expert Dr Dionysios Veronikis to Scotland despite three months of talks.
We told how Scots victim Claire Daisley is finally mesh-free after nine years of agony as a result of Dr Veronikis operating on her in America for free.
Surgeons in Scotland had claimed her mesh had been fully removed and, as her agony continued, were preparing to remove her bladder and bowel.
Dr Veronikis removed 13cm of mesh, two-thirds of the implant, and believes he has saved both her organs.
MSP Neil Findlay said he was "outraged" at what he described as the mishandling of one of the biggest health scandals of modern times.
He said: "If Dr Veronikis ends up going to Wales, while our women continue suffering in agony, it will be a shameful betrayal of the victims and a humiliation for this government."
Jemima Williams, of Welsh Mesh Survivors, said she is thrilled by the prospect of Dr Veronikis going to her country and said Sunday Post reports had convinced ministers and surgeons to learn from him.
Mrs Williams said: "This has led them to extend this invitation to Dr Veronikis to meet Welsh surgeons next year."
Dr Veronikis said Scotland's chief medical officer, Catherine Calderwood, called him on Wednesday, but said: "No further progress has been made. The talking continues, but there has been no actual physical progress made towards me coming to Scotland to help injured women.
"Without a formal invitation and a firm date to come to Scotland, nothing more can be done to finalise authorisation with the General Medical Council," he added.
"However, I understand the Welsh Government is in the process of making contact with me. Perhaps they will be more proactive."
Dr Veronikis added: "I've repeatedly told Scottish Government officials that sending surgeons to watch me operate in the US is not the answer.
"There needs to be inter-operational training under my close supervision, and I have made it clear I will decide who is competent and able to perform my technique.
"I've spent a lifetime and have performed thousands of surgeries to be able to do what I do. I will not allow my name or technique be used by someone I have not specifically trained and believe to be competent.
"Mesh-injured women getting the help they need is my major concern as well as my own reputation."
A Scottish Government spokes-woman said they were unaware of any approach made to Dr Veronikis by Welsh authorities.
She said: "We understand Dr Veronikis has made good progress with the necessary GMC registrations, and we are very grateful to him for his undertaking toward this. This week our chief medical officer, Dr Catherine Calderwood, has spoken directly with Dr Veronikis and they will continue to engage as we seek to bring him to Scotland at his earliest available opportunity.
"The Health Secretary has been clear in her expectation that Dr Veronikis' welcome offer to come to Scotland should be realised, and notes the chief medical officer has now personally contacted Dr Veronikis to progress this."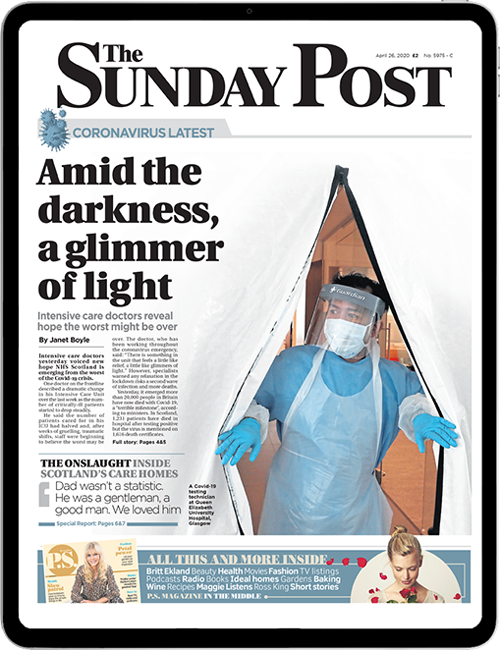 Enjoy the convenience of having The Sunday Post delivered as a digital ePaper straight to your smartphone, tablet or computer.
Subscribe for only £5.49 a month and enjoy all the benefits of the printed paper as a digital replica.
Subscribe