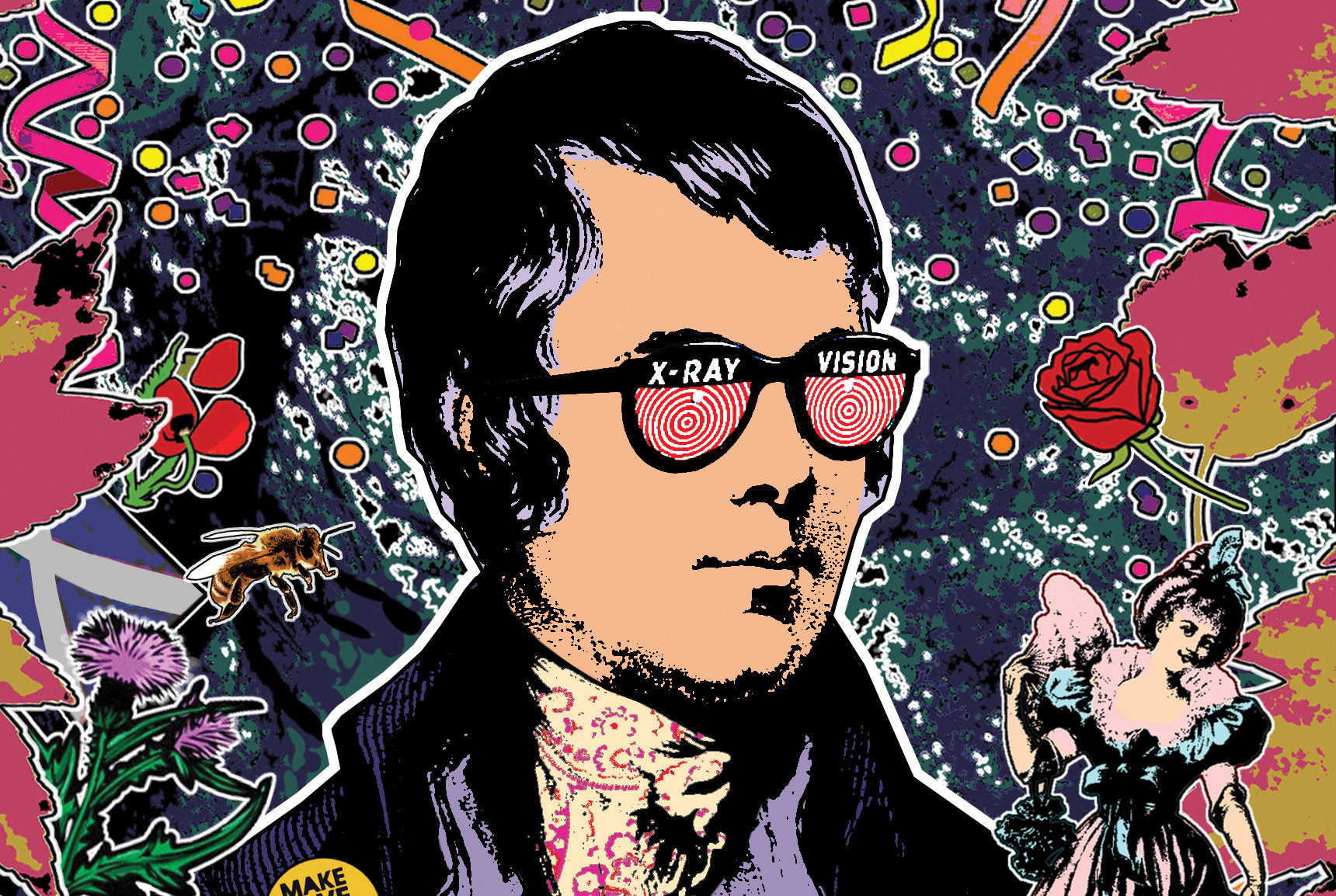 ROBERT BURNS is lauded as one of the most romantic poets of all time and he did not confine his romantic inclinations to the page.
A new play, The Ghosting of Rabbie Burns, is on tour and has the ghost of the Bard giving some dating advice to a modern woman.
But although he was known for his timeless romantic works, like A Red, Red Rose and Ae Fond Kiss, Burns had a turbulent and at times controversial love life.
Rabbie fathered 12 children, including nine by his wife Jean Armour. He also conducted a passionate but unconsummated affair with Edinburgh single mother Agnes "Clarinda" Maclehose and another with Mary Campbell, also known as Highland Mary.
Here, before Burns' Night on Friday, we've asked The Sunday Post's agony aunt Maggie Clayton to help sort out the complicated love life of The Bard and two of the more notable women in his life….
---
Dear Maggie,
A man may be a man, for a' that, but I seem to be more of one than most. You might say I'm a hard plough to keep in the furrow.
My love is like a red, red rose – it's just that I've got more roses than InterFlora.
I've known my fair share of the bonniest of maidens over the years without the need for a dating app. The only Tinder I need is to light the hearth in my croft.
Unfortunately, though, I'm now married so the days when I indulged in a bit of, ahem, houghmagandy with the milkmaids is over.
I have great love for my wife, and we married after the type of on-again, off-again romance that won't be repeated until you invent Love Island in a few hundred years' time.
There was the family farm's maid, who somehow fell pregnant. Then there was that handmaid in Edinburgh. She somehow also fell pregnant.
Did I mention I was sending romantic messages to that girl's mistress?
If I get rumbled I fear I'll be Tam O'Shantered out of town by a band of terrifying harpies.
Help, before the wife bakes my bannocks!
– R. Burns Ayrshire
Dear Rabbie,
I realise that in so many ways you are a very special man. Any lady who attracts your eye is in for a good time and clearly you see it as your male duty to give her that. But you're now a married man and guess what – your best-laid plans have to change.
You might be a belter when it comes to writing poems about love, but please understand that women do expect faithfulness.
Irritating I know to man so well endowed with a such a talent but as you've found, if you put it where you shouldn't, it has repercussions…babies.
Are you ready for that commitment? I doubt it.
Over the years you've enjoyed romping through the fields but you could end up with a cluster of rosebuds and your wife is not going to look kindly on that. No woman would.
As a poet you're good at understanding the female mind and heart. So use your emotional intelligence and think of your bonnie wife. She loves you and is proud of you.
This means the romps through the roses are over, Rab.
Put your emotional energy into your writing. Who knows, a hundred years from now, men and women may read your poems and take strength and comfort from them.
Isn't that more important than sniffing your way through a field of roses?
---
Dear Maggie,
Help me Maggie! I'm a single mum in Edinburgh, and I've got a young suitor who won't leave me alone.
He's a handsome rake who hails from the distant and exotic land of Ayrshire.
Thanks to his romantic poems he's the talk of the town, meaning women want him and men want to be him.
He seems quite taken with me, and I often see him pacing up and down outside my flat.
Not only that but he's been sliding into my postal correspondence, professing some rather strong feelings.
Being a single mother I'm wary of causing a scandal – but as an independent woman I wonder what the harm would be in a bit of Netflix and quill.
Should I take a chance and enjoy a fond kiss?
– ACM, Edinburgh.
Dear A,
As an agony aunt, my sane brain tells me you should give this guy a wide berth. He is going to break your heart sooner or later. Are you strong enough to cope with that?
But my female instinct tells me that in life it's so easy to end up regretting the road not taken.
If you want fun, a good time, and memories you'll never forget then why not give him a chance?
Why be a cowerin', timorous beastie when there's a lusty lion pawing at your door?
Go for it girl – but you must be prepared for the day when he'll move on.
He may tell you he'll want you till all the seas gang dry, but, trust me, it's in his DNA to eventually want to move onto pastures new.
This Ayrshire poet clearly has a lot of charisma and knows what a woman thinks, wants and feels.
In a lifetime you may not meet another man quite like him.
You may have a fond kiss – only you know if you can cope with the fall-out when you inevitably sever.
---
Dear Maggie,
I'm beginning to suspect I'm married…to a louse.
I kept quiet when I had to take in his child he fathered from another girl. I didn't fuss when he refused to marry me after I got pregnant. He eventually reluctantly put a ring on it – but now he's off in Edinburgh, living it up with his fellow artists and behaving like some sort of 18th-Century Harry Styles.
Meanwhile I'm at home trying to take care of his parcel of weans.
I'm getting sick of being at home while he's off preaching about man the world o'er being brothers while he's also being a complete sleekit beastie.
– The Belle of Mauchline, Alloway
Dear 'Belle',
I'll call you that though I suspect it's not your real name. Your letter touched me.
You've given this guy every chance and clearly he's taken it.
Now he's being feted by the literary lions of Scotland – while you are looking after his babies. It's the hypocrisy which is so maddening, the old "all men are brothers the world over" rubbish.
Some men are clearly more equal than others. Especially when it comes to enjoying the favours of doting ladies! Behind every guy with a roving eye, there's a woman who lets him away with it.
He's never going to be able to stop dipping into the chocolate box of delights which take his fancy. What matters more to you – your own self-worth and independence or turning a blind eye to his latest lady?
---
The Ghosting of Rabbie Burns is on tour, including Eastwood Park Theatre, Giffnock, Glasgow, on Sunday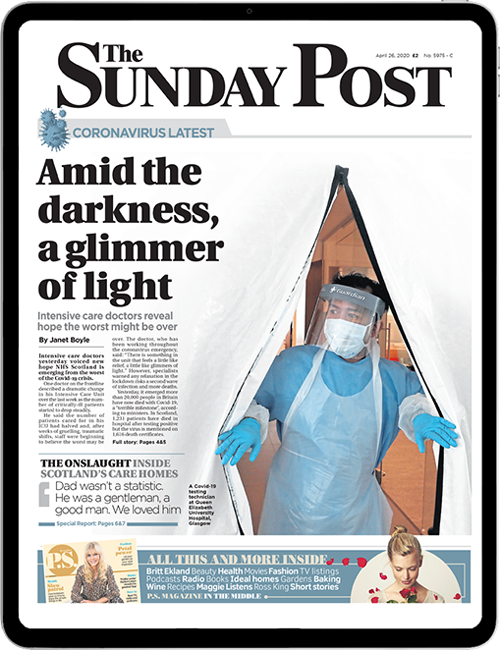 Enjoy the convenience of having The Sunday Post delivered as a digital ePaper straight to your smartphone, tablet or computer.
Subscribe for only £5.49 a month and enjoy all the benefits of the printed paper as a digital replica.
Subscribe