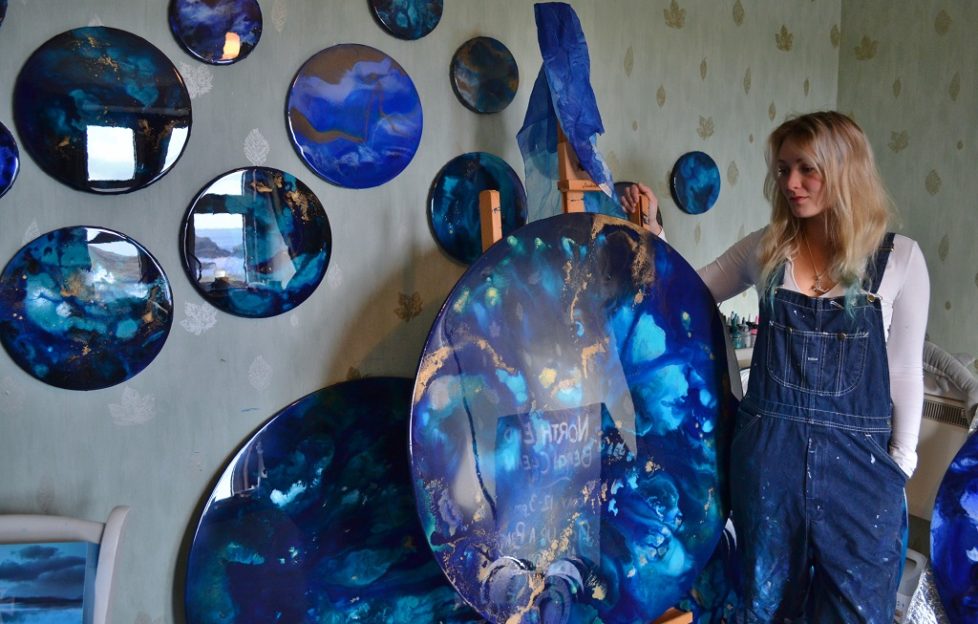 "YOU get a kind of clarity when you're away from the white noise of emails, screens and social media," muses Katie Tunn, a Skye based artist who spent almost 40 days and nights alone on an uninhabited Scottish island earlier this year. 
Her new collection of Blue Planets artworks, inspired by the preservation of Scotland's coasts, launched this week at Skyeworks Gallery in Portree.
The paintings reflect her love of Scottish marine conservation and ocean scapes – which she has spent four years immersed in – living in a small community in the north of Skye.
This passion for nature, coastal settings and surviving off the land is one which also saw Katie star in Channel 4's 2016 series, Eden, attempting to live in the Scottish wilderness with a group of strangers.
When that came to an end, Katie hoped to take it a step further, spending 40 solitary days and nights on the remote Shiant Isles, five miles south of Lewis.
The artist was there for 16 days however when disaster struck and she hit her head on a rock, leading to concussion and a quick rescue from the coastguard.
She spent a night in Stornoway hospital, then a further impatient few days hoping to get back to the Shiant Islands to complete her castaway mission:
"It was terrible weather and every morning I'd be ringing the man who owns the boat to see if he could take me back," says Katie.
"I spent the whole time in the B&B looking over to the island I was so hoping to get back to.
"Eventually I was able to return and I spent about 39 nights there in total."
For almost six weeks, Katie had no contact with the outside world. Far from being lonely however, the connection to nature and the island's wildlife was powerful and inspiring:
"The time I went was when all the birds started arriving to nest so they became the characters of my day.
"There was a certain bold lamb who would come and chew the bottom of my sleeping bag every morning and a puffin burrow at the end of my bed, so I'd watch it come out and walk around.
"These animals sort of peopled my day in a way. You can't really talk to them but there's definitely things keeping you company there.
"What's nice about being in one place like that is that you really get to know it, so everyday you learn something a little bit more.
"For example you learn the habit of a certain wren, or the flowers that only come out in certain sunlights.
"You become really intuitive and connected to the landscape."
Being completely disconnected from technology and modern life was also an influence for Katie, who has struggled with mental health issues in the past:
"I think we're all just so obsessed with having a good job and making money. But we don't really have any time to do things.
"People are constantly busy – just one more email, just one more thing to do for work in the evening.
"When you slow down, you notice things more. You find a deeper happiness. Being outside is like pressing a reset button for me.
"In the spare time I had on the island, I'd go sit in the puffin colonies just watching them or spend time looking at the seals. It was just amazing."
Previously calling London home, she travelled to Skye in 2013, hoping to spend just a few months getting connected with nature. But the pull of the island, its beauty and welcoming community was just too strong:
"I'd originally thought I'd just stay for a summer.
"But then I stayed for a winter, and then another summer, and before I knew it, this was home.
"It's hard at times because half of your heart is with your family in a totally different place and the rest of your heart is up in the hills and by the sea.
"But the community on Skye have been so welcoming. The kindness of the people is extraordinary – which is probably why I'm still here.
"I also love the fact you can just look out the window every day and the colours are completely different and the sea space is completely changed. It's constantly interesting."
Katie's passion for marine conservation is something that began before her move to Skye, but living in a coastal environment and seeing the real impact of pollution has deepened her resolution to making a difference. She's one of two regional reps on Skye for ocean charity, Surfing Against Sewage (SAS), one of the first to start addressing the issue of marine plastic and undertaking beach cleans.
"I remember when I first started doing beach cleans it was looked at as a bit of a weird thing to do, and if I was to refuse plastic bags in shops my friends would make fun of me," she said.
These influences and passions trickle into her art. Katie's circular, shimmering blue pieces reflect the roundness of our planet and the roundness of the seas' currents with gold pieces reflecting the sea's preciousness.
Her artistic journey has also come full circle, with the exhibition running in the first place she was given a job when she arrived in Skye.
And as for any future adventures?
"I want to do a similar thing to my Shaint Isles trip next year but this time without anything at all except a knife, a bottle and a first aid kit. Almost just go completely feral, I think that could be really interesting.
"I just think we all need to take these moments to slow down and really see in proper detail the beauty of the world we live in."
Katie's exhibition runs at Skyeworks Gallery in Portree, Isle of Skye until 30 December.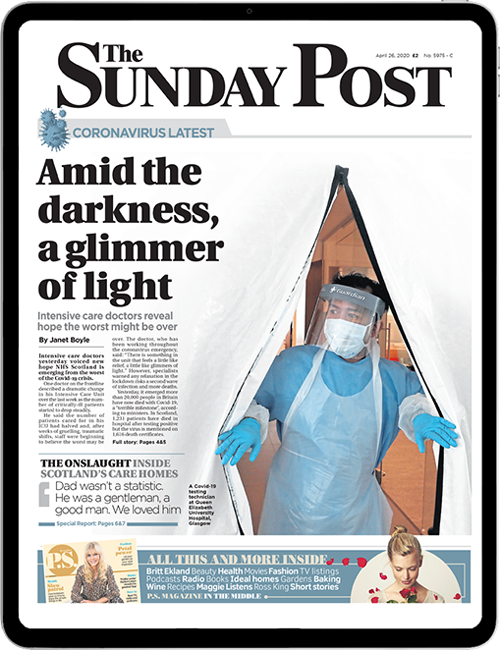 Enjoy the convenience of having The Sunday Post delivered as a digital ePaper straight to your smartphone, tablet or computer.
Subscribe for only £5.49 a month and enjoy all the benefits of the printed paper as a digital replica.
Subscribe