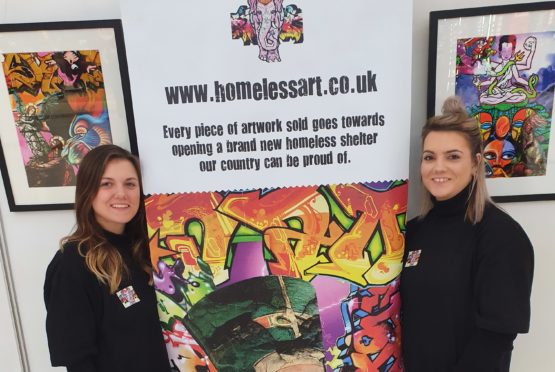 A new project aims to help fund and build a homeless shelter through art sales and exhibitions.
Homeless Art Scotland, organised by artist Robert McCaig, his partner Ashley Cameron and her sister Nicole, aims to use eye-catching, vibrant and meaningful artwork to raise awareness of the growing issue of rough-sleeping.
Money raised from sales of the art pieces will go towards a new shelter, which would not just to provide people who have fallen on hard times with a bed for the night, but also give them the chance to express their own creative ideas and talents.
Robert says: "There are so many people who have done things for the homeless, like soup kitchen and giving out care packs.
"I commend that and applaud it, but I just feel like someone needs to do something that makes people sit up and take notice and really try to solve the problem once and for all.
"We came up with this idea and thought that, if we pull it off, it will hopefully inspire other people to do the same in their creative endeavours.
"I've always been into art but even now I don't consider myself an artist, just someone trying to do a bit of good and use the skills I've got."
The first Homeless Art Scotland exhibition was opened by comedian Tam Cowan at the intu Braehead shopping centre earlier this week.
Robert hopes that moving outwith the traditional setting for art displays will help raise more awareness for the project.
"The only way to get people to know about it is to get eyeballs on it so I thought I'd go to a place with lots of footfall," he says.
"I'm hoping we can use Braehead as a platform and then go to other big places and show what we've done and see if we can build on it and do it a bit bigger and better.
A further exhibition is planned for the Scottish Parliament next month, thanks to the backing of MSP Bob Doris.
Money raised from the sales of artwork will go towards building the shelter, and everyone that buys a piece will have their name inscribed on a brick.
"When I came up with that idea and told it to people that's the one that captivated them," Robert explains.
"I had to really get something in place that would make people feel like they're a part of it. The day the shelter finally opens the names will all be there and it'll symbolise the people who built it."
The inspiration for the project came during a spell of bad weather last year. Robert saw rough sleepers sheltering under the bridge at Glasgow Central station from the torrential rain and snow.
"Things need to change and I know the Governments and big business have the money and the means to do it but sometimes it needs to be brought to their attention more," he says.
"I saw seven or eight people lying with sleeping bags under the bridge – there's no need in this day and age with the amount of resources and the abundance of wealth.
"I've had friends who have been homeless, I've been in bad situations myself before and my partner's sister who's involved with the project is currently in homeless accommodation.
"I thought if I could do something that captures people's imaginations and puts it out there maybe we could force the issue to get something done."
Robert, who says he's had a great response to the project so far on social media, has made sure to involve homeless people in the project as much as possible.
"Through this whole process I've spoken to a lot of homeless people and there's always this stereotype of them being junkies or this or that, but that's not the case, they're just people who have fallen on hard times," he says.
"There's a whole spectrum of circumstances of why people end up in this situation, I just believe that everybody deserves a fair crack at the whip and it's up to us to force the issue to make those in power sit up and take notice.
"My aim is, if we get this shelter, I'd love to in the future grow this as big as can be.
"If you walk through the town, you'll maybe see a couple of homeless people drawing artwork, doing paintings. They're people with skills who have just fallen on hard times.
"If we can create something that gives people somewhere to rest their head first and foremost but also something else that can give them an opportunity to express their creative ideas and get their lives back on track.
"The main thing is the shelter but there's got to be something that gives them a platform."
Robert hopes that the project can be a success and inspire others to give something similar a go themselves.
He's contacted hundreds of businesses and been frustrated at the lack of backing for the project.
One business, Avant Homes, did believe in the project and made a contribution that helped get it off the ground.
"It's been extremely tiresome and time consuming dealing with constant rejection day in day out but I knew that the cause was special and if we could pull it off we could potentially help change the lives of thousands of people," Robert says.
"If I can do this from absolutely nothing, no budget, no funding, we've built this from the ground up and can share it as a blueprint.
"If there's someone with aspirations of setting up something creative they can come across this and see that they can do this, and do it with a cause and help people as well.
"Without a huge team or a single penny for a marketing budget we have had to work ten times harder to make this project a reality but I truly believe the day we open the shelter it will all have been worth it."
Visit www.homelessart.co.uk