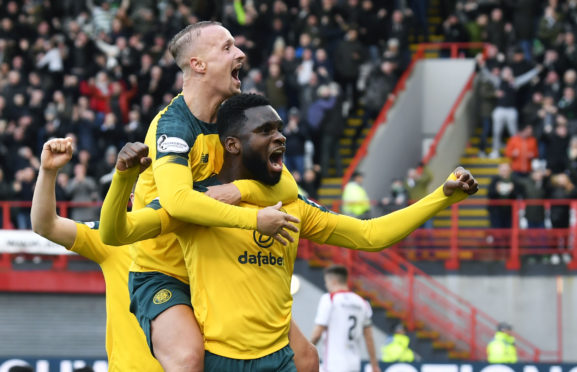 Neil Lennon is relaxed about potentially losing his hottest prospect to Arsenal for the second summer in a row.
Last August, following weeks of "will he, won't he?", Kieran Tierney quit Celtic in a £25-million moved to the North London club.
In recent weeks, the Gunners have been getting heavily linked with Odsonne Edouard, and are reportedly prepared to pay between £20-30m.
Everton are also known to be interested in the 22-year-old French striker and Lennon isn't surprised.
"It is inevitable because of the player and talent Odsonne is," said the Celtic manager of his 28-goal striker.
"He hasn't said anything to me about wanting to go. Whether that changes over the next while, we don't know.
"But we have him on a really good contract, and we are in a strong position to rebuff any interest in him. We don't want to sell him.
"We are happy with him and he seems quite happy here. We are going for 10-in-a-row and that might be a big motivating factor for him to stay.
"We don't know what the market value is going to be for all players, and we won't know until leagues are finished how long the window will be."
Meanwhile, Lennon expects to see Leigh Griffiths back at his very best when football gets going again.
Having taken the first half of 2019 off to deal with mental-health issues, the Celtic striker played something of a supporting role to Edouard.
That was reflected in the pair's scoring returns, with the Frenchman grabbing 28 goals compared to a more-modest contribution of 11 from Griffiths.
Yet, while anxious to do everything to keep hold of the former, Lennon is mindful of the fact that his home-grown star hit 40 goals not so long ago when leading the line for Ronnie Deila.
"On the day it was announced we had won the league, Leigh was straight on to me saying he can't wait to be back next season," revealed the Hoops manager.
"He's in a good place, mentally and physically, and he's been doing all his work and extra with the fitness coach.
"The season was curtailed when he was coming into form, but he should use it as his motivation.
"Leigh knows he has come back, can compete at the highest level and score goals to make a difference for us. That was a real shot in the arm for him.
"In the second half of the season, he was very good. There were a few games he could have done better, but we were OK with that.
"You can't argue with his talent. He's got that knack of scoring goals, which comes naturally.
"We were patient with him, and you could see the more the season went on, the stronger and more confident he was getting.
"So while the curtailed season has been a blow, it hasn't been a terminal blow for him, or anyone else for that matter.
"Hopefully we can get him back in June and get him up to speed.
"He'll be an asset for us going forward. You can't replace the goals he scores, which is such a vital asset for us.
"Leigh's got great football intelligence as well. His movement off the ball was good, and he looked like he was really enjoying his football again before it was curtailed. But there's more to come from him.
"He's at his peak now at 29, and he's got three or four years at the highest level still to come."
Having had his own mental-health issues to deal with over the years, Lennon has a personal, as well as professional, interest in the subject.
The Irishman was moved by former team-mate Craig Bellamy's admission that he has been receiving treatment for depression for three years.
"I was really impressed with Craig's interview," Lennon continued.
"I thought he was really open and honest, and I could relate a lot to it.
"It would have been an inspirational message to a lot of people in the football community – and public in general – because this is a guy who was very gregarious, a fierce competitor and a brilliant player.
"As a club, we try to make sure we are always on top of things in terms of the mental approach, as well as the physical.
"It affects many people in many different ways.
"Personally, I'm feeling good. I've been trying to stick to a daily routine and keep myself occupied and keep in touch with my main staff – the likes of (director of football operations) Nicky Hammond, John Kennedy and so on.
"I talk to Peter Lawwell on issues we might face going forward, so there's been plenty to do.
"And the players all seem in a good place. The main question was when we'd all be back together and we're now looking at June 10 as a mandate to start."